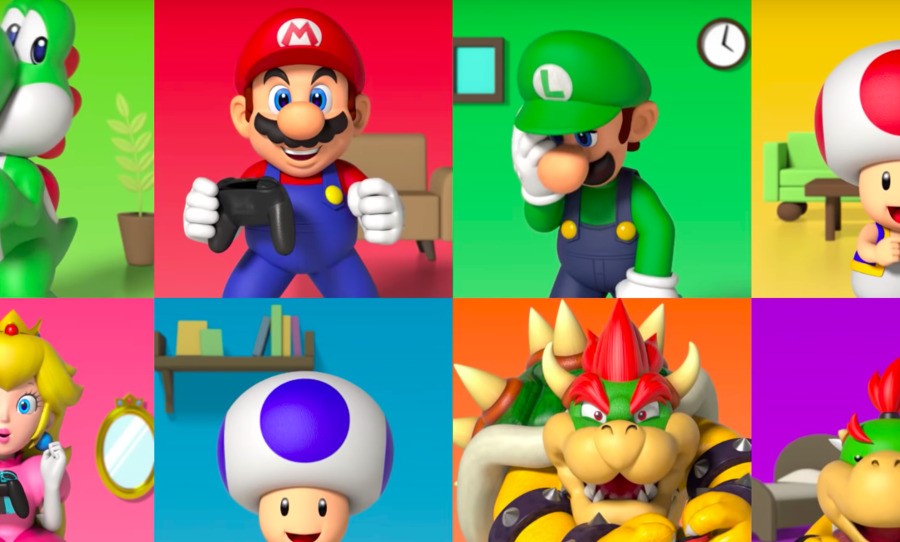 Soapbox features enable our individual writers to voice their own opinions on hot topics, opinions that may not necessarily be the voice of the site. In this piece, Nintendo Life Guides Editor Glen Fox provides a counterpoint to the piece we ran yesterday about the general lack of excitement surrounding the NES games offered with the Nintendo Switch Online service...
---
Nintendo recently revealed all about Nintendo Switch Online, the service that provides access to premium online gaming, cloud saves, and a bunch of other bells and whistles designed to improve the online functionality of the console. It's just gone live today, and you've no doubt signed up already.
Sadly, the launch of the service has been clouded (no pun intended) by grumbles and frustration from the community – some of it justified, and some of it not. In the midst of it all though, we've all completely lost sight of what a terrific offer it truly is.
The idea of charging for a gaming console's online component is not a new one. In fact, we can trace its lineage all the way back to the PS3 and Xbox 360, both of which offered similar packages. These continue to this very day – PlayStation has PS+ while Xbox has Xbox Live Gold.
Up to this point, Nintendo has resisted offering a premium online service, and if we were being unkind we'd presume this is because online has been a huge weakness for Nintendo up until this point. It speaks volumes for the company's lack of confidence in this arena that we've had 18 months of free online play on the Switch before we've had to pay a penny. In other words, Nintendo's had 18 months to avoid criticism if the service isn't up to snuff.
So far though, it's been solid, if unspectacular. Voice chat is still a massive weakness and some players complain about connectivity issues, but by and large, we've had no real reason to complain. That is, until Nintendo revealed more about what was coming when Nintendo Switch Online officially launches.
Don't get me wrong – we were all happy to learn that cloud saves were coming, that a bunch of multiplayer NES games would be bundled in as part of the package, and that it was cheaper than any of its competitors. But that initial positivity soon turned sour when we learned that cloud saves would be deleted as soon as we stopped paying and wouldn't even be supported in certain games like Splatoon 2.
Then there's the fact you have to check in weekly to ensure you can still play your NES games, the fact that the NES controller doesn't work with any other games, and the fact that, well, NES games aren't all that exciting in the first place.
And to a certain extent, they're all valid concerns – particularly the ones about cloud saves. There are many events that could lead to you accidentally not automatically renewing your Nintendo Switch Online service, and losing those cloud saves could be very upsetting. But is it enough of a reason to write off the service entirely? Absolutely not, I say – particularly when you actually stop and think about just what a terrific offer it actually is.
From the very get-go, Nintendo announced that we would eventually have to pay for the online service. So we can't really complain that while we could play Splatoon 2 for free yesterday, we can't now. It's been a long time coming and you've had ample time to prepare.
It's also so cheap when compared to its competitors, and I'd even argue that it offers way more – or at least has the potential to in the long term. Let's take a look at what you get from Nintendo Switch Online, PS+, and Xbox Live Gold:
Nintendo Switch Online - $19.99 / £17.99 annually:
Online multiplayer (not required for free games)
NES games
Cloud saves
Smartphone app
Exclusive deals
PS+ - $59.99 / £49.99:
Online multiplayer (not required for free games)
Cloud saves
Exclusive deals
Monthly free games
Xbox Live Gold - $59.99 / £39.99:
Online multiplayer (required for free games)
Cloud saves
Monthly free games
Exclusive deals
Party chat
As we can already see clear as day, a subscription to Nintendo Switch Online costs a fraction of the cost of its competitors. At $20, it's a whopping two thirds cheaper than PS+ and Xbox Live Gold at $60. The best part is, it doesn't really offer anything less. All three provide access to free games, cloud saves, and exclusive deals on top of the online multiplayer we largely pay it for.
Granted, a growing library of NES games isn't quite as exciting as a brand new AAA game or two for free every month. However, no matter when you sign up to Nintendo Switch Online, you'll always have access to every single game included in the library. At the moment, you will only get the games that are currently available as part of PS+ and Xbox Live Gold that month – there's no back catalogue.
Also, remember that we mentioned that the NES library will grow over time. At launch, we get 20 games but more will be added on a monthly basis, and there's potential for other consoles to get added to that list in the future. Like say, perhaps, SNES and N64 games? Don't forget you can play NES games online, too.
The icing on the cake really is the Family Membership, which is an incredibly generous offer. If used at its full potential, this allows you to get Nintendo Switch Online for as little as $5 annually, and there aren't too many restrictions to it. Anyone across the globe can join your family group, so as long as you trust them to pay up, there's really no reason not to go for this.
Ultimately, I'm really not declaring that Nintendo Switch Online is perfect. It clearly has its flaws. I am saying that no matter how you look at it, this is an incredibly generous offer that Nintendo should be applauded for. And the best part is that it's only going to get better with time.