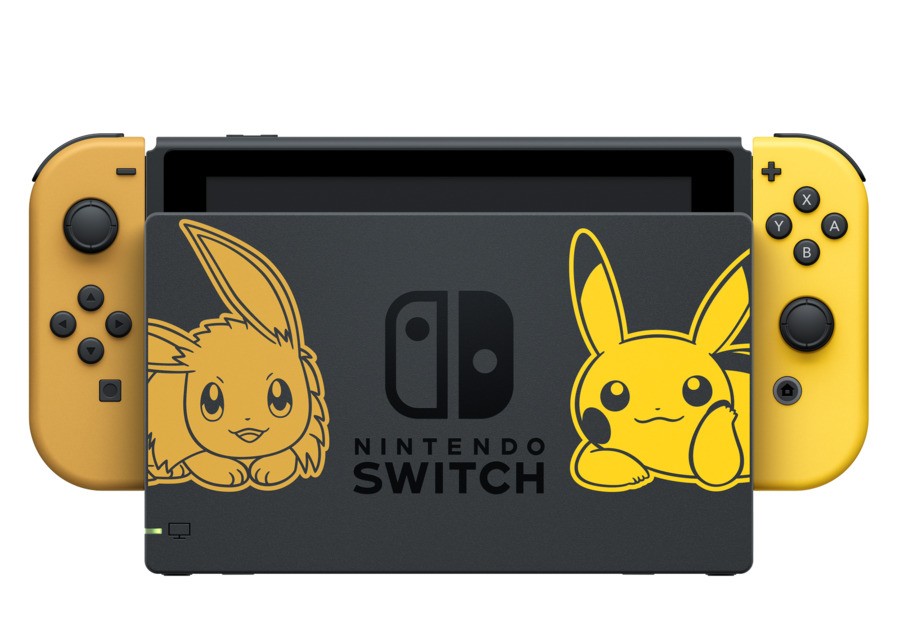 As you're no doubt aware by now, a brand new Pokémon: Let's Go, Pikachu! and Let's Go, Eevee! Switch console has been revealed for worldwide release. Launching on the same date as the games (16th November), the system features some lovely artwork of the main mascots and other goodies included in the box.
In case you wanted to lovingly stare at its beauty for hours on end, or perhaps just take a closer look at what you can expect in the box, we've put together this gallery of images for you to devour. Enjoy!
Firstly, let's take a general look at the console including the dock, main unit, and the Joy-Con.
The back of the console also features some lovely Pikachu and Eevee artwork, as you can see below.
Next up are the boxes themselves. Of course, each bundle comes with different packaging, with your chosen star dominating the front of the box with its very own super-cute pose.
And who could forget the previously announced versions? If you're not after a new Switch console, but are still hoping to pick up the games themselves, these bundles with a Poké Ball Plus controller included might just be for you.
If you're looking to grab one of the consoles for yourself, make sure to check out our handy guide on pre-orders. We'll be updating this guide as new bundles appear on the market in the UK and the US. Before you go, though, feel free to check out our lovely video gallery for even more chances to see the console up close, and let us know what you think of the design in the comments below.