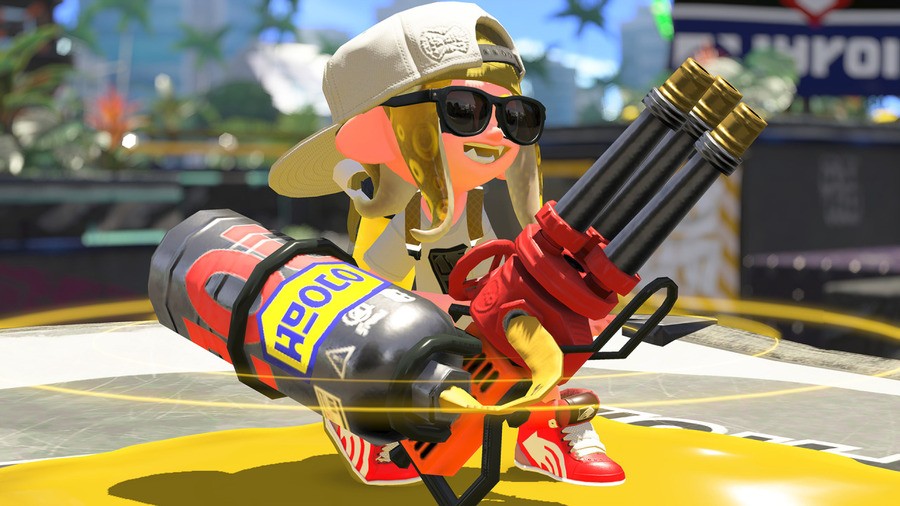 Earlier this month, Nintendo teased the return of Ancho-V Games to Splatoon 2 - a stage that featured a large office complex and a game development studio. This stage and four new weapons will arrive in-game just as the month of August gets underway.
In the original Splatoon, Ancho-V featured raised floors and interactive platforms, with fans that control the movement of platforms when hit by ink. Here's a quick PR message about the stage's return:
Ancho-V Games (the hit developers of the addictive Squid Beatz 2) have opened up their office space once again! Inklings and Octolings should be on the lookout for a few renovations to this important location. Hopefully using their office like this won't delay future development of their games, but it seems like a risk they're willing to take!
The four weapons (which you can see below) are the bathtub-like Bloblobber (Splash Wall / Ink Storm), the Nautilus 47 (Point Sensor / Baller), the Light Tetra Dualies (Sprinklers / Autobomb Launcher), and the Custom Hydra Splatling (Ink Mines / Ink Armor).
As with every month, the X rank will also see a reset as soon as the update kicks in at 5pm PT (31st July) / 8pm ET (31st July) / 1am BST (1st August) / 2am CEST (1st August).
Will you be exploring all of these new Splatoon 2 goodies? Tell us below.
[source nintendoeverything.com]