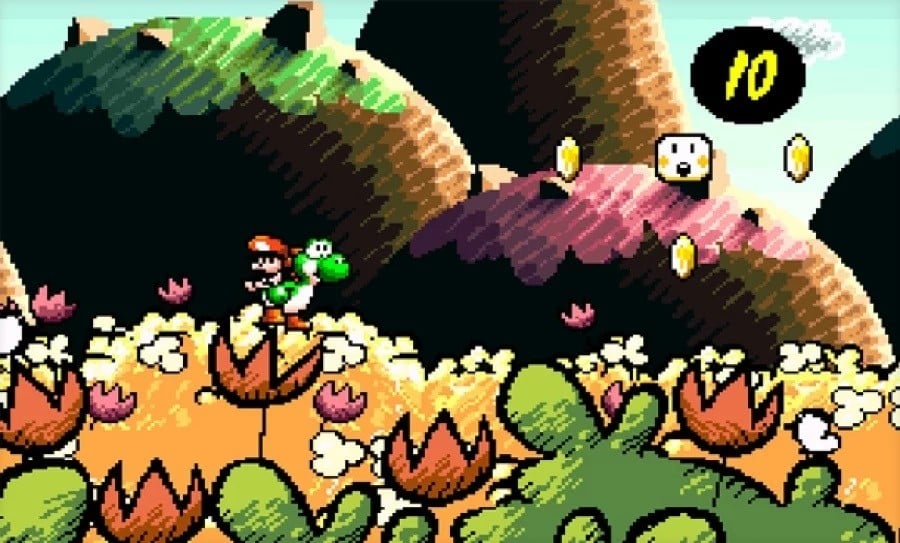 Not every game has aged as gracefully as the 1995 Super Nintendo title, Yoshi's Island. Even by modern standards, the distinctive hand-drawn aesthetics present from start to finish within this release have withstood the test of time. So, how exactly did the art style for one of Yoshi's earliest outings come about?
During an interview with Kotaku at this year's E3, Hisashi Nogami was asked this exact question. Having been an artist on the original Yoshi's Island team back in the day and more recently the producer of Splatoon 2 on the Nintendo Switch, he explained how it was an arduous process, ultimately achieved one pixel at a time:
The person who was my supervisor at the time, who was leading the artwork side of things, Mr. [Shigefumi] Hino, said, 'Why don't we try to do this hand-drawn style this time?'

We did a number of trials where we'd think, okay, let's do some actual hand-drawn drawings, scan those, and then figure out how we can take these scanned images and turn them into Super Nintendo graphics.
After repeating that process a number of times, we kind of hit on a way we could take these scanned-in images and use what was in our head during the process of drawing them and what we were seeing on the page to actually get them on screen and keep them looking like hand-drawn images.

What that involves is, when we made images for the Super Nintendo, we're actually filling in spaces. In this case it was a pixel at a time, basically to match the scanned image we'd hand drawn, and carefully fill them in to make sure they still looked like that. It was kind of like I had a hand-drawing rendering engine in my head that was guiding my hand while I was filling in pixels, to make sure they looked that way. It took quite a bit of time. 
It goes to show just how much time and effort can pay off when a game such as this still looks just as impressive as it did the first day it was released. 
Do you think Super Mario World 2: Yoshi's Island has aged well? Tell us in the comments below.  
[source kotaku.com]