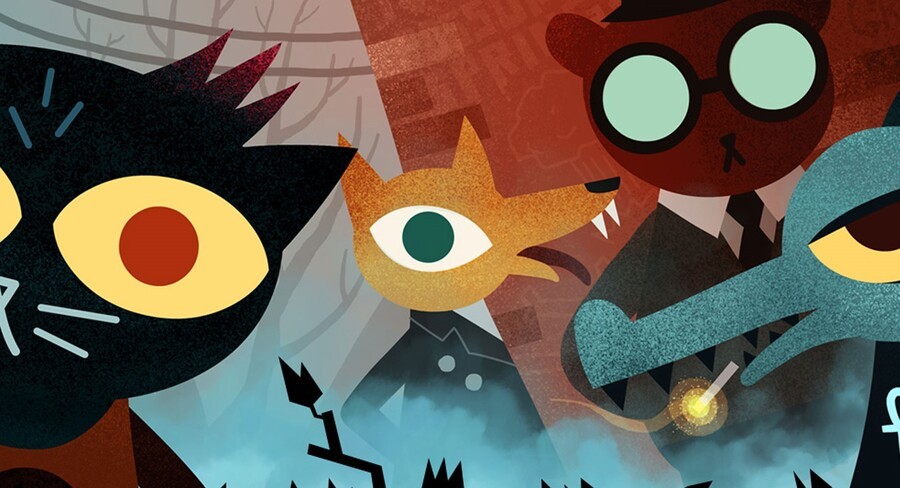 February is finally here - and what's that? It's arrived just in time for the very first Nintendo Download update of the month? What fortuitous timing! This week's big update includes a ton of new games for the Nintendo Switch-based eShop, as well as a slew of titles for the Wii U eShop and some fresh content on the 3DS one!
Today, we've got an indie hit that takes an anthropomorphic trip down to some mysterious woods, a modern take on the classic shmup template, the Switch version of a robo digging gem, some ACA Neo Geo throwbacks and a handheld flight simulator. Time to fill your boots!
Switch eShop
Night In The Woods (Infinite Fall, $19.99) - College dropout Mae Borowski returns home to the crumbling former mining town of Possum Springs seeking to resume her aimless former life and reconnect with the friends she left behind. But things aren't the same...
Dandara (Long Hat House, $11.99) - Welcome to a unique 2D platformer full of mystical creatures and boundless exploration. Defy gravity as you jump across floors, walls and ceilings alike. Discover the mysteries and secrets hidden throughout the world of Salt and its diverse array of characters. Empower Dandara for combat and survival against enemies bent on oppression. Dandara will be available on Feb. 6.
Sky Force Reloaded (Infinite Dreams, $9.99) - Sky Force Reloaded is the spirit of the classic arcade shoot 'em ups, captured with modern visuals and design. New entry in the series will keep you entertained with all the things you've came to love in scrolling shooters. Meaty explosions, incinerating lasers, colossal bosses and diverse aircrafts to pilot. Read our review.
SteamWorld Dig (Image & Form, $9.99) - SteamWorld Dig is a platform mining adventure with strong Metroidvanian influences. Take the role of Rusty, a lone mining steambot, as he arrives at an old mining town in great need. Dig your way through the old earth, gaining riches while uncovering the ancient threat that lurks below... Read our review.
Her Majesty's SPIFFING (Billy Goat, $9.99) - Assuming command of the near futuristic space ship HMSS Imperialise and her crew YOU will venture into the cosmos, solving puzzles, engaging in witty banter, deal with crippling claustrophobia, gradually succumb to the sustained exposure of cosmic radiation and so on, all for Queen and Country. Read our review.
Island Flight Simulator (Caipirinha Games, $19.99) - Enjoy fantastic open-ended gameplay, touch down in the tropics and transport freight between twelve exotic islands in more than a hundred exciting missions. Only the most daring pilots will take the risk of accepting both highly lucrative and illegal missions from shifty clients.
Shiftlings - Enhanced Edition (Rock Pockets, $11.25) - Shiftlings is a colorful puzzle platformer with a twist! You're controlling two quirky custodians who are tethered together; one large and one small. Play alone or work together with a friend to run, bounce and swap size through 55 challenging levels.
3D MiniGolf (Joindots, $19.99) - Experience virtual but realistic mini-golf and master an entertaining match on over 54 challenging holes, 18 of which faithfully modelled after official courses in the real world.
ACA NEOGEO SAMURAI SHODOWN II (HAMSTER, $7.99) - The game features 12 swordmasters, each with their own unique personality. They will battle it out among each other before taking on Shiro Tokisada Amakusa in the game's climax. One of the unique characteristics of this game is the Rage Gauge which fills up as the player takes damage. Once that gauge is full the character's attacks do more damage, keeping the battles tense and exciting. Read our review.
AeternoBlade (Corecell Technology, $14.99) - In the region of Awelsia, vengeful Freyja travels with an unknown weapon called 'AeternoBlade'. Freyja looks to take revenge on Beladim, the Lord of the Mist who destroyed her village, Ridgerode, and killed her tribe. Her vengeance is helped by Vernia, who has as much merit as Beladim. Vernia taught Freya about the abilities of AeternoBlade. Freya has to venture into many different world dimensions to discover how to annihilate Beladim.
Crypt Of The NecroDancer: Nintendo Switch Edition (Brace Yourself Games, $19.99) - Can you survive this deadly dungeon of dance, slay the NecroDancer, and recapture your still beating heart? Or will you be a slave to the rhythm for all eternity?
Frederic 2: Evil Strikes Back (Forever Entertainment, $4.99) - Defeat famous opponents in musical duels. Immense yourself in fantastic story of Frederic's endeavors. Catch all the Easter Eggs and subtle parodies hidden in the background. Practice your skills until perfection and become the Master of the Piano.
Black Hole (Dufgames, $5.99) - Black Hole is an arcade-style twin-stick shooter in space. Choose your ship and embark on a dangerous and action packed flight through multiple black holes. Shoot everything you can see and collect everything you can find. Available Feb. 6
The Darkside Detective (Spooky Doorway, $12.99) - The Darkside Detective is a micro-adventure game with a distinct sense of humour. It's being ported to Nintendo Switch, and consists of a series of humorous bite-size investigations into the occult and extraordinary. Available Feb. 7
10 Second Run RETURNS (Blue Print, $6.54) - The legendary action game, "10 Second Run" is back! The rules (and controls) are simple: "Move Sideways" and "Jump & Dash" to get to the finish line in under 10 seconds! 
Mad Carnage (QubicGames, $4.99) - In the world after the Great War, you will take control of intimidating petrol beasts, each with their own unique weapons and gameplay mechanics. Upgrade your cars, then battle it out in Campaign mode or on one of the 8 Custom Game maps! Invite a friend for local Multiplayer versus! Available Feb. 2
Mercenary Kings Reloaded (Tribute Games, $19.99) - In this frantic 2D action game, you are part of the Mercenary Kings, the most skilled team of warriors-for-hire on Earth, but when your comrades have fallen and the fearsome forces of CLAW have seized an island-wide top secret Laboratory Base, you must do what it takes to stop them. Available Feb. 6
Switch eShop DLC
Pokkén Tournament DX Battle Pack: Wave 1 – The Pokkén Tournament DX Battle Pack grants immediate access to Avatar items upon purchase and two waves of DLC as they are released. (The full game is required to access the DLC.) The Battle Pack contains two new Battle Pokémon and two new Support Pokémon Sets. With these Pokémon joining the fray, the battle is just getting started.
Wave 1 launched on Jan. 31 and contains Battle Pokémon Aegislash, a new Support Pokémon set featuring Mega Rayquaza and Mimikyu, and additional Avatar items.
Wave 2 releases on March 23 and contains Battle Pokémon Blastoise, a new Support Pokémon set featuring Mew and Celebi, and additional Avatar items.
Wii U eShop
Toon War (Lemondo Games, $9.99) - Your mission is to liberate peaceful villages from evil forces, eliminate enemies and win over dangerous bosses. Play as a military vehicle or a drone and play in different types of worlds, including snow, water and air landscapes. Enjoy the various set of gameplay as you win the boss fights playing regular, runner, and survival modes.
NECROMANCER (Konami, $5.99) - Necromancer is a horror RPG released for the TurboGrafx-16 in 1988. You are a hero who heads out on an adventure with two other allies in order to search for the Evil Holy Sword "Necromancer" to defeat an evil force that is about to take over the Kingdom of Ishmaelia.
Battle Chopper (Konami, $5.99) - Fly through each stage and destroy enemies in your path. Shoot the "bricks" located throughout each stage, to reveal crystals. Pick-up the crystals to get money for different weapons and power-ups. Spend wisely! A boss awaits you at the end of each stage. Defeat the boss to move on to the next stage.
3DS eShop
Now I Know My ABCs 2 (Skunk Software, $8.99) - Now I know my ABCs 2, is a fun and interactive way to learn the alphabet. You're shown step-by-step how to write each letter. Your goal is to write every letter in both lowercase and uppercase. After you complete writing each letter a cool animation plays, giving positive reinforcement to help encourage the learning of even more letters! For New 3DS systems only.
3DS demos
Radiant Historia: Perfect Chronology – Demo Version - Unlock the time traveling power of the White Chronicle once again in Radiant Historia: Perfect Chronology. This beloved classic is an expanded from the original Nintendo 3DS™ game and contains a great deal of added gameplay/story content, updated presentation, and new ways to experience the adventure!
Nintendo Mobile
Fire Emblem Heroes One-Year Anniversary Celebration! – We've reached our one-year anniversary! Thanks for your support. To thank everyone for playing the game, we are holding a celebration with five different events:
Summoning Focus: One-Year-Anniversary Hero Fest, from Feb. 1 at 11 p.m. PT to Feb. 8 at 10:59 p.m. PT. To celebrate the one-year anniversary of Fire Emblem Heroes, four dependable Heroes are part of a 5-star summoning focus. Also, the initial summoning rate for 5-star Focus Heroes will be set to 5%. For new summoning events, the first time you summon, you won't have to use Orbs. Check it out from the Summon menu.
One-Year-Anniversary Present, from Feb. 1 at 11 p.m. PT to March 7 at 10:59 p.m. PT. During this time, anyone who logs in can receive 50 Orbs, one time only.
One-Year-Anniversary Celebration Log-In Bonus, from Feb. 1 at 11 p.m. PT to Feb. 16 at 10:59 p.m. PT. During this time, you can receive a Log-In Bonus up to 10 times, for a total of 20 Orbs.
Daily Special Maps, Feb. 1 at 11 p.m. PT to Feb. 25 at 11 p.m. PT. Daily Special Maps will be sent out every day for 25 days. There are two difficulties for each: Normal and Hard. You can earn up to 50 Orbs by playing.
Double EXP and SP Event, Feb. 1 at 11 p.m. PT to Feb. 8 at 10:59 p.m. PT. During this time, the EXP and SP you earn in battle will be doubled.
A Hero Rises – Now that the Choose Your Legends event is over, it's time to decide who the No. 1 Hero is in all of Fire Emblem Heroes. Get ready for a new event, A Hero Rises, which runs from Feb. 1 at 7 p.m. PT to Feb. 19 at 6:59 p.m. PT. The top Hero will be given to players as a 5-star unit at a later date. Check out the voting website, and choose your favorite Hero.
Illusory Dungeon – A new event, Tap Battle: Illusory Dungeon, will be here, with the Labyrinth of Mists. The event runs from Feb. 8 at 11 p.m. PT to Feb. 22 at 10:59 p.m. PT. Illusory Dungeon is a simple battle game in which you time your taps on the screen to defeat enemies. You can even use Heroes who have not yet been leveled up, so feel free to choose your four favorite Heroes. During this time there will also be daily quests where you can earn different rewards each day. Starting on Feb. 11 at 11 p.m. PT, there will be two types of Tap Battle quests.
My Nintendo Activities:
Get set for Valentine's Day with new My Nintendo rewards:
My Nintendo is offering a cute Super Mario: Pastel Pink Nintendo 3DS HOME Menu theme. You can redeem points for the reward up to five times, so you can share it with someone special. The offer ends on March 31 at 11:59 p.m. PT.
February is shaping up to be a great month for classic Nintendo game fans. Three beloved Nintendo 3DS games – Super Mario 3D Land, The Legend Of Zelda: A Link Between Worlds and Ultimate NES Remix – have just been added to the Nintendo Selects series.
To celebrate, My Nintendo is offering the official Prima eGuide for The Legend of Zelda: A Link Between Worlds. Redeem your points and get the eGuide to maximize your adventure.
My Nintendo is also offering discounts for some awesome games, including certain Nintendo Selects games. Redeem your points and get discounts for games at great values – many participating titles are under $18. Not a My Nintendo member? Sign up now for free at my.nintendo.com.
Nintendo 3DS themes
Radiant Historia: Perfect Chronology Theme
Radiant Historia: Perfect Chronology Chibi Theme
Pokémon: Team Plasma (Pokémon Black and Pokémon White)
Pokémon: Team Plasma (Pokémon Black 2 and Pokémon White 2)
What will you be downloading this week? (252 votes)
Her Majesty's SPIFFING
3%
Island Flight Simulator
2%
Shiftlings - Enhanced Edition
1%
ACA NEOGEO SAMURAI SHODOWN II
6%
Crypt Of The NecroDancer: Nintendo Switch Edition
8%
Frederic 2: Evil Strikes Back
1%
The Darkside Detective
2%
Mercenary Kings Reloaded
5%
Please login to vote in this poll.
As always Nintendo of America wants you to browse the eShop and check out the official sales and deals website for discount details.
So there are today's big (and small) hitters arriving on the Switch, Wii U and 3DS eShops. Let us know which ones you're picking up this week!