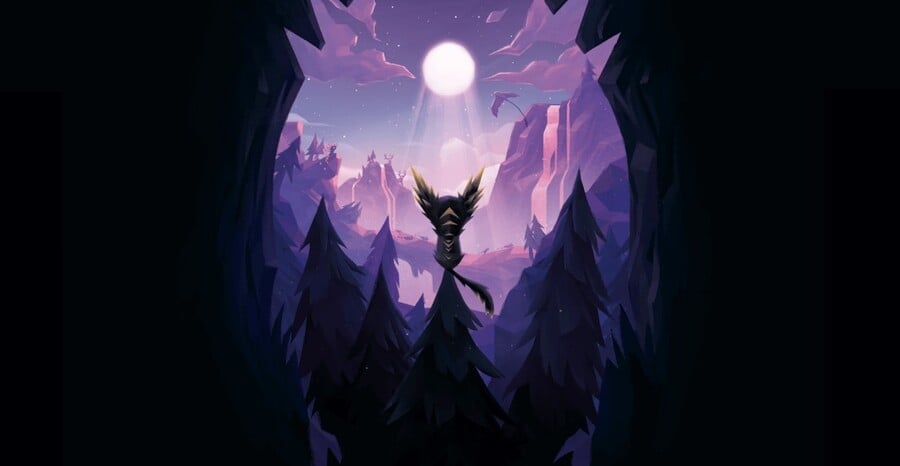 It's Thursday and that can only mean one thing, people - Nintendo Download day! As usual, Nintendo has stuffed its virtual hamper full of tasty downloadable treats for Nintendo Switch and 3DS, so whether its a new indie hit, a Neo Geo classic, a piece of DLC or a much-wanted theme, Nintendo Life has you covered.
This week, we've got a ton of new titles from the indie scene, as well as some truly unusual curios from across the industry. There's also a couple of new titles for 3DS, although keep in mind one of them - RTO 2 - is only for New Nintendo 3DS machines...
Switch eShop
Bayonetta 2 (Platinum Games, $49.99) – Bayonetta's back and more powerful than ever. Wield wild weapons and execute deadly moves – like the powerful Umbran Climax – to take out angels and demons in this breathtaking and critically acclaimed action game. The Bayonetta 2 game also features an online and local wireless two-player cooperative mode in which players bet halos on their performance and work together to amplify their sass, cause destruction and score some riches. (Additional accessories are required for multiplayer mode and are sold separately.) Bayonetta 2 will be available on 16th Feb. Read our review.
Bayonetta (Platinum Games, $29.99) – Bayonetta is a butt-kicking, havoc-wreaking witch, and she'll shoot, whip and slice as she uncovers the truth about her own past. Her weapons and moves are all stylishly over-the-top, but she can also dodge attacks to slow down time, and inflict Torture Attacks on her enemies. Use Wicked Weaves to summon Infernal Demons, dodge enemies' dangerous attacks to slow down time and punish angels with deadly devices. You can even dress Bayonetta up in four Nintendo-themed costumes: Princess Peach, Princess Daisy, Link and Samus Aran. Bayonetta will be available on 16th Feb. Read our review.
Get both Bayonetta games for a great price! – Purchase Bayonetta or Bayonetta 2 on Nintendo.com or Nintendo eShop and get a discount on your purchase of the other game. Once you purchase Bayonetta or Bayonetta 2 from Nintendo.com or Nintendo eShop, any time you purchase the other Bayonetta game from Nintendo.com or Nintendo eShop, you'll get an automatic discount applied at checkout.
Fe (Zoink Games, $19.99) – Fe is a new type of platform adventure where the story is up to you to discover, without handholding, told wordlessly through the discoveries you make during gameplay. Run, climb and glide your way through a dark Nordic forest and explore its living, breathing ecosystem filled with secrets and mystical creatures. Fe will be available on Feb. 16.
Joe Dever's Lone Wolf (Forge Reply, $12.99) – Lone Wolf is back, as a video game with a brand-new story, a deep combat system, stunning graphics and much more! Make meaningful choices and carve your own path through this epic non-linear adventure. Test your strength in dynamic turn-based battles, prove your skill with the lock-picking minigame and accept the challenge of wits posed by the mysterious Shianti Cube! Available 16th Feb.
Layers Of Fear: Legacy (Bloober Team, $19.99) – Layers of Fear: Legacy is a psychological and psychedelic horror game about a madness-engulfed painter striving to create his Magnum Opus. Learn the dark story of his past while gathering carefully crafted personal items that can be found in the game. Traverse the vision-induced, constantly changing house full of supernatural phenomena, where each move of the camera can shift the environment, and discover the true motive of the artist. Available 21st Feb.
Old Man's Journey (Broken Rules, $9.99) – Old Man's Journey, a soul-searching puzzle adventure, tells a story of life, loss, reconciliation, and hope. Entrenched in a beautifully sunkissed and handcrafted world, embark on a heartfelt journey interwoven with lighthearted and pressure-free puzzle solving. Available 20th Feb.
Puzzle Puppers (Cardboard Keep, $4.99) – Puzzle Puppers is a puzzle game about stretching cute dogs to their food bowls. Easy to learn, difficult to master with deceptively simple puzzles and mechanics. Available 20th Feb.
Xeodrifter (Atooi, $9.99) - Xeodrifter is the story of an interstellar drifter traveling the stars on a simple mission of exploration. We join our nomad as he embarks on the investigation of a small cluster of four planets in the omega sector, after a collision with a rogue asteroid damaged his warp core. Read our review.
Millie (Forever Entertainment, $4.99) - Control a millipede, roaming through over 90 diverse levels. Solve the elaborate mazes laying on your way. Gather and use multitude of power-ups that will help you with your struggles. Enjoy three types of immersing mini games. Grow bigger and bigger; and remember: try not to eat your tail. Read our review.
Pool BILLIARD (D3Publisher, $7.99) - Once you set the angle and impact position on your cue ball, just adjust your power, pull back, and thrust the Joy-Con controller to make your shot! The HD rumble will make it feel like you're really hitting that cue ball!
Samurai Aces for Nintendo Switch (Zerodiv, $7.99) - Psikyo made a special shooting game in 1993. It's called a "PSIKYO Shooting" and the beginning of the Psikyo. This story is from the far east… At the Sengoku perood, ace of six samurai assemble and fight in the air. The name is "Samurai Aces!!"
TorqueL -Physics Modified Edition- (Active Gaming Media, $9.99) - The new TorqueL -Physics Modified Edition- has been released with updated physics following an update to the game engine, while still providing the same experience as the original TorqueL game. TorqueL is a curiously unique 2D rotation action game, in which you proceed by rotating or extending a box with characters inside.
Wanderjahr TryAgainOrWalkAway (Corecell Technology, $9.99) - Wanderjahr is a compact RPG with real-time strategy combat and an intriguing story. This universe, this reality, there's a source code behind all of it. We'd know. We've already found it. And, with it, we will cleanse this reality of all evil.
ACA NEOGEO FATAL FURY 3 (HAMSTER, $7.99) - A new "Story" is about to begin in the city of South Town. Five new characters join for a total of 10 hungry wolves ready for battle. Featuring new elements such as the Oversway and Combination Art mechanic, be ready for epic and intense fights! The ACA NEOGEO series has faithfully reproduced many classic NEOGEO masterpieces. Read our old Wii Virtual Console review.
AQUA KITTY UDX (Tikipod, $8.99) - AQUA KITTY UDX blasts onto Nintendo Switch in this enhanced Ultra Edition including an all new epic Dreadnought mode! You and your team of milk mining kittens have overcome a fear of water to drill down under the ocean seabed and begin extracting vast reserves of what seems to be naturally forming full-fat milk.
ESCAPE TRICK: 35 Fateful Enigmas (D3Publisher, $19.99) - Our hero goes place to place, searching for his lost father with nothing but the mysterious key he left behind. Will he be able to escape the countless prisons his destinations inevitably become and find his parent?!
Johnny Turbo's Arcade: Gate Of Doom (FTE Games, $7.99) - Gate of Doom a is classic multiplayer action RPG for one to two players. Originally release in 1990, and a noted classic arcade title from the 90s.
Switch/3DS DLC
Fire Emblem Warriors Season Pass (for Nintendo Switch/New Nintendo 3DS) – New playable characters, History Maps, costumes and more have come to the Fire Emblem Warriors game. Here's what's in the Fire Emblem: Shadow Dragon pack: three new characters, three new History Maps, four new costumes, new armor break models, new support conversations, new weapons and new weapon attributes. If you already purchased the Season Pass, this DLC Pack is available to you at no additional cost. The Fire Emblem: Shadow Dragon DLC Pack can be purchased on the official site. Note: new costumes, character-exclusive weapons and weapon attributes must be unlocked as rewards from playing through the new History Maps. The full version of the game is required to use the DLC.
Switch demos
Wanderjahr TryAgainOrWalkAway – Demo Version (Corecell Technology, Free) - Wanderjahr is a compact RPG with real-time strategy combat and an intriguing story. This universe, this reality, there's a source code behind all of it. We'd know. We've already found it. And, with it, we will cleanse this reality of all evil.
Violett – Demo Version (Forever Entertainment, Free) - Dragged by her parents, a young and rebellious teenage girl – Violett, moves to an old spooky house in the middle of nowhere. Forced away from her friends and life in the city; she imagines how boring life in countryside will be: spending day after day, bored in her room with absolutely nothing to do. But what she cannot imagine, is that in just few moments, she'll have the adventure of her life.
Quest Of Dungeons – Demo Version (Upfall Studios, Free) - Quest of Dungeons is a turn-based dungeon crawler game: a roguelike featuring a good old 16-bit, retro artistic look. An evil Dark Lord has stolen all the light, so your mission is to enter his lair and defeat him.
3DS eShop
RTO 2 (nuGAME, $9.99) - RTO 2 is a side scrolling first person shooter with elements from the survival horror genre. Take control of a 6-man team through four episodes and do your best to survive and complete your mission. RTO 2 features randomly generated levels and permadeath. It will pitch you up against hordes of enemies and test your survival skills. New Nintendo 3DS systems only.
Machine Knight (KEMCO, $9.99) - To save his dying world from energy shortages Frain travels through a mysterious gate in an attempt to find a solution. Waiting for him there, however, are treachery and betrayal. Despite this, two heroines, Bell the priestess and the spirited Aulin support Frain through his troubles.
What are you downloading this week? (388 votes)
Layers Of Fear: Legacy
7%
TorqueL -Physics Modified Edition-
0%
Wanderjahr TryAgainOrWalkAway
1%
ACA NEOGEO FATAL FURY 3
2%
ESCAPE TRICK: 35 Fateful Enigmas
0%
Johnny Turbo's Arcade: Gate Of Doom
3%
Please login to vote in this poll.
Well, that's your lot for this week. As always, let us know which new release has your vote in the poll above, and be sure to share your thoughts in the comments section below...