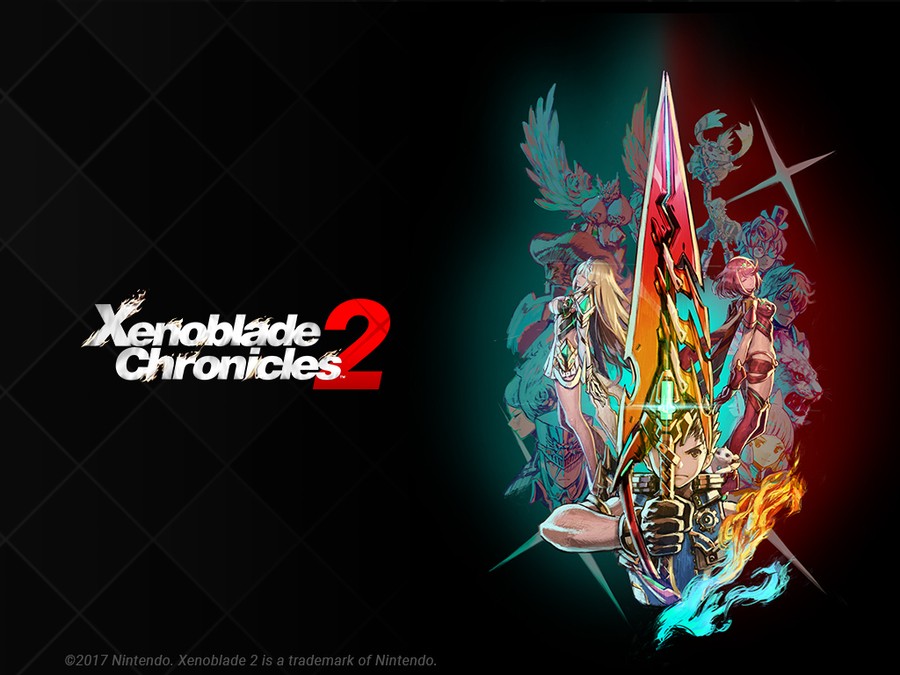 It's time for another North American Nintendo Download Update, and this week has some high profile and intriguing options. Monolith Soft's latest epic leads the way on Switch, but there are also some interesting download-only options on the system that are vying for your time; the Wii U also gets a new game and two Virtual Console titles, which isn't to be sniffed at. Let's get to it, shall we?
Switch Retail Downloads
Xenoblade Chronicles 2 (Nintendo, $59.99USD) - It's a series that's now embedded within Nintendo console gaming culture, offering a hefty dose of immersive (and downright complicated) RPG gaming. This 'main' sequel does a lot of things very well and will keep plenty of Switch owners busy into 2018 - here's our full Xenoblade Chronicles 2 review. Available from 1st December.
Switch eShop
Serial Cleaner (Curve Digital, $14.99USD) - A rather quirky 2D / stealth game in which you play the role of crime scene 'cleaner' for the mob. It's heavily stylised and certainly looks like a fun concept; our review will be with you later today.
Nine Parchments (Frozenbyte, $19.99USD) - A game that's been generating a decent amount of buzz, with an isometric view it is essentially an action shooter with wizards, and as you'd expect from Frozenbyte there are RPG elements thrown in. It also supports local and online co-op for up to four players with a recent demo giving us all a taste. Available from 5th December.
Caveman Warriors (Jandusoft, $12.99USD) - A colourful brawler with four different characters (and local multiplayer for as many players); it looks rather slick and promises plenty of challenge. We'll check it out in a review soon. Available from 5th December.
Syberia 2 (Microïds, $29.99USD) - This series of remastered point-and-click titles continues, following a very solid first outing on the Switch not too long ago. "Kate Walker and the eccentric old Hans Voralberg set forth in search of a forgotten world" in this one, which sounds like a reasonable way to pass a weekend.
OPUS: The Day We Found Earth (Flyhigh Works, $5.00USD) - A title that seems to aim for an atmospheric experience, it's set millions of years in the future as a small robot tries to find Earth by charting the stars. It looks like a mix of stargazing and a touching narrative, and we'll see how it fares in a review.
Star Ghost (Rainy Frog / Squarehead Studios, $8.99USD) - Developed by Rare alumni Rhys Lewis (with music by David Wise), this adds an interesting spin to the sidescrolling space shooter; it has controls not too dissimilar to Barrel Rocket levels in Donkey Kong Country Returns, and we thought it was a darn good combination when we reviewed it on Wii U.
MUJO (Oink Games, $9.99USD) - A blend of match-three and puzzle elements in which you use combinations to destroy mythological monsters. It has a simplistic (but relatively clean) look, but this is a pretty lazy port by the look of things.
Traverse USA (Hamster, $7.99USD) - This is the first IREM Arcade Archives release, a sentence to cheer the spirit of many retro gamers. Both a motorcycle overhead racing and sprite scaling hybrid game, you trying to get from LA to New York in once piece.
World Heroes (HAMSTER, $7.99USD) - It's the Neo Geo ACA series, so we might as well get another fighting game into the line-up. What helps this one stand out is its use of somewhat demented representations of historical figures from through the ages; it was arguably bettered by its sequels, but you can check out our original World Heroes review for another bit of retro goodness.
Switch DLC
Xenoblade Chronicles 2 Expansion Pass (Nintendo, $29.99 / $38.69CAD) - If you own the Xenoblade Chronicles 2 game and buy this Expansion Pass, you'll gain access to some new content, including new story content in fall 2018! On Dec. 1, the Helpful Item Pack will roll out, with the New Quest Pack opening up in January. Plus, the New Rare Blade Pack will be added to the game in spring, with the New Challenge Mode Pack next summer.
Xenoblade Chronicles 2 - Japanese Voice Pack (Nintendo, free)
Wii U eShop
Draw a Stickman: EPIC 2 (Hitcents, $6.99USD) - The Wii U may be getting the sequel, but the concept of this looks rather promising. The idea is that you draw your heroes and even weapons and watch them come to life as you play the game. It'll be interesting to see if the execution is as fun as the idea.
Wii U Virtual Console
Bomberman '93 (Konami, $5.99USD) - We must be getting close to the Wii U Virtual Console being renamed the 'Konami Retro Portal', or something along those lines. This time around we get a TurboGrafx-16 entry in the Bomberman series, and it's pretty darn good especially in multiplayer.
Battle Lode Runner (Kaasa solution GmbH, $5.99USD) - Another TG-16 title, this time a colourful variation of a series that never got much beyond 'cult' popularity; you can check out our old review of the Wii VC release if you want a true blast from the past.
---
As always Nintendo of America wants you to browse the eShop and check out the official sales and deals website for discount details.
Those are the options for this week - let us know what you'll be downloading in the poll and comments below.