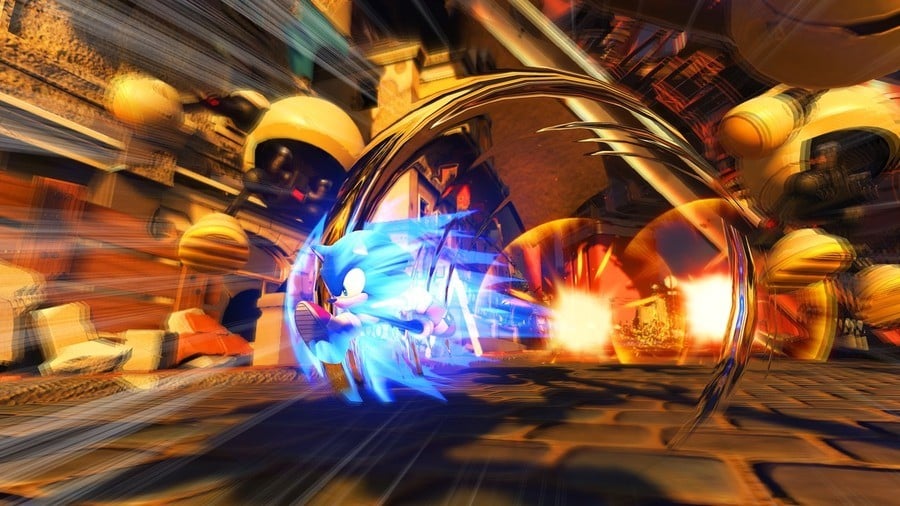 Sonic Forces may not be the blue hedgehog's first game on Switch - that honour falls to the amazing Sonic Mania - but it's likely to be the one that Sega hopes will find the larger audience, given the hype which has surrounded its development.
Fairly early on, it was rumoured that the game wouldn't be hitting that magical 60 fps mark, based on preview builds shown at E3. Another rumour was that the game would run at 720p in both docked and handheld forms.
At the time, it was hard to totally verify these points, but a recent interview with Sonic Team Head Takashi Iizuka, producer Shun Nakamura, director Morio Kishimoto, lead programmer Hiroki Tokunaga and art director Yoshitaka Miura has confirmed the details - the game does indeed run at 720p regardless of how you play it, and the frame rate is 30, not 60 (although the team insist that the controls "run" at 60fps, apparently).
While it's obvious that the Switch version of the game isn't the lead one - Sonic Forces is also coming to Xbox One and PS4, lest we forget - it's a shame Sega couldn't boost the docked mode up to 1080p. However, Sonic Team state that Switch development has been "smooth" thanks to the fact that a proprietary engine is being used, and that while the resolution is lower on Nintendo's console, the game should look the same as the other versions.
Meanwhile, Iizuka also hinted in another interview which took place during the Tokyo Game Show that Sonic Forces and Sonic Mania may share a connection:
Last month, in August, was released a game called Sonic Mania that got a really warm welcome from everyone in the community from all the fans, especially abroad, a lot of people enjoyed playing it. And I really hope that if you played Sonic Mania, you get to play Sonic Forces too because you may think those titles are unrelated, but actually they may not be… definitely I want you guys to check out both titles because there's something going on between the two. And I'm going to keep it at this right now.
What do you make of this news? Will it impact your purchasing choice, or are you not concerned as long as Sonic Team can iron things out, gameplay-wise? Let us know with a comment.
[source dualshockers.com, via nintendoeverything.com]