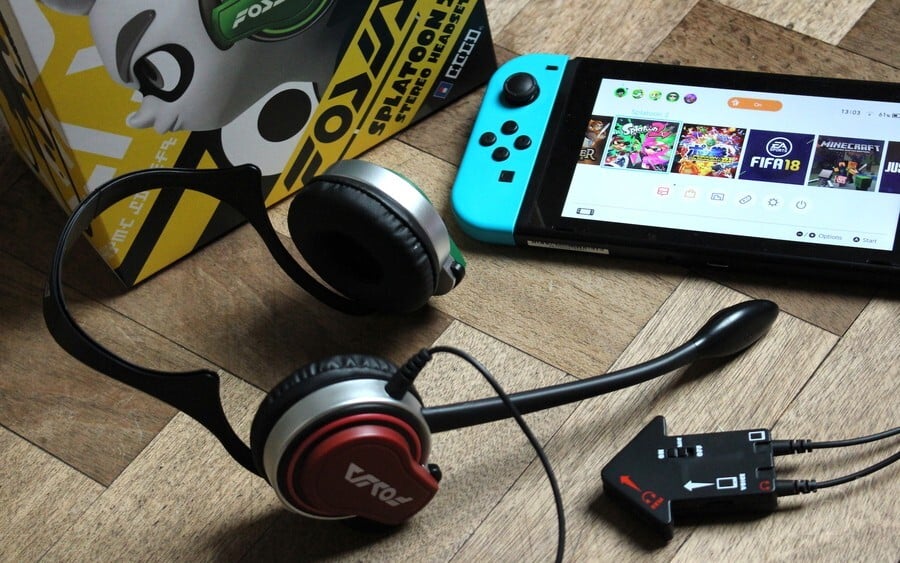 We've already looked at Hori's basic solution for in-game voice chat on Switch, but here's a good chance that most Nintendo fans will have their eyes on the manufacturer's other option, the Empera Hook HDP headset designed to look like the very cans worn by characters in Splatoon 2.
On a basic level, there's no difference between these headphones and Hori's aforementioned AIR headset, at least in terms of pure functionality. Connecting them to the Switch for in-game voice chat is exactly the same (painful) process, so don't go expecting this fancier product to offer any technical advantage over its sibling.
What the Empera Hook headset does offer is authenticity. Granted, the shiny metallic elements are plastic rather than real metal, but the aesthetics are spot-on; this really does feel like an item which has come straight outta Inkopolis. There's even a set of interchangeable plates which fix to the side of the headphones, and the in-line remote is shaped just like the smartphones seen in the game itself. There's even a removable mic which looks like an octopus' tentacle. Hori gets a 10/10 for pure style here.
Unfortunately, the Empera Hook headphones are a little less agreeable when it comes to comfort. They hook over your ears and there's no way to adjust the fit, so if your bonce is too small they fall off, and if it's too big they dig into your head or simply refuse to clamp on altogether. Unless your cranium is just the right size, then actually wearing these headphones is an often irksome experience.
Ultimately, it makes it hard to recommend the Empera Hook headset over Hori's other option, the AIR Stereo headset. That pair may not be as visually appealing but they do at least allow you to adjust the fit, which makes it a more sensible choice if you're worried about your head not being exactly the right size. Seasoned Splatoon fans may want to pick up a pair for the aesthetics and awesome packaging, mind.