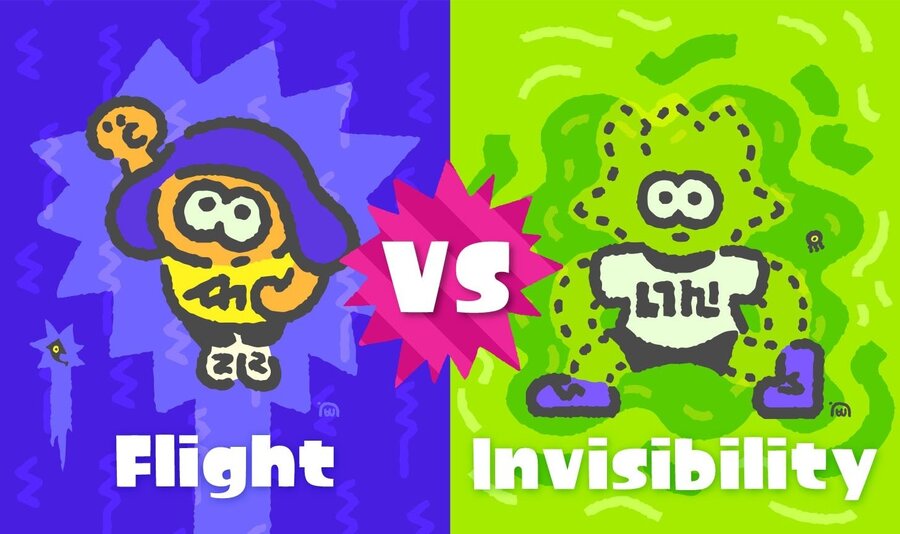 Following the epic battle of the condiments, Splatoon 2 has a new Splatfest is on the horizon, and with it comes another tough question: which superpower would you rather have, Flight or Invisibility?
The timings are different depending on where you are with each region doing its own thing; whatever the case the results are being revealed by Pearl and Marina shortly afterwards.
The times you need are below:
---
When is the Flight vs. Invisibility Splatfest?
North America: 1st September at 9pm Pacific / midnight Eastern (2/9) until 9pm Pacific / midnight Eastern on 2nd September.
Europe: 2nd September at 3pm UK / 4pm CEST until 3pm UK / 4pm CET on 3rd September.
Australia / New Zealand: 2nd September at 2pm AEST until 2pm AEST on 3rd September.
---
If you have decided which side you will be fighting for, head over to the voting terminal in Inkopolis Square, choose a side and pick up your Splatfest Tee.
That Splatfest Tee is pretty important, as it happens. You can work on filling its ability slots beforehand by playing in regular Turf Wars so that you're already at your best when the Splatfest starts. The Mayo vs Ketchup Splatfest was a close one, so every advantage you can get will be well appreciated by your team.
Super Sea Snails are awarded after the results are in depending on how you performed and whether your team won or not. These can be used to upgrade your gear, all you need to do is head to Murch in Inkopolis Square and have a little chat with him. He's pretty keen on Super Sea Snails.
We have to warn you that choosing Team Flight won't allow you to fly, nor will joining Team Invisible make you transparent. It's all hypothetical, we're afraid.
We wish you the best of luck whichever team you choose. Be sure to check out our top tips for winning Splatfests.