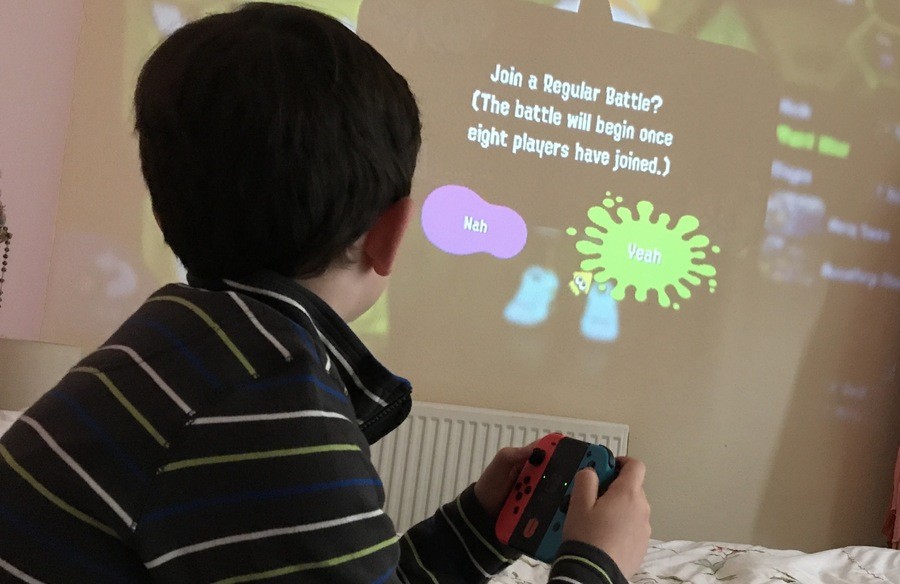 The hybrid nature of the Switch means that it straddles the divide between portable and domestic gameplay; it's a unit that is small and light enough to be carried in your bag for gaming on the go, but it also connects to your TV like a traditional system, offering big-screen delights as well.
The super-portable nature of the Switch makes it an interesting console to use in other ways, too. In the world of home theatre, projectors have long been a feature as they offer a large-format experience which cannot be replicated, even by the biggest flatscreen television. The trade-off is that image brightness isn't as strong, but many see that as an acceptable sacrifice in order to get a cinema-style picture in their living room.
The march of technology has seen a new legion of projectors hit the market which not only boast high-definition imagery but also cost very little to purchase. With this in mind, we couldn't help but muse over a possible connection between Nintendo's system and this new generation of low-cost, super portable projectors; could combining the two deliver an improved gaming experience, and one which can be taken on the road with you?
The projector we chose to test this theory was the DB Power T2, a 1500 Lumens mini LED projector. At around $100 / £70, it's one of the cheapest options available at the moment, but price is only one of the considerations we've made here; with measurements of 11.5 x 7.7 x 4.3 inches and an overall weight of just 2.2 pounds, the T21 is super portable - and that makes it the ideal companion for the Switch.
As you might expect from a projector this cheap, the T2 isn't going to provide the same kind of image quality as a device worth ten times as much - but having said that, we came away suitably impressed all the same. Provided the room is dark enough, the picture displayed by the T2 is bright, clear and colorful. The promotional material states that it's capable of projecting a picture of around 170 inches in size, with 130 inches being the "sweet spot". We'd certainly concur with that statement; the larger the image, the further away from the wall the projector has to be, and the further away it is, the dimmer the picture gets. It goes without saying, but the projector also works best on a white surface, although we tried it on various other hues of wall without too many issues.
Focusing the image is handled by the dial on the top of the projector, and it's possible to tinker with the keystone to level off the image if you're projecting at an angle - this almost always results in part of the picture being blurry, so it's best to have the projector as level as possible. If you're feeling brave you can even hang the T2 upside down from the ceiling - there's an setting in the options menu which allows you to flip the image horizontally for this very purpose. The replaceable bulb inside is rated to last for 50,000 hours - which means most people are unlikely to reach the operational end of its lifespan unless they use it solidly every single day for years.
In terms of connectivity, the T2 has HDMI, which will be enough for most people. However, VGA is also included - handy if you want to hook up a PC or laptop that doesn't have HDMI-out - and it's possible to connect legacy systems using the bundled composite cable. An SD card slot is also included and allows you to play movies or view photos directly from it, and the USB port can be used for the same purpose. Finally, it's possible to link up your smartphone or tablet using the USB connection. The unit has its own fan to keep it cool during use, and it's not all that loud, refreshingly - after a while, you barely register that it's running at all.
Our primary focus was gaming, and in that regard the T2 worked very well, considering its price. Splatoon 2 looks amazing when projected onto an entire wall, and aside from pixels looking quite blocky (a consequence of blowing the image up to 130 inches), we came away very impressed. Playing a game which totally fills your field of vision is a remarkable experience, and it's only the rather weak audio which lets the whole thing down; the T2 has its own internal speaker which not only lacks bass but sounds a bit feeble, especially in a large room. Thankfully, you can connect the projector to another speaker using the 3.5mm headphone socket, if you so wish. Another black mark against the T2 is that it comes with a tiny power cord, which caused a few headaches during our testing. Thankfully it's standard connection and can be replaced.
Of course, testing the T2 outside of the confines of the house was a must. Using the SFANS Adapter, we were able to fit everything we needed into a medium-sized backpack before relocating at a friend's house. Within minutes of arriving we had set up a big-screen match of ARMS with the minimum of effort, and much enjoyment was had by all. Of course, you could argue that such a configuration is possible with any games console that has HDMI output, but with Switch, the mobile nature means you can take everything with you on the road, rather than relying on your destination having a games console. If you're visiting non-gaming relatives during the holidays then we don't need to explain the appeal of such a set-up.
If you fancy a big-screen gaming experience on the go, then we'd certainly recommend checking out one of these cheap-and-cheerful LED projectors - you get what you pay for and there are better (but more expensive) options on the market, but for around 100 bucks, this is a sound investment. Going back to the small screen afterwards might be a bit tricky, however.