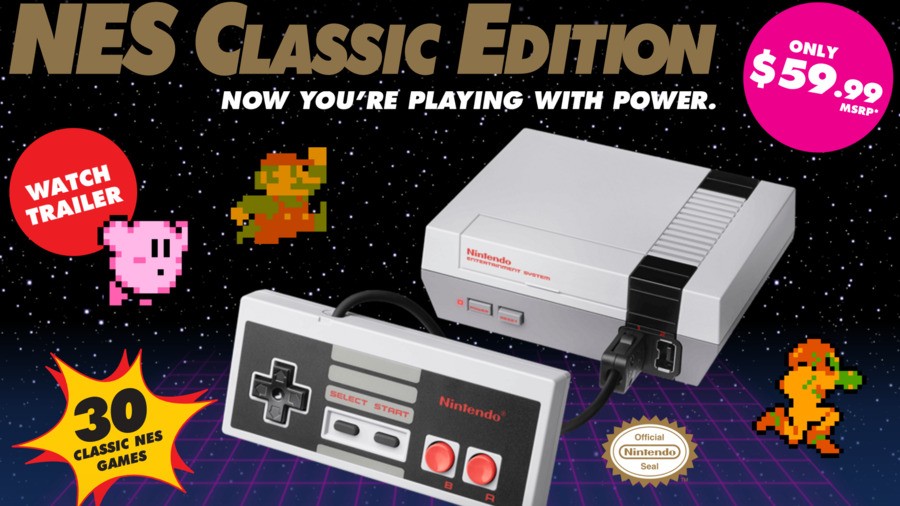 Earlier this year there was chatter online around the potential discontinuation of the Nintendo Entertainment System: NES Classic Edition (Nintendo Classic Mini: Nintendo Entertainment System in Europe); some retailers in Scandinavia, for example, suggested they'd been told no more stock was coming, but this was denied by Nintendo of Europe.
However, a Nintendo of America representative has now confirmed that the NES Classic is discontinued in North America, making upcoming April shipments the last units for the region.
The representative said:
Throughout April, NOA territories will receive the last shipments of Nintendo Entertainment System: NES Classic Edition systems for this year. We encourage anyone interested in obtaining this system to check with retail outlets regarding availability. We understand that it has been difficult for many consumers to find a system, and for that we apologize. We have paid close attention to consumer feedback, and we greatly appreciate the incredible level of consumer interest and support for this product."
Furthermore, the representative elaborated on previous shipments by saying:
NES Classic Edition wasn't intended to be an ongoing, long-term product. However, due to high demand, we did add extra shipments to our original plans.
This also includes the discontinuation of the NES Classic Controller, however third party accessories will continue to be produced based on individual manufacturers.
It's not clear whether the NES Classic and NES Famicom will also be discontinued in other regions; we'll reach out to Nintendo of Europe, but the Easter / Spring public holiday this weekend makes a prompt response unlikely.
Of course we'll share some thoughts on this in an editorial in the coming days, but let us know what you think of this news in the comments below.
[source ign.com]