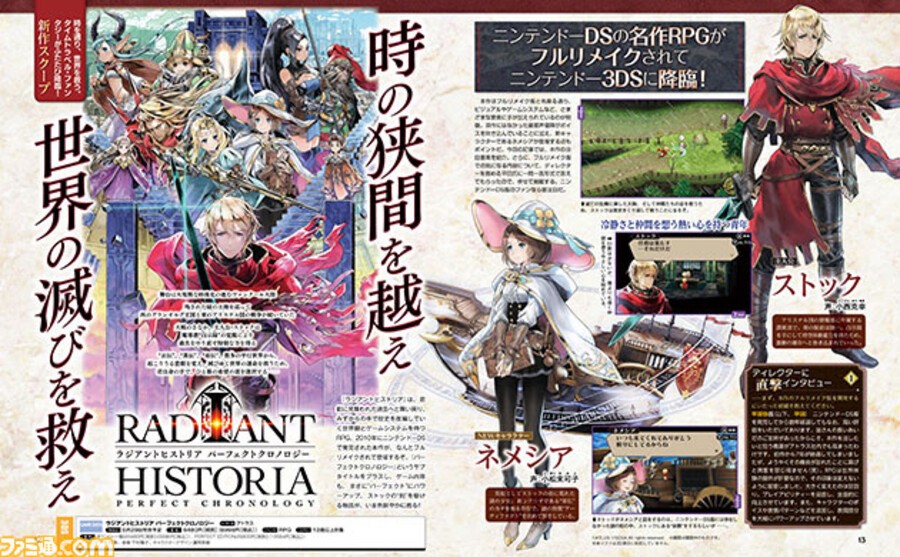 Yesterday, we reported on a mysterious new teaser site from Atlus which pointed towards a new Radiant Historia title in development. The page mentioned that more would be revealed in a Famitsu piece on the 23rd, but it seems that the reveal in question has already been leaked online. The game in development is Radiant Historia: Perfect Chronology, a 3DS remake of the original game.
Alongside enhanced visuals that come with the better hardware, there will be voice acting, a new scenario, and additional difficulty modes. In "Perfect Mode", you'll be able to access the new Sub-History along with the Standard History and Alternate History right from the start of the game. In "Append Mode", you'll have initial access to the original two histories and will have to clear them before unlocking the Sub-History. Director Mitsuru Hirata also spoke with Famitsu a bit on the game and answered some of their questions. Here's what he had to say:
What's the story behind developing a full remake?

Thanks to everyone's longstanding support, the build up of wanting to release this title has has risen even within Atlus. Since providing a world experience is essential in an RPG, we kept in mind not to change that impression. We reviewed the playability and improved it overall.

What kind of story is the Sub-History?
The third history that is neither the Standard History or the Alternate History is the Sub-History. The Sub-History is not just a single parallel world—the treatment of characters and timeline interpretation, how the Sub-History was born, each of these is different from the Standard History and Alternate History.
The game is apparently 95% complete, and is due out in Japan on 29th June. No localization details are available now, but we'd be surprised if this one didn't make its way to the West.
What do you think? Would you get this if it got localized? What did you think of the original? Drop us a comment in the section below.
[source gematsu.com]