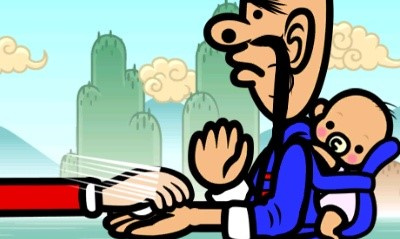 The UK top 40 doesn't always bring good news for Nintendo, but this week seems particularly disappointing. Battlefield 1 seized top spot as a major release on PS4 and Xbox One, while Nintendo titles struggled to make the lower reaches of the list.
Only two Nintendo exclusives actually made it into the all-format top 40 this week, in both cases evergreen 3DS releases. Tomodachi Life returned in 38th place, while New Super Mario Bros. 2 was one place further back in 39th.
Unfortunately Rhythm Paradise Megamix missed the top 40 completely, which is a pity as it's a rather enjoyable game at a budget retail price (£24.99) in the UK. That said, a GAME store we visited only had one copy, and it was mixed in with older releases rather than being prominently displayed. A number of factors are likely to blame, but it only managed 6th place in the 3DS-only chart, which isn't a good result by any stretch of the imagination.
Paper Mario: Color Splash continued its rapid descent to leave the overall top 40, though it's still the best-selling Wii U game ahead of Minecraft: Wii U Edition.
An uneventful week for Nintendo in the UK, in any case, as we await Pokémon Sun and Moon as potential chart-toppers in November.
[source chart-track.co.uk]