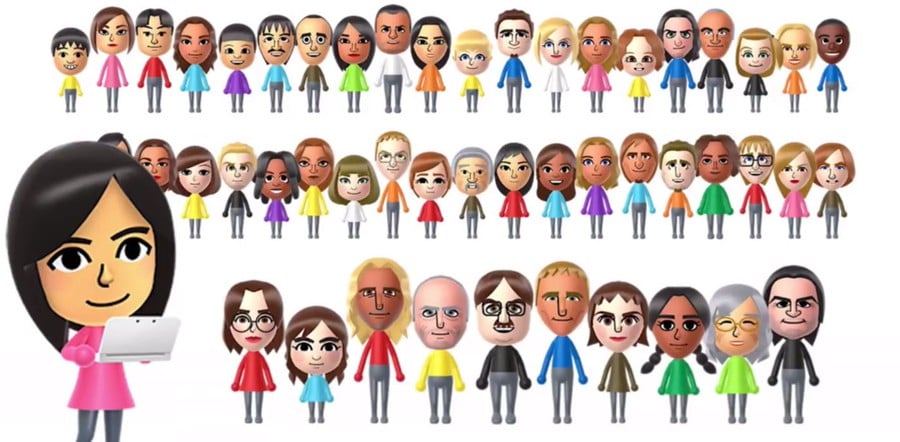 Earlier this week we reported on the scaling back of Nintendo Zone areas - StreetPass Relay Points - in the UK. It used to be particularly easy to get a batch of hits in most UK shopping centres, with McDonald's and O2 stores being hugely useful sources; now GAME is the last retailer standing if you want to collect some data and bring that green light to life.
We had some readers highlight this before we checked up and reported on it, and I certainly noticed it was the case; I have a routine of nipping out for some essentials on a Friday, hovering briefly outside an O2 store for hits before moving on. Sure enough, that gravy train has stopped, and the weirdly spotty service in my local GAME yielded just three hits - sad times.
I'm a big fan and supporter of StreetPass, not just for the fact it can be a fun diversion, but also because it can bring people together. The most visible example of this comes at expos, where 3DS owners often gather at any Nintendo booth space, with the big N being savvy enough in some cases to set up charging points and comfortable chairs. It's a chance to unambiguously be a 3DS and Nintendo fan with others who share that passion; it's a lovely but simple idea.
I've gone along to a few StreetPass gatherings in different parts of the UK over the past few years, and it's always pleasing to see groups of people forming friendships through their shared love of gaming. Maybe there are only 20-50 people at a lot of these meetings, but they're a reminder that gaming can be a shared pursuit, beyond online servers and headsets. You get to have real conversations with people as opposed to exchanging a few tweets.
Beyond that, some of my favourite 'small' memories of recent years have come through StreetPass. Right now I'm living in Scotland while this site's directors are based in the south-east and midlands of England; it's the wonder of remote working. For a time, though, I lived in the same town as two of the site bosses, Anthony Dickens and Damien McFerran.
Damien and I, both 3DS and StreetPass enthusiasts, would sometimes plan lunch hours around StreetPass. We'd walk into town, linger outside an O2 pretending to look at the posters (we were probably regarded with suspicion by staff that saw us too often), process the hits (this is before the Premium 'queue' upgrade) and then collect ten more with some lunch from McDonald's. Walking into town, shooting the breeze and then bantering about Damien's army crushing mine again in StreetPass Battle, those are some of my favourite recent memories. Sometimes its not the landmark moments that stick in our minds, but day-to-day pleasures.
Ultimately, the scaling back of Nintendo Zones in the UK was undoubtedly a pragmatic decision, but I hope that StreetPass - in some form - is still a key part of Nintendo's ongoing plans. There are reasons to think that's the case, too, for the optimists out there.
For starters, Nintendo has been slowly modernising incentives for users enjoying its content, with My Nintendo perhaps to be a key part of this in future. Nintendo Zones may, ultimately, be a slightly out-of-date implementation of an idea that's still relevant, in which we take our systems out with us (or use Nintendo mobile apps) to earn rewards if we go to certain places or hit landmarks. These are ideas that have been loosely touted as part of a My Nintendo future, and the incredible social success of Pokémon GO won't have gone unnoticed by Nintendo. Not to mention the fact that the company only recently added more StreetPass features and games on 3DS, showing that it's still very much an active product.
Looking forward, how prominent can StreetPass be in years to come, even if it has a slight rebrand or tweak in how it works? For one thing, Nintendo could yet utilise the idea on mobile. I wonder whether, at some point, we'll see a 'Nintendo' app that does multiple things. Mobile-friendly websites are one thing, but if Nintendo is keen to truly push its online and network services a dedicated app could be of interest. It could do multiple things - an eShop section for browsing and buying downloads, Miiverse / social areas, and perhaps an implementation of StreetPass hits. An app could even just 'capture' hits, before transferring them into games and potentially other hardware.
So what about NX? Well, until Nintendo reveals the thing this is all speculative, though I've seen and heard enough to give a lot of credence to the idea that NX will have a portable component. The idea of a portable that can also be played via a TV (using something like a dock) has been the most consistently reported, with multiple sources telling us that's what's coming, and even comments from the likes of The Pokemon Company have reinforced the idea. The final form and details of the implementation still feel a little mysterious, but the broad concept seems to be well known, unless there's been an impressive campaign of misinformation from Nintendo and more vocal key partners.
Working on the assumption that NX has a portable element, I truly hope StreetPass will have a role to play. It's such an enjoyable feature, and it also has notable room to grow. On 3DS it caters to modest technology and has origins in a DS concept, but uses a small amount of data in smart ways with minigames and, of course, within retail and some eShop games. Like a philosophical predecessor to amiibo (multi-functional across multiple games), StreetPass hits punch above their weight thanks to imagination and clever design - tiny packets of data generate simple but fun extras in larger titles. NX, coming as a new generation of technology, could take the idea to the next level.
The data involved could be larger but compressed tighter so that it does more, and the touted idea of a portable that's easily played on the TV opens the door to ideas of hits on the go, setting up playtime in the comfort of home. The overarching concept of StreetPass, feeding its own games and adding features to major games, is fine as it is. The exciting part is that with more modern technology it can flourish further.
I think StreetPass could have an exciting evolution ahead of it. To me it's a quintessentially Nintendo feature; one that can continue to keep us engaged with the company's technology, while we also make friends and lasting memories.