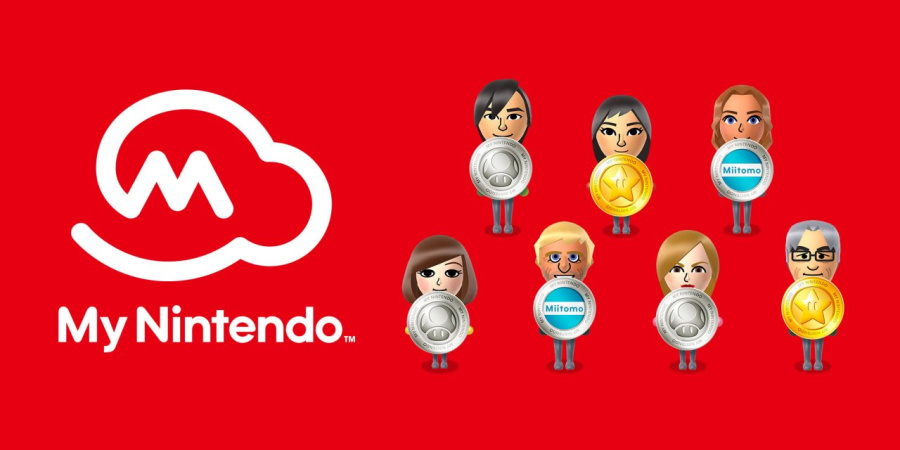 Just recently we ran some polls to gauge your opinions on My Nintendo, as the service is now a little over six months old. The majority of the Nintendo Life community that voted are unimpressed with it, to put it mildly, with a high percentage opting for the two most negative answers in the relevant polls. It's not new for an initiative by the big N to draw scorn, but in the case of My Nintendo it's hard to argue against the negativity. Occasional highpoints with the loyalty programme are mostly drowned out by disappointing Reward options and a sense that the service is rather half-baked.
It's not falling short on a technical level, to be fair. One of the benefits of Nintendo's extensive corporate partnership with DeNA is the Nintendo Account system - within which My Nintendo operates; we're seeing early signs of Nintendo joining the 21st Century in terms of how it handles our data and how it's used to make our gaming lives more convenient. We can all buy eShop games from Nintendo's websites and they automatically download to our systems (this was trialled in some countries in the past, but now it's global). My Nintendo, meanwhile, seamlessly and quickly knows when we've accessed the eShop, Miiverse or completed Missions in Miitomo. The speed at which these systems interact points to a solid, modern setup behind the scenes.
Credit is due to Nintendo and DeNA's network teams on those scores. Yet the fact is consumers rarely notice when something is operating well on a technical level - most of us only pay attention to how a service works when it's struggling. What many Nintendo fans do notice about My Nintendo, however, is the content it offers and how it rewards our loyalty. It's in these areas that, during its launch period, it's fallen well short.
The big issue that is reflected time and again in our poll results is that the rewards are unexciting and largely disappointing. Unlike Club Nintendo, the newer service is a solely download-focused affair, which was an inevitability in the end. Many of us yearn for charming physical rewards once again, but it's likely that ship has long since sailed unless Nintendo has a drastic change of heart.
That aside, it is possible for download rewards to be exciting, but Nintendo simply isn't implementing smart, dynamic content. Way back when the loyalty programme launched we highlighted this as an area needing improvement, but so far there's been little indication of it happening.
When we refer to dynamic rewards, we're really saying that each of us should have options that appeal to us on an individual level, or at least provide some flexibility. These can take the form of clever promotions to tempt us into trying a new game, an example of which - to be fair - is live now in Europe. There's a discount Reward for a promising game that isn't even out yet, in this case Chase: Cold Case Investigations - Distant Memories; no-one in Europe has this game, so it's effectively a launch window incentive to take a punt on it. There are also limited period discounts on recent Nintendo Selects releases; again, that's an improvement, as they tempt us to login to My Nintendo and perhaps pick up a new game (or, in this case, older games at a handsome new price point).
These aren't knockout deals, but they're going along the right lines. The problem is they're only available to PAL gamers, while in North America the most recent addition is 30% off Ultimate NES Remix, which isn't the most imaginative reward out there. That's another case of Nintendo of Europe and Nintendo of America behaving like they're not even part of the same company, but the issues of the big N's subsidiaries having sketchy ideas of unity and teamwork is perhaps best left for another day.
Imaginative and well-thought-out rewards feel rare (unfortunately) on My Nintendo. Early on there was My Nintendo Picross: The Legend of Zelda: Twilight Princess, and DS game WarioWare: Touched! was a download exclusive to My Nintendo. After that there have been Miitomo outfits (which we suspect aren't interesting to many) and some 3DS Home Themes that are slightly naff. This writer got them all (the HOME Themes) just because some Platinum Points may have been running out, and they're rather bland.
An issue is that, beyond occasional gems, most updates consist of little more than underwhelming discounts on games that most already own / have no interest in. Therein lies the great contradiction of the service - Nintendo offers relatively well-known or generic games on discounts, but as most using the service are big fans already they're rarely of interest. A major issue is that the deals are the same for everyone, whereas early company remarks about My Nintendo - pre-launch - suggested that the service would be catered to users more directly, pushing content their way that may interest them.
Nintendo should be able to do that, too. The company knows which games we own, or at least knows which titles we've downloaded off the eShop or registered 'back in the day' on Club Nintendo. Yet it doesn't use that data in any way, pushing us discounts on games that we've already bought. The 'Offers For You' branding is less prevalent than before, notably, probably because Nintendo realised it was blatantly inaccurate - how can they be 'offers for you' if the gamer in question already owns the title being offered at a discount?
That, unfortunately, is a lazy approach, and the end result is that plenty have been given little reason to retain an interest in My Nintendo. It's nice accumulating Platinum and Gold Points, but if we struggle to find anything to use the points on, because we own everything available or have little interest in what's there, then it becomes rather meaningless.
It's a pity, but all is certainly not lost for My Nintendo, especially as it's so young. The brutal truth is that right now it's servicing the ageing 3DS and the dying (unfortunately) Wii U. The big test for the service will be whether it becomes more interesting and dynamic with the arrivals of more mobile titles and, of course, NX. Super Mario Run, Animal Crossing and Fire Emblem on mobile can all bring interesting options to My Nintendo, and we'd hope that the NX hardware will make good use of the Nintendo Account infrastructure. There's potential for the service to become an exciting, vibrant part of daily life in the future.
Ideally we'd like to see the process for claiming points streamlined, and perhaps even a My Nintendo app that we can easily and quickly access on smart devices. When the concept was announced there were other enticing ideas, like rewards for visiting particular places or for completing interesting daily activities (partly seen in Miitomo so far). For example, what if My Nintendo integrated with a future version of StreetPass, offering small rewards in exchange for a certain number of steps, or for accumulating a target number of hits? There are other simple but major strides that can be made. Ideally rewards will also reflect your current library, offering digital treats or discounts on games you don't own rather than blithely throwing the same offers at everyone.
Perhaps, taking account of some of those ideas and Nintendo's own announcements for the concept, patience is needed. Once Nintendo's library of smart device games grows, and when the NX emerges and brings its own features to the fore, we can see My Nintendo truly take off.
We hope that will happen, and perhaps My Nintendo will need a mini relaunch from Nintendo. After all, it's not exactly developed a loyal audience of enthused users in its first six months.