SteamWorld Heist was one of the best eShop games of 2015, on either platform. It made its debut on 3DS, establishing its reputation ahead of the HD version rolling out this year. It already offers a lengthy campaign to show off the skill-based strategy gameplay, but Image & Form is going further with The Outsider, which is paid DLC. There's also a free update, it should be noted, which will have some smaller goodies of its own.
Arriving on 28th April for $4.99/€4.99/£4.49, this new content - which introduces a fresh character called Fen - will be available to pick up after applying the free update. We caught up with Image & Form CEO Brjann Sigurgeirsson to get the full lowdown on the DLC, how it came together, and future plans for SteamWorld Heist.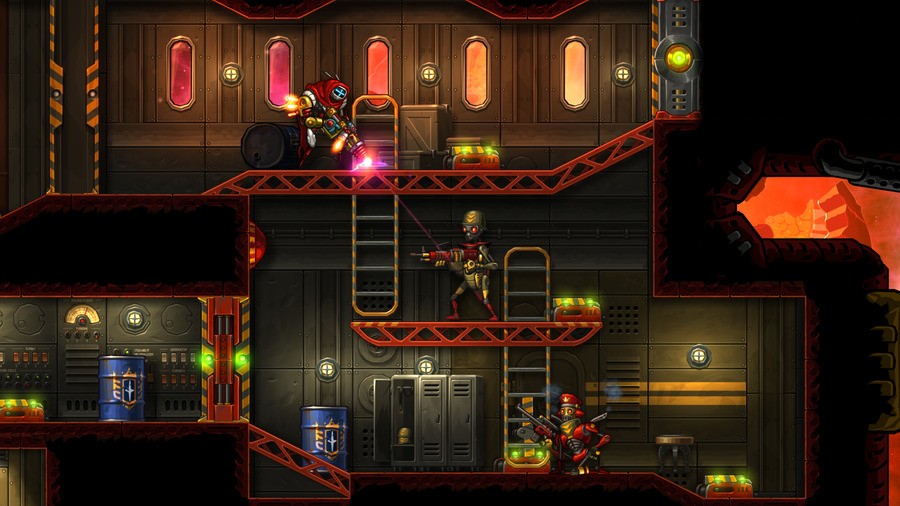 Following SteamWorld Heist's launch late last year, how would you describe the reaction to it from fans?
It's been, in a word, unanimous. And fortunately, it's been unanimously positive! A lot of players tend to agree with critics, and people go out of their way telling us it's the best game they've played on the 3DS in a long time. So... yeah, the community is good to us as always!
Earlier this year you stated it had been a sales success early on, can you talk a little about that?
Well, we didn't have much to compare with, but it easily surpassed the last three games we've made (Anthill, SteamWorld Tower Defense, SteamWorld Dig) at launch. Obviously Heist is priced higher so we wouldn't have to sell a mountain of units, but we were still surprised at the volume during the first three weeks.
It's kept moving quite decently even though we haven't been heavily featured on the eShop since New Year's. I thought we'd see a drop off a cliff once our launch discount, shop feature and home menu theme went away, but the eShop isn't Steam or the App Store. People go to the eShop looking for quality, and they dig it out.
Moving on to The Outsider, at what point in development of the main game did you decide there'd be paid DLC, and at what stage did this content (as a concept) come together?
OK, so we submitted the Heist build to Nintendo of Europe and Nintendo of America in mid-November, and it HAD TO be approved on the first try - otherwise a lot of things would have fallen apart. For one, our participation in the November Nintendo Direct hinged on the fact that the game would come out in December, and having just ONE tough bug in the game at submission would have pushed it into 2016. So it's no exaggeration that our good standing with Nintendo was at stake there. So things were pretty hectic leading up to submission.
Since we'd never done DLC before, making The Outsider took a lot longer than we'd expected.
Once we had submitted we were obviously overjoyed that we'd made it - and knowing my co-workers, I was pretty confident that the game was free of bugs and other nonsense. Everyone was distinctly leaning back in their seats in the days that followed. In fact, I ordered them too; there's nothing worse than finishing up a project only to be immediately thrown into more work. We had been discussing DLC (Downloadable Content - Nintendo refers to it as AOC, or Add-On Content) in the Fall, since we felt that Heist could really use it in good ways. But we didn't have a specific plan for it, or for what it would contain.
But there was an important factor that led up to the immediate production of DLC: when we released Dig for 3DS, it was very much the first platform, and updating a 3DS version of a game isn't super easy. For example, the 3DS version of Dig is the only version that's only in English, and the other versions have a few other tweaks and interesting stuff that make them essentially better. This was a bit of an internal embarrassment, because the 3DS version of Dig has always been a company milestone - the praise for that one opened a lot of doors for us and brought I&F to where we are now. So we had decided to quickly make a free update to Heist for 3DS soon after release, so our 3DS customers don't get the wrong impression that we're using them as "guinea pigs" for the coming versions.
At first we had decided to include new languages (French, German, Italian, Spanish, Russian), tweak a small number of things and throw in a few very cool hats that didn't make it into Heist at submission. Obviously we also kept an eye out for common review themes: if there was anything in the game that looked like consensus, we'd address that too. It turned out that many reviewers felt that the inventory was too small, so we decided to expand it a bit and also make empty inventory slots cheaper throughout the game. Nothing very dramatic.
But the update would also pave way for any DLC we'd want to include in the future. Bear with me for a minute, since this gets a bit technical: the update had to be programmed cleverly, since DLC for the 3DS isn't allowed to contain any programming code, but only assets such as graphics, animations and sound. The update includes a button called "Add-On Content". When clicked, Heist goes out on the eShop to see if there's any applicable DLC for it. Once found, you get the choice to install the DLC package(s).
But thinking about it some more, we realized that we more or less had to release the free update and our first DLC package at the same time: you couldn't get any DLC without first installing the update, and the updated Heist obviously wouldn't find any DLC if we hadn't made any! So we decided to make the DLC for the 3DS before we did anything else, such as porting the game to other platforms. We had a few ideas that we liked, and picked one of the more intriguing ones - a story addition that we decided to call The Outsider. Since we'd never done DLC before, making The Outsider took a lot longer than we'd expected:
The free update and The Outsider have to work together flawlessly, and testing has been "exciting".
I&F devs always tend to fall in love with the work at hand and never rush anything.
We decided to make The Outsider not as an addition on top of Heist, but rather integrate in the main storyline.
Can you tell us about the storyline in this content?
Well, like I wrote above, the content is weaved into the game itself - it's not your regular expansion where there's a new area with missions. Rather, Piper and the crew stumble upon a new character called Fen, a voltbot outcast that gets separated from the Vectron hive mind. Upon rebooting, Fen sees the Vectron invasion in a new light and joins Piper's band of steambots in their fight. This unlikely ally raises suspicion among the crew, most notably with Seabrass, who's rarely insta-fond of new people.
So how does someone who's finished the game, for example, access these new levels?
Well, players won't have to replay anything. That's the beauty of it - whether you haven't started, or if you've finished the game, or if you have an "unfinished" save file doesn't really matter: the new missions etc integrate automatically into the game. They will appear on the "space maps" for the different worlds as new, unexplored locations.
An area that's earned Heist a lot of praise is in the design of the world and the steambots. Can you talk about the design of the new character and stages?
Fen is an advanced voltbot with a pretty awesome gun, mechanics and upgrade path! If you hadn't played Heist before and bought it together with The Outsider today, you wouldn't know where Heist ends and The Outsider starts, since the new missions and enemies appear in the existing worlds. If you've played Heist before, it's like new chords have been added to the music - it's not a separate song, rather the existing song has been altered with new verses and chorus. Including Fen changes the game in very cool ways - there's now an additional agenda and perspective.
Designing The Outsider - and Fen in particular - was a lot of fun, since this DLC opened up for using a lot of our "I know we don't have time since we need to submit Heist really soon, but wouldn't it have been cool if..." ideas. Designing the original cast of nine playable characters simultaneously is like having three sets of triplets within a short time span, and then having a kid much later. Without shunning the others, you pay all kinds of special attention to the newborn.
Designing The Outsider - and Fen in particular - was a lot of fun, since this DLC opened up for using a lot of our "I know we don't have time since we need to submit Heist really soon, but wouldn't it have been cool if..." ideas.
As it's priced at around a fourth of the price of the full game, how much content can people expect from The Outsider?
There's Fen of course, who's a tremendous new character, and also a good number of new and specific missions revolving around Fen. There's a slew of new enemies, and DLC wouldn't be complete without a new end boss of sorts, but let's not spoil that particular feller - it's for the players to find out. There'll also be new guns, new utilities, and a shipload of new hats, both common and rare. I'm very confident that it delivers good value for the money.
Is this DLC part of an ongoing effort to expand the SteamWorld universe and brand, something you simply did for fun, or perhaps a mix of both?
It's definitely a mix of both, since it's so much fun to deliberately expand the SteamWorld universe! For us it was also the interesting challenge of making The Outsider work in different ways than traditional DLC packages. It's really quite neat how it blends with the rest of the game.
The big question, of course, how many guns are added in the DLC? And the even bigger question, how many new hats?
Haha! A satisfying number of new guns and utilities - and literally DOZENS of new hats!
You're also releasing a general free update with more languages and some fixes, can you tell us about this?
First and foremost, the free update is necessary to be able to download The Outsider. Once you've installed the update, you'll see an "Add-On Content" button that wasn't there before, which allows you to buy The Outsider. We've also added a Vault that contains previously unreleased goodies.
As I mentioned above, we were determined to bring French, Italian, German, Spanish and Russian to Heist on the 3DS. But it also gave us the opportunity to fix and tweak small things, and to expand the inventory. It's funny how that works: many reviewers wrote something along the lines of "I can't find faults in this game. If I have to complain about something, I could have done with a bit more inventory space."
That's very nice, but sometimes we're like A grade students that are dejected when not picking up full marks. Expanding the inventory was fairly easy to do. We wanted to keep a balance, however, so we spent a lot of time testing how much bigger it should be without becoming silly.
Are there plans for more DLC to expand SteamWorld Heist in future?
Yes...
Do you have any news to share yet about the Wii U version of Heist, and will the DLC be available day one in that version?
News: the Wii U version is coming, and you'll be happily surprised. Not in a way that should put you off getting it for 3DS - because you should! But... yeah. There's a pleasant surprise there.
DLC: Yes, The Outsider will be available day one on Wii U. Some people think day-one DLC is a nuisance, and that the content should have been included in the game - preferably at no cost. I don't agree. We've spent hundreds of thousands of dollars (even pounds!) making The Outsider, and we obviously have to charge for our content, so that we can continue making new stuff. Including DLC content as part of the game and raising the price point is also a matter of taste. I think providing DLC outside the game gives players the choice whether they want to spend additional money on a game or not. It's pretty fair.
No names, but some friends of mine initially released DLC content for one of their games for free - and then started charging for it, since it made no financial sense. It turned out a bit nasty for them. I think it's better to be upfront about it. We make content. Content costs money.
Are there any plans for cross-buy promotions for those that want the game on both Wii U and 3DS?
Yep! We'll figure out a good way to let people who own the game on one platform benefit from getting it on the other.
---
We're certainly looking forward to trying The Outsider's new content - check out the trailer below and let us know what you think.