The Holiday season has rushed upon us this year, with the time for relaxation and festive cheer right around the corner. We have a variety of the usual end-of-year fare for you, including Game of the Year awards, retrospectives and optimistic glances towards 2016. Naturally, of course, we're also plotting some quality gaming time with family and friends.
In order to celebrate the upcoming Christmas / Holiday / Winter break, whatever you want to call it, some of our team have put together some words to share their gaming plans. It's a bit like that "What Games are You Playing This Weekend" series we used to do, but with extra tinsel and sparkle.
And yes, if you want that series back in 2016 bombard this writer (with the tag @thomasbw84) and say so in the comments; maybe it'll make a comeback here on Nintendo Life.
Without further pre-amble, here are some of our team's festive plans, with more to come soon!
Mitch Vogel
For my Christmas gaming plans, I intend on playing through plenty of Super Smash Bros. and Mario Kart 8 with my cousin. I have fond memories of long nights we've spent on winter break, staying up well into the wee hours of the morning. In all seriousness, I think that Smash 4 and Mario Kart 8 are the most compelling multiplayer games that Nintendo has ever put out. Not even Wii Sports had the kind of longevity that these two have; not only are they arguably the most mechanically sound games in their respective series, but they're also incredibly accessible to gamers of all skill levels.
Additionally, I intend on beginning my annual playthrough of Metroid Fusion. That's a more recent tradition of mine, and it started a few years back when I finally got to play Metroid Fusion from the 3DS Ambassador Program. Up until that point, Fusion was one of the Metroid games I'd never gotten to play, and it left such an impression on me that I continuously replay it every year. I'm not entirely sure what it is about Fusion that grabs me so much, but I still hope against hope that Nintendo will opt to one day follow it up with a worthy 2D successor.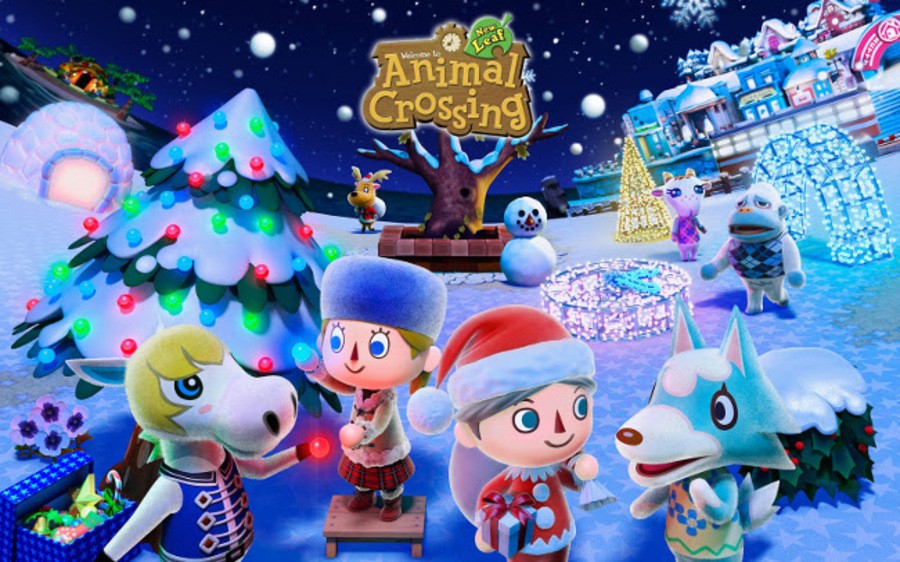 Liam Doolan
My Christmas tradition is to visit my Animal Crossing: New Leaf town that I neglect all year round. This year will be no different. I'll catch up with old friends while realising other ones have moved on in search of a better life.
I can't be there every day of the year, so this trend of departing villagers will no doubt continue. At least familiar faces like Digby and Blathers will always be around – they're my true friends.
When I'm not spending time in town, I plan to head over to the Nintendo Badge Arcade and try to win as many badges as possible. The machines always make this process an infuriating experience – as does the blasted rabbit. I guess I'll just have to deal with all of this if I want free Christmas badges to decorate my 3DS HOME Menu with.
Morgan Sleeper
My Christmas gaming plans always start with an old favourite: Christmas NiGHTS on the Saturn. It's wonderful all winter long, but nothing beats firing it up on Christmas morning, seeing Claris and Elliot all decked out in their Santa gear, hearing Jingle Bells in the background, and playing through the watercolour story of how NiGHTS saved Christmas. After flying around Twin Seeds in the snow, however, it'll be right back to the Wii U for some quality family game time. Nintendo Land has been a staple of past holiday gatherings, and rounds of Mario Chase and Animal Crossing: Sweet Day are hard to beat for easy fun, but this year we'll break out Animal Crossing: amiibo Festival as well for a few rounds on the December board — that should help make up for the lack of actual snow here in southern California!
No matter what the weather's like, my family likes to relax on Christmas, so after a morning of present-opening, merriment and multiplayer games, everyone tends to settle into a good book for the rest of the afternoon. I'll be substituting a 3DS and Yo-Kai Watch — a real page-turner of an RPG! — for my couch-time entertainment, and I can't imagine anything cozier than curling up with a big mug of tea and exploring Springdale's charming sidestreets. However you're planning to celebrate, here's hoping it's equally enjoyable — may your day be merry, bright, and full of as many games and warm beverages as possible!
Steve Bowling
Christmas is a very important time for my family, and for me, Nintendo has always played a huge part in it. As a kid it was all about getting the latest SNES game. As an adult with a family of his own, I spend my holiday getting some much­ needed gaming time in during the festivities. Did I mention my stocking has the Triforce on it? It does, and it's awesome.
This year, I'm all about Wii U. My duties here at Nintendo Life have kept me busy checking out some of the great (and not­ so ­great) indie titles available on the eShop. So, for my time off I'm planning on checking out two big budget titles: Xenoblade Chronicles X and Genei Ibun Roku #FE.
I've spent a little bit of time in Mira, exploring and fighting large creatures, but I'm overwhelmingly excited to see more of the gorgeous world Monolith Soft has crafted. I'm hoping I can grind my way to getting my Skell. Honestly though, it'll probably be that other game I spend more time on.
Genei Ibun Roku #FE has a weird title, but an amazing concept. I'm a huge fan of Fire Emblem and I've enjoyed some of the Shin Megami Tensei games in the past. Coupled with the game's charming anime­like art style, I'm completely sold. It releases in Japan on the day after Christmas, which translates to Christmas day for those of us with a Japanese system in the U.S. I'll be watching that download closely.
Aside from that, I'm hoping to spend some time with the rest of my family on Triforce Heroes. I'm woefully behind on that game, despite enjoying it quite a bit. I'd like to say I'll get around to Zip­ Lash too, but probably not. I hope you all have a great holiday!