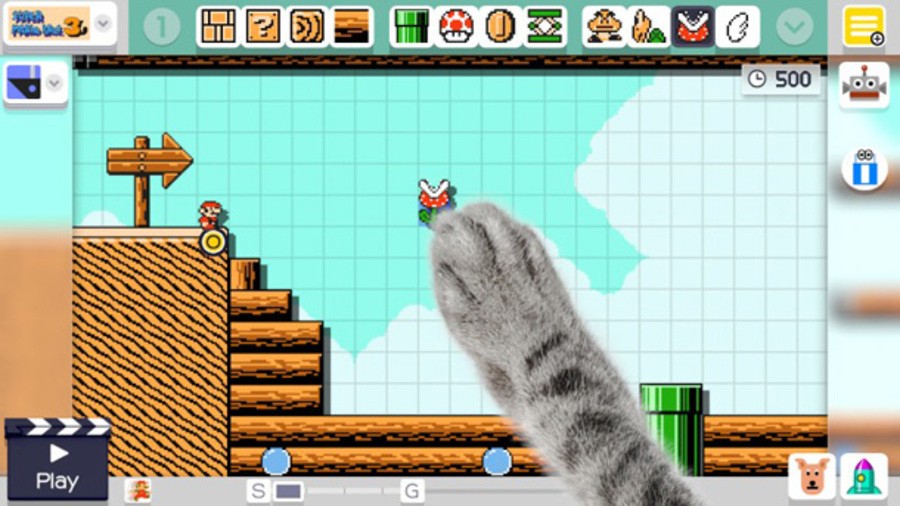 Super Mario Maker has been out for a couple months now and by all accounts has been a massive success. One particularly interesting feature is the ability to scan in virtually any amiibo and have the character replace Mario's sprite on certain stages. While this may not have much of an impact on gameplay, it's a neat little addition that, if nothing else, has given the game a bit more of that sweet Nintendo charm.
Takashi Tezuka, Yosuke Oshino, and Yoshikazu Yamashita – the Producer, Director, and Senior Director, respectively – recently took part in an interview with Nintendo Dream regarding Mario's latest outing. Eventually, costumes popped up in the discussion and the developers revealed how that concept came about. Evidently, they were at a loss for what to do with amiibo for the game until some art designers showed a few amiibo characters that they drew with pixel art.
Tezuka: We had a vague idea that we wanted to use amiibo, like if we got an interesting concept then we would certainly implement it. And then the artwork designers approached designers of the team and proposed 'we tried drawing amiibo characters in pixel art, so wouldn't we use them in some way?' It seemed interesting, so we accepted the idea and experimented changing Mario's sprite to a pixel sprite of a different character.
For the variations of the cursor on screen, it was revealed that the cat paw belongs to one of Takashi Tezuka's many cats and the dog paw belongs to Yoshikazu Yamashita's Shiba:
Tezuka: Yes. Any cat paw would have been alright, but I just happen to have many cats at home.

Yamashita: Ten of them, if I remember correctly?

Tezuka: That's right, ten cats.

ND: That's amazing!

Tezuka: To tell you the truth, one of them was edited to look like the color of an American Shorthair. The actual color is light brown.

Yamashita: Ah, that's right. He/she was a good kitty. It felt like he/she was calm and got used to photo shooting. That other one was a bit…
Oshino: That one hated shooting.

Everyone: (laughs)

Tezuka: By the way, the dog was Yamashita's.

ND: Is that so?

Yamashita: That's right. He/she is Shiba [a Japanese breed]. The color is actually white, but it was changed
Amusingly enough, it seems that all of the animals were brought in on one day for a photo shoot. The shoots were staggered a bit, doubtless due to some of them being less cooperative than others:
ND: Did you do photo shootings at the company?

Yamashita: That's right. During the same day.

Tezuka: We took the pictures by staggering a bit of time. It was a fun day.

Yamashita: It was a weird day (laughs).
Hat tip to Nintendo Everything for the translations.
What do you think? Did you appreciate the inclusion of amiibo sprites? Does it amuse you to imagine the directors trying to get a bunch of cats to sit still? Drop us a comment in the section below.
[source nintendoeverything.com]