The Wii U eShop has an expansive and - we'd suggest - fantastic range of download titles, covering a significant number of genres and styles. Many are cross-platform titles, naturally, as Indie developers seek to make a living and grab as wide an audience as possible, though plenty go to the effort to utilise the Wii U's features in positive ways. There are a handful of exclusives, too, and perhaps the standout of all these Wii U-only games is Affordable Space Adventures, a collaboration between the ever-experimental KnapNok Games and the equally innovative Nicklas Nygren, the latter being better known as Nifflas.
For fans of KnapNok's Spin the Bottle: Bumpie's Party or Nifflas' Knytt Underground, Affordable Space Adventures - which we'll call ASA for short - was always an intriguing premise. Suitable for solo or co-op play for up to three players, it's a game that wouldn't be possible - in its original guise - without the dual screen functionality of the Wii U. It's rare, even with Nintendo's own output, to play a game specifically designed for the system's capabilities, but the flight mechanics in which you manage systems while solving puzzles achieves this goal.
We've said this in the past while praising it in our review, and spoken to Nifflas about it prior to release, but it's been back on our radar recently courtesy of a major update and free 'Origins' DLC that adds five new levels. It seemed like a good time to take a fresh look, so this time we caught up with the title's Project Manager, Anchel Labena, to gauge whether the game's been a success and to learn about future plans.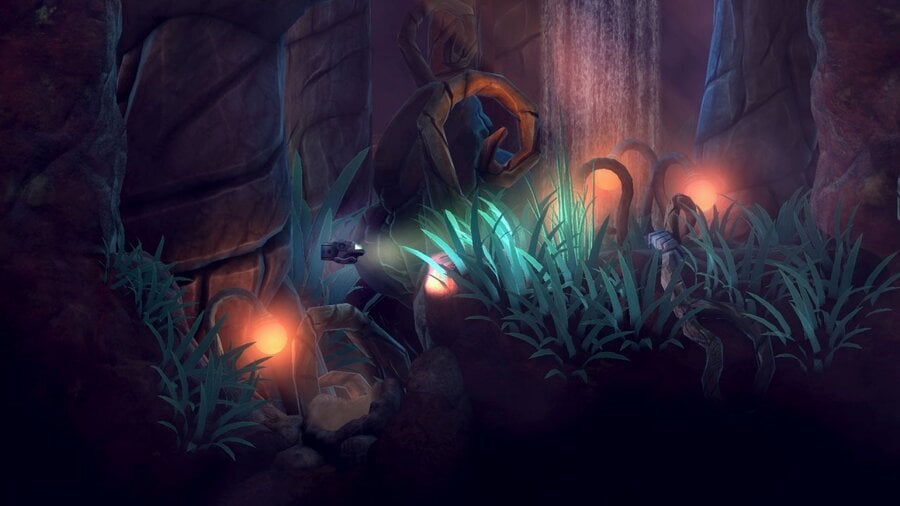 As it's a Wii U exclusive we kicked off by being nosy - has this game been a success since its April launch? Not just critically, but financially. Both KnapNok Games and Nifflas are smart, creative game makers, yet they also need to make a living and pay bills, so any download-only exclusive seems like a gutsy move, relying on one market to break even and get by. Labena was keen not only to emphasize that the critical response has been good, but that it's performed well enough commercially, though naturally solid numbers aren't on the table.
We've been getting some pretty amazing reviews, which we are obviously really happy about. It really caught us by surprise, since Affordable Space Adventures is such a quirky title that we didn't know what the press would think about it. I guess that all the positive press really affected sales at launch, because we saw a sudden surge of interest from players, YouTube streamers and other media outlets who hadn't heard about the game before its launch.

While sales kicked off to a great start, things slowed down a bit during the months after launch. We still keep selling units on a daily basis though. It doesn't come as a surprise either. We are, after all, a digital-only release, and presence in the Wii U eShop is crucial for us. Every time our game shows up in the eShop front page (like a banner, a Nintendo Highlights video or being included in a list of indie games for example), we have a considerable spike in sales. The new update is surely going to get a new surge of interest in the title, so we hope to keep the momentum going with that. We also just launched in Japan, and that's definitely a super interesting market to get into. You have to think different in how you approach the audience there. Luckily, there are also fans there. One of them posted a drawing on Miiverse and it took as a while to understand that her handwriting said "I've been waiting for a year for this game since Knytt Underground" (Knytt Underground being the previous game of Affordable Space Adventure's Game Director, Nicklas Nygren). What I can tell you, however, is that the game has definitely been a success for us and we are quite happy about how it is performing.
A key challenge for the title, also, is actually promoting the fact it's exclusive and utilises the Wii U and its GamePad. Let's remember that Nintendo itself has had a hard time marketing dual-screen gameplay and the appeal of the controller, so it's naturally difficult for 'Nindies'. The key, in the end, is trying to sow the seeds and benefit from word of mouth.
It's always a challenge. Even YouTube streamers find it challenging to explain what's going on, and have to prepare a special setup to show this game, since you need to see both the TV screen and the GamePad, but not just that, you also need to see what the person is doing with the GamePad itself (touching the screen, tilting the controller, etc.) It's the same challenge for us. We have one trailer that explains how the GamePad works, but we also don't want to bore people with long explanations about it. It is, after all, one part of the equation, and we want to show the unique environments of the game as well. It's very important for us to show how much effort we have put into the game and that we care about polishing things up as much as possible. Luckily for us, word of mouth is super effective. I can't help but smile whenever somebody on Twitter asks for Wii U games that make good use of the GamePad, and somebody replies "Oh, you should try Affordable Space Adventures!".
I think one of our main selling points has been that we are truly making good use of the Wii U's GamePad, and Nintendo fans who bought the console for the promise of new gameplay opportunities reacted really well to what we wanted to do. We are not the biggest developer by far, and our titles are not part of a franchise as well known as Mario or Zelda, but Wii U owners have taken to Affordable Space Adventures very warmly nevertheless because of our commitment to exploring the GamePad. It's always great to hear the community's thoughts too!
The update that recently went live is a meaty one, with pretty much the whole game being replaced in the download file. That may be for practical reasons, but nonetheless the development team has been good to its word that it would assess feedback and seek to improve the game. Labena points out that Miiverse itself was a key part of that feedback.
Miiverse is a lot of fun. We get all these tiny stories being told by the players with pictures, sometimes drawings. Some just tell their experience of the game, others talk about it from the perspective of the crew inside the ship, sort of like a captain's log. The same happens with bug reports. We have players writing "I've found a glitch", but we also had a user who told the most hilarious story out of his experience with a glitch, as if it was truly part of the game's universe. His ship somehow went outside of the level and, because of the way we've built GamePad integration in the game engine (Unity), he stumbled upon… the GamePad's UI. Quite literally. His ship could fly in front of the buttons of the Heads Down Display. He called it the "Interstellar Glitch" and posted on Miiverse a story of his ship getting lost in another dimension, trying to send messages from a black hole to whoever was watching. It made something that would normally be quite bothersome (reporting, finding and fixing bugs) into a much more enjoyable experience, thanks to these stories.
You can see this glitch in the image below, though it has now been patched out. Beyond bugs such as these the update also tweaks puzzles, mechanics and enemy behaviours, too.
The Interstellar Glitch would be one change. Kinda sad about that one, since I've personally become quite fond of it. But otherwise, we've been able to find lots of areas where users could get potentially stuck and a crash situation. It wasn't all about bugfixing however. For example, we added different horn sounds for each player, so you're now able to tell who is the annoying player in your crew who is constantly pressing the horn. Some enemies also react differently in the update. You remember that big robot with legs that would chase after you? Well, his name is Roberto, and now he has a different reaction when you shoot flares at him that we think fits much better into the gameplay.
The update was one part of the game's recent overhaul, but the other was The Origin Story. Though the name points to a prequel it's actually recommended that these stages are tackled after the main story; they're rather tricky levels. The fact these five levels are free is particularly welcome, and Labena is clear that they were never planned as paid DLC.
Origin Story is for all the players who wanted to keep playing around with the Small Craft's capabilities. I mean, you have all these different tweaks and settings for the spaceship by the end of the game, but in the main campaign there are players who would have liked to see all of them being used in more challenging situations. But the new levels are quite tough. We want to make sure that players who play the main story are able to finish it, rather than drop it because of its difficulty, which is why we never made these levels until the update. Now those who wanted more out of it can take on these new challenges and try to figure out how to make it past the enemies and puzzles alive.
The new levels were ideas we already had in our minds before the original game was even finished, but those levels never made it past the concept stage because of their difficulty. We think that our players deserved to get that content no matter what, which is why we committed ourselves to delivering them as a free update later on once the game was finished. This is why we were able to announce our plans for the free DLC so soon after the game's launch.
Naturally when any game has extra content the question is, will there be more? The answer is yes, but in different forms. We asked about more DLC and whether any progress was being made on a prospective 3DS version, and Labena had some positive - albeit cautiously positive - news.
So, while we are currently working on other non-ASA related projects, the potential for future DLC is still there. But for the moment being, both KnapNok Games and Nifflas' Games are working on their own, separate games (though we still work together in the same office – I even have Nicklas playing around with several of his prototypes next to me, and we all get to try them early on and give him our feedback). We still have a few ASA things coming though. Nicklas is giving the finishing touches to the official soundtrack of the game so we can make it available online!

Do we want to make a 3DS version of the game? Yes we do! As a matter of fact, we are working together with a developer to make this project a reality. You obviously can't simply put a Wii U game and try to fit it into a 3DS, whether it's the new 3DS or the original one. The Unity support for the New 3DS obviously helps a lot, but there would still be lots of adjustments to be made to the controls and the gameplay. Also, the 3DS' technical prowess is quite different from the Wii U. However, all this doesn't mean "3DS version confirmed!!!". There are still quite a lot of things to go through before we can determine whether this can happen or not. But ASA on-the-go sounds like too sweet an opportunity to simply let it pass.
Pushing further on what KnapNok's doing now, and whether Nintendo hardware will feature in that, there were certainly positive comments from Labena. That said, the realities of sustaining and paying a team mean that not every project will be eShop-exclusive, though it seems the ambition to focus on innovation remains at the core of the team's goals.
We've had three goals since the launch of Affordable:

1 - We want to keep making gameplay innovation that is rooted in the technological affordances of the hardware.
2 - We want to keep exploring social interactions between players in the same living room.
3 - We want to make something BIGGER! Reaching radically more people than we have done until now.

For sure we want to keep working with Nintendo platforms, they make by far the most innovative and interesting hardware to play with. But for these goals to happen the stars really needs to be aligned in a special way and it might be that we throw in a small project in other technologies here and there while find the right project and the right time to do it.
At that we wrapped it up, asking Labena if he had any messages for the Nintendo Life community. He also insisted on being nice about the site's team and wanted that shared, so please excuse the self-flattery - although it's nice to be nice.
We read every single one of your comments here! We even pass some of the best comments around the office! And I'm personally a long-time Nintendo Life reader. You might sometimes see me comment on articles about other games or Nintendo news.

The staff at Nintendo Life does an amazing job and I truly think they care about their readers. Their reviews of Nintendo are some of the most objective I know, and they are truly committed to delivering the news about Nintendo, whether they are good or bad news. Kudos to the whole team for that! And no, I'm not just saying that because they wanted to interview us!
We'd like to thank Anchel Labena for his time. Don't forget that Affordable Space Adventures is also on discount in Europe and North America until 26th November, reduced to $15.99 / €15.00 / £13.50.