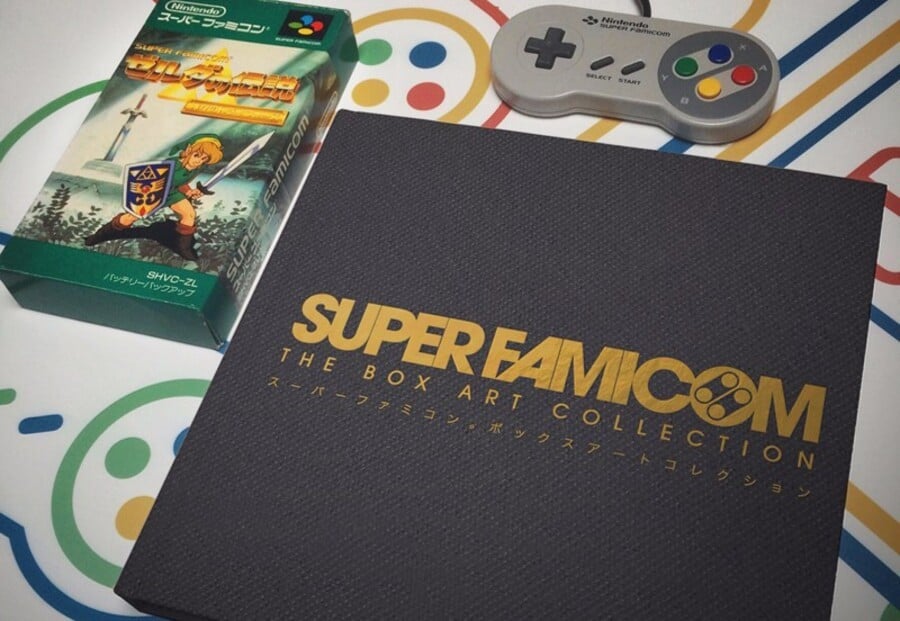 This time last year we reported on a book which look certain to adorn the coffee tables of Nintendo fans the world over. Stuart Brett's Super Famicom: The Box Art Collection was a glorious celebration of the lush Japanese artwork found on 16-bit Nintendo game covers of the period, and a Kickstarter campaign was started in order to bring the project to market. Sadly, Brett was forced to cancel said campaign when doubts arose regarding copyright.
Thankfully, a year later, Brett has teamed up with famed UK publisher Bitmap Books and the book is finally becoming a reality. There's no crowdfunding campaign required this time around - Bitmap will be publishing the book outright. Pricing and a solid release date are still to be confirmed.
Here's what Brett himself had to say:
I'm proud to announce that Bitmap Books will be publishing Super Famicom: The Box Art Collection. Bitmap have been fantastic in helping me with the project and also making this book much more special.

The book is now physically larger - 25cm x 25cm square, which means the games are life-size in the book. We re-shot all of the games for the book in a photographer's studio so I could output them to sizes at ultra resolution. I've also added more pages, which means more games! I also wanted to make the cover more stylish and unique. So, it's now cloth bound with gold foil printed on the front, spine and back.

The book now as an editor. Editing the book and overseeing the content will be Steve Jarratt, ex-Editor of Edge Magazine, Official Nintendo magazine, Total, official Playstation magazine, Amiga Format, Zzap64! Crash!, and countless others. Having Steve onboard is incredible as I've been a fan of many of the magazines he's edited and he's also a huge Super Famicom fan.
The book will include an foreword by Steve and introductions by James Wragg (project manager at Pyramid, who are just about to launch DariusBurst Chronicle Saviours), Misaki Enami (owner of Japanese Nintendo-licensed store, King of Games), and Van Orton Design (illustrators for Rolling Stone Italy and retro video game fanatics).
As well as giving us early details on the book, Brett has also shared a "working itinerary" of the photoshoot. This is subject to change but it gives an excellent indication of the range of games featured:
46 Billion Year Story (E.V.O)
Actraiser
Actraiser 2
Akumajo Dracula (Castlevania)
Akumajo Dracula XX (Castlevania: Vampire's Kiss)
Disney's Aladdin
Alien 3
Aliens Vs Predator
Appleseed
Area 88
Armoured Manouverer: Dion
Art of Fighting
Assault Suits Valken
Astro Go-Go
Axelay
Bastard
Batman Returns
Battle Blaze
Battle Cross
Battle Dodgeball 2
Battle Mobile
Battle Pinball
Battle Zeque Den
Beasts and Blades
Biometal
Blackthorne
Blazeon
Bomberman
Bomberman: B-Daman
Bounty Sword
Brandish
Bushi Seiry den: Futari no Yusha
Captain Commando
Caravan Shooting Collection
Cho Aniki
Choplifter III
Chrono Trigger
Clock Tower
The Combatribes
Contra Spirits
Cosmo Police Galivan
Crayon Shin Chan
Cyborg 009
Darius Force
Darius Twin
Dark Half
Dead Dance
Demon's Blazeon
Dezaemon
Donald Ducks Magical Hat
Donkey Kong Country
Donkey Kong Country 2
Donkey Kong Country 3
Doom
DoReMi Fantasy
Dragon Ball Z
Dragon Quest I.II
Dragon Quest III
Dragon Quest IV
Dragon Quest V
Edono Kiba
Elfaria
Estpolis II
F Zero
Family Dog
Fatal Fury Special
FEDA Emblem of Justice
Fighter's History
Final Fantasy IV
Final Fantasy V
Final Fantasy VI
Final Fight
Final Fight 2
Final Fight Guy
First Samurai
Fist of the North Star 6
Flashback
Fortress of Fury
Front Mission
Front Mission 2: Gun Hazard
G2: Genocide
Gamera
GDLEEN
Gegege No Kitaro
Ghost Chaser Densai
Ghost Sweeper Mikami
Ghouls n' Ghosts (Chōmakaimura)
Godzilla
Godzilla Monster War
Gokyjou Parodius
Gourmet Sentai Bara Yarou
Gradius III
Gundam V
Gundam W
Gunforce
Hagane
Hashire Hebereke
Holy Striker
Hybrid Wrestler
Hyper Iria
Hyper Zone
Ihatovo Story
Indiana Jones Greatest Adventures
Iron Commando
Jackie Crush
Jikkyo Oshaberi Parodius
Jikkyo World Soccer
Joe & Mac 3
Justice League Taskforce
Kabuki Rocks
Kamen Rider
Kamen Rider SD Battle
Kats Run
Kawa no Nushi Tsuri 2
Keeper
Keroppi KeroKero: Keroleen in the Sleeping Forest
Kiki KaiKai
King of Dragons
King of the Monsters
King of the Monsters 2
Kinnikuman: Dirty Challenger
Kirby of the stars 3
Kirby Bowl
Kirby Super Deluxe
Knights of the Round
Koryu no Mimi
Lady Stalker
Legend of Mystical Ninja
Lennus
Lethal Enforcers
Lupin the 3rd
Macross: Scrambled Valkyrie
Magic Sword
Majyuuou King of Demons
Mario & Wario
Mario no Picross
Mario Paint
Marvel Superheroes: War of the Gems
Mazinger Z
Mickey's Magical Adventure
Mickey's Magical Adventure 2
Mickey's Magical Adventure 3
Mobile Police Patlabor
Mortal Kombat
Mortal Kombat 2
Mother 2 (Earthbound)
Muscle Bomber
Musya
NBA Jam
Ninja Warriors: Again
Nosferatu
Oni
Ossu! Karate Bu
Outer World
Parodius
Parodius Da!
Perfect Eleven
Phalanx
Pilot Wings
Pinnochio
Pop & Twinbee
Popeye
Power Instinct
Powerful Pro Baseball 3
Prince of Persia
Psycho Dream
Puyo Puyo
R-Type the 3rd Lightning
Raccoon Rascal
Raiden
Rainbow Bell adventures
Ranma half
Rendering Ranger R2
Return of Double Dragon
Rockman 7
Rockman and Forte
Rockman X
Rockman X2
Rockman X3
Rokudenashi Blues
Rushing Beat Ran
Sailormoon S
Samurai Spirits
Sangokushi IV - Romance of the 3 Kingdoms IV
Seiken Densetsu 2 (Secret of Mana)
Sengoku
Septentrion
Shadowrun
Shien: the Blade Chaser
Shin Megami Tensei
Sim City
Solstice 2
Sonic Blastman
Sonic Blastman II
Sonic Wings
Space Invaders: The Original Game
Spiderman: Lethal Foes
Spriggan Powered
Stardust Suplex
Starfox
Stealth
Streetfighter II Turbo: Hyper Fighting
Streetfighter II: The World Warrior
Streetfighter Zero II
Sugoi Hebereke
Super Adventure Island
Super Adventure Island II
Super Air Diver
Super Aleste
Super Back to the Future
Super Chase H.Q
Super EDF
Super Fire Pro Wrestling X
Super Genjin
Super Genjin 2
Super Mario Brothers 1,2,3 (Mario Allstars)
Super Mario RPG
Super Mario World
Super Mariokart
Super Metroid
Super Pang
Super R-Type
Super Starwars
Super Starwars: Return of the Jedi
Super Starwars: The Empire Strikes Back
Super Streetfighter II: The New Challengers
Super Turrican
Super Valis
Sutte Hakkun
Sword Maniac
Tae Kwon Do
Tales of Phantasia
Tekkaman Blade
Tetris Flash
Tetsuwan Atom
Super Tetris 2 & Bombliss
Super Tetris 3
Tetris Battle Gaiden
The Firemen
The Legend of Zelda: The Triforce of the Gods
Thunder Spirits
TMNT: Turtles in Time
Turtles Mutant Warriors
Umihara Kawase
Undercover Cops
Ushio No Tora
Violinist of Hamelin
Vortex
Warlock
Wild Guns
Wonder Kitchen
Wonder Project J
Wondrous Magic
Wrecking Crew 98
Xandra's Great Adventure: Encounter with the Valkyrie
Xardion
Yamu Yamu
Yoshi no Road Hunting
Yoshi's Cookie
Yoshi's Island
Ys V
Zen Nippon Pro Wrestling 2-3-4 Budokan
Zenki Battle Raiden
Zoku: The Legend of Bishin
Will you be buying a copy? Let us know by posting a comment.
[source bitmapbooks.co.uk]