A little earlier today we pointed you to newly translated and beefed up regional Super Mario Bros. 30th Anniversary websites, which serve up an interactive video history of the Super Mario franchise and a whole load of pretty pixel art. Though it's relatively bare in content, more will surely arrive as announcements and festivities pick up later in the year.
It seems that these websites hide a neat little secret / Easter egg within the source code, which highlights the attention to detail you often get from Nintendo. Regardless of what page you're on viewing the source brings up a neat ASCII of Mario; when using Chrome it's actually in green, which plays well into this writer's bias for Luigi. The capture below is courtesy of the eagle-eyed Neo Dark on NeoGAF.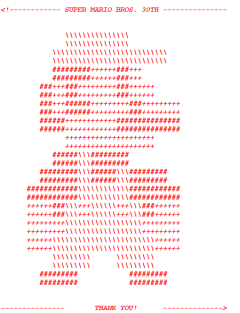 Nintendo's thanking us for playing 30 years of Super Mario Bros. - well, the thankful feelings are mutual.
Thanks to Ryan Millar for the heads up.
[source neogaf.com]