Regardless of where you stand on the free-to-play Pokémon Shuffle, it's serving up plenty of updates and regular challenges to keep players interested; the latest update takes it to version 1.1.2 and adds an iconic 'mon as a new challenge.
The addition is Kyogre, most recently seen in 3DS remaster Pokémon Alpha Sapphire - a special challenge available until 23rd March, the prize for the first completion is a Jewel, which is pretty handy. It's a tricky one to catch, however, so you may need to buy an upgraded Poké Ball, which costs 2500 coins; make sure you have the cash handy.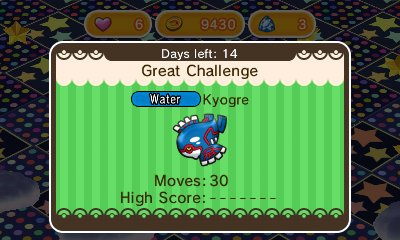 Don't forget to redeem the recently released passcode to receive 4000 coins, too.
Will you be trying to capture Kyogre in Nintendo's free-to-play puzzler?
[source serebii.net]