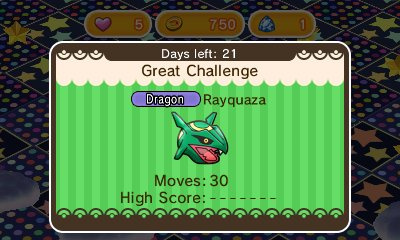 Pokémon Shuffle is a lot of things - slightly addictive, annoyingly 2D-only, quite fun and slightly tacky in its micro-transactions, but one thing it's not is lazy. Nintendo and developer Genius Sonority keep serving up weekly events and special announcements, along with consistent software updates that are doing something. This week is no exception.
Version 1.1.7 is now live, and comes with a Rayquaza event that'll run until 13th April. Once you clear the challenge for the first time you'll receive a valuable Jewel for your troubles, while dedicated players will no doubt be aiming to capture the dragon-type in addition to clearing its stage.
Are you still shuffling every day? Let us know.
[source serebii.net]