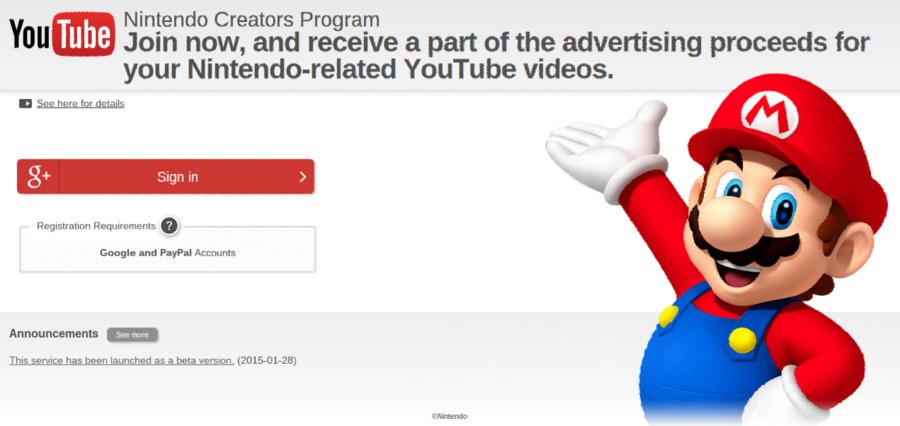 Last week Nintendo launched its YouTube Creators Program, which had been long promised as a compromise between simply preventing monetisation of videos featuring its content and the alternative of leaving video creators with free rein. What's happened since is a typical clash of sensibilities, where Nintendo is arguably both in the right and conversely getting it wrong.
Let's kick off by summarising the deal, as the program is in beta in North America and Japan - the following is updated from our original article for the scheme:
Interested YouTube creators can register for the program with their Google details, and they'll also need to use a PayPal account to receive their shares of revenues.
If channels are registered they must only feature Nintendo first-party content, otherwise videos must be registered one at a time.
There can be a wait of "up to three business days for your registered content to be reviewed and finalized".
Once registered, all video advertising revenues initially go to Nintendo, but then (within two months of the video kicking off in the program) 70% (channels) or 60% (individual videos) of revenue will go back to the creator.
Revenue is calculated after a month, with money taking two months to be passed to the creator's PayPal account.
Only specified games are eligible for the program.
A clear message must be read out or displayed in all registered videos.
Starting with the arguments for this promotion, Nintendo is offering a share of revenue on its copyrighted footage and audio, which it is perfectly entitled to do. There are some publishers that simply shut down unofficial footage with copyright claims, while Nintendo is opening a door to those previously excluded and lifting some restrictions. In the eyes of copyright law - and YouTube's own rules - Nintendo seems to be on incontrovertible ground.
Those are about the only positive comments we can muster - we think an applicable principle is that just because you can do something and have rules on your side, doesn't make it the right course of action.
Even assuming agreement to the principle of the program, the execution in this beta stage has flaws - the list of permitted games excludes the biggest titles of the past Holiday season, such as Super Smash Bros. for Wii U, Pokémon Omega Ruby and Alpha Sapphire and Captain Toad: Treasure Tracker. Right off the bat content creators are being told that the hottest Wii U and 3DS games of the moment are off-limits, which is a poor idea in the internet age when trends move on rapidly. Another issue is the fact that Nintendo is checking each submission and allowing three days to do so - if you want to take part, your channel or individual videos must fit an undefined set of rules.
We understand the defences that are raised for this program, but the problem lies in the overtly negative reactions from prominent YouTubers. It is these channels, these Creators, that are the trend-setters on the platform. As we reported last week, prominent YouTubers, including the most subscribed channel on the whole platform, came out against the program. More have jumped in besides, so when we add up the influential voices of Pewdiepie, TotalBiscuit, Jim Sterling and many more besides, there are millions of people reading words or watching videos that denounce the program.
The concerns raised are valid, too. Anyone who considers themselves a 'critic' will instinctively feel uncomfortable when their videos go through an authorisation process, while limits on the available games immediately introduces a tiered system, where directly approved channels - such as Smosh Games - produce weekly Super Smash Bros. for Wii U content while others can't.
The fact is - uncomfortable as it is for Nintendo and all with its interests at heart - that the biggest names on YouTube don't need the big N's games. Titles that dominate the trending category for gaming include Minecraft, League of Legends, Five Nights at Freddy's, GTA V, Call of Duty and various others. These are the sorts of games that draw big numbers, and videos that go viral or grab attention are typically those - unsurprisingly - with publishers that take all the free marketing and exposure they can get.
It's certainly not our intention to portray the YouTube creative community as above all reproach, as like any media there are plenty of strengths but also weaknesses; in recent months there have been some grubby deals emerging in which some of the biggest corporations try to pay underhandedly for exposure, for example. It's understandable that Nintendo doesn't want to be seen to pay off channels - without proper recognition of the deal in place - in return for videos, yet it could quite easily raise its hands and leave YouTubers to try and make a living with its games if they so please. Like in all media, whether conventional print, web-based games writing or increasingly powerful video content, there's a balance to be found.
Regardless of the rights and wrongs and whether you agree with the principles of the Creators Program or not, it seems doomed to failure and may well benefit from being ditched after - or during - its beta stage. If the biggest names on YouTube aren't happy with it, then hopes to get Nintendo trending on a daily basis on YouTube are very unlikely to succeed. Nintendo can continue to grow its conventional efforts, which it has done well with Nintendo Direct videos and regular trailers, but it'll struggle to get Splatoon user videos generating heat alongside CoD online matches. For any YouTube channel making real money and paying salaries, the idea of committing much effort to Nintendo products only to jump through hoops and lose 30-40% of revenue isn't exactly tempting, especially when other major and indie publishers impose no restrictions at all.
At the start of this year we said Nintendo was wise to embrace the YouTube audience, citing high-profile channel appearances and general progress in 2014. We also said there was "room for improvement... more gamers seeing what it has to offer will bring improved chances of Nintendo returning to rule the roost in years to come." This Creators Program damages those prospects. Nintendo's improved efforts in 2014 still demonstrated that it wanted to control the message, to ensure that positivity was the emphasis when its content was featured. This doesn't tally with the way YouTube works on a broader sense. To progress from staged videos to genuinely trending needs Nintendo to change its outlook, to cede control; it should have no fear in this, it should back the quality of its games to do the talking.
Yet it isn't doing that, not yet. Until Nintendo truly understands that YouTube's power-brokers and trend-setters are those with millions of subscribers, not publishers, it'll fail to reach its potential on the platform.