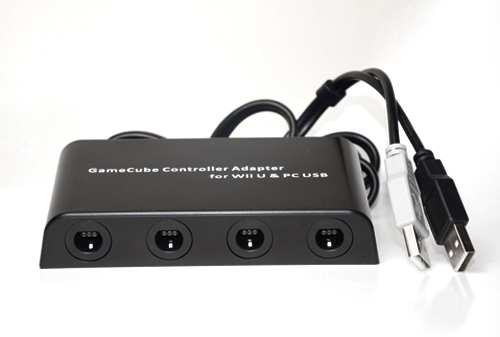 When Super Smash Bros. for Wii U launched last November, quite a few gamers opted for bundles and special editions that included the official GameCube Controller Adapter; unfortunately stock was extremely low, to the point that retailers as large as Amazon were failing to fulfil all pre-orders. Re-stocking has been so slow - pretty much non-existent - that Nintendo even had to take the step of dismissing rumours that it had been discontinued.
Of course, the Super Smash Bros. controllers can be found at retailers, and as the only way to use them on the Wii U is with an adapter some have been opting to import a Mayflash single port that's been on the market since mid-2014. The positive is that the accessory company has spotted the ongoing gap in the market and now stepped up with a port that looks rather like the official version, with four ports and powered through two usb connectors. It has Wii U and PC modes, with the Wii U mode promising to replicate the official adapter - in other words, support Super Smash Bros. for Wii U.
It's available now on that most reliable of import sites, Play-Asia, and you can check it out right here. It's $19.99, which converts to roughly £13.25, with stock coming in this month and a shipping window of 5-15 days. At this stage we're not definitively sure it will work as advertised - though Smash Wii U support is pretty much its main selling point - but some of the Nintendo Life team are certainly tempted to take a punt having seen their pre-orders for the official adapter fall through during the festive period.
Are you planning to give one of these a try so you can use those GameCube controllers in Super Smash Bros. for Wii U? Let us know.