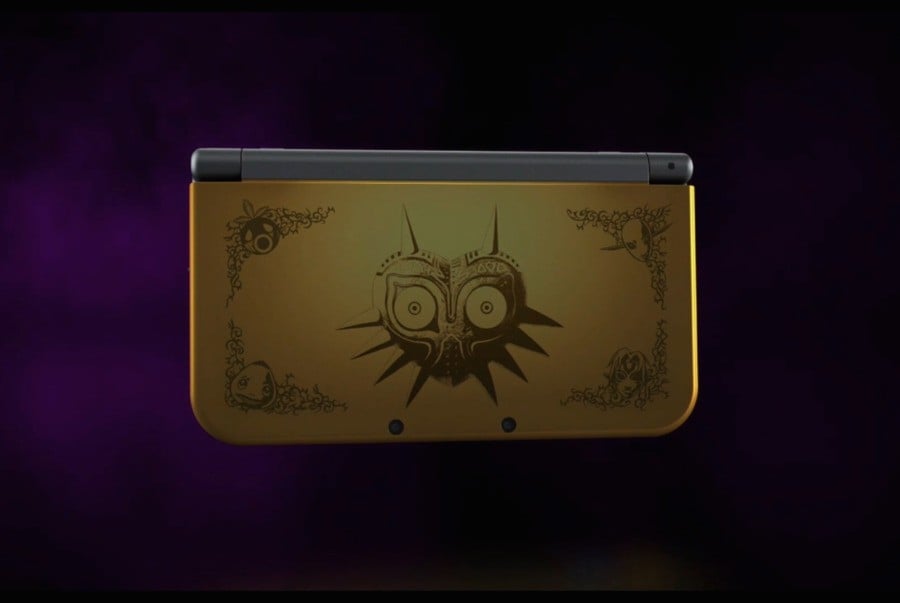 Due to the overwhelming popularity of the Majora's Mask Special Edition New 3DS XL, it's no surprise that pre-orders for the console were sold out at an extraordinary rate, leaving many die-hard Zelda fans out in the cold. It seems that Nintendo is listening to the cries of its loyal fans, and has re-stocked this iconic golden console for the UK audience at least. Those who are tempted to get their hands on this version of Nintendo's new handheld should be quick to act, as no doubt this new batch of pre-orders will run dry very quickly.
The bundle itself comes with the gloriously golden New Nintendo 3DS XL emblazoned with the icon of Majora's Mask, a digital copy of the game pre-loaded, a lovely little statuette of the Skull Kid wearing the titular mask, and – most importantly – a wall charger.
This new batch should hopefully stem the flow of madness that is individuals selling their pre-orders on online auctions sites, but that may be hoping beyond hope. Nintendo's stock issues seem to be slowly balancing themselves out, but of course many of the rarer amiibo figurines are still exceedingly difficult to come by, no matter how influential you may be. We can only hope that Nintendo can provide enough for those that want them in future amiibo releases.
Are you considering grabbing one of these preorders now that they're back in stock, or are special edition consoles not really your thing? Click here to go straight to the order page and let us know with a comment in the usual place.
[source store.nintendo.co.uk]