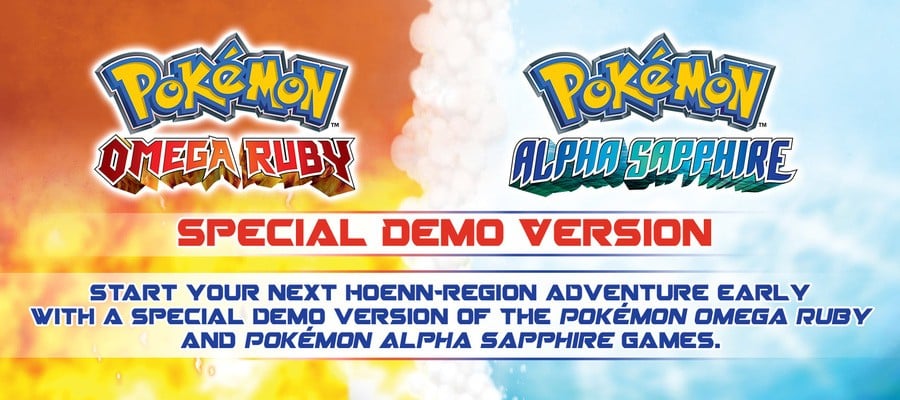 Not long ago Nintendo of Europe announced that Pokémon Omega Ruby & Alpha Sapphire - Special Demo Version was on the way; it's been confirmed for PAL regions and Japan but not, as yet, North America. The demo will naturally introduce gamers to the upcoming releases and allow some exploration and battling, but most importantly it'll feature gameplay unique from the retail iterations, while a Mega evolved 'familiar' Pokémon that's collected — along with rewards and pick-ups — will be transferable to the full game.
It's an exciting move for the franchise, and after the incredible success of the Super Smash Bros. for Nintendo 3DS demo Nintendo is going a step further with its varied distribution options. Throughout each individual territory distribution will come through retail websites and stores, Nintendo hotspots and more; luckily for those of you in the UK, we're also distributing a whopping 30,000 demo codes right here on Nintendo Life.
We're delighted to now kick off this partnership with Nintendo UK, launching our code distribution of Pokémon Omega Ruby & Alpha Sapphire - Special Demo Version.
About The Special Demo Version:
This demo starts in Mossdeep City, and below is Nintendo's official description of why you should be excited about this download.
The Pokémon Omega Ruby and Pokémon Alpha Sapphire features gameplay that you won't experience anywhere else. During the course of this early adventure, you are likely to encounter familiar Pokémon that can now Mega Evolve. What's more, this Mega-Evolved Pokémon can be brought into the full Pokémon Omega Ruby and Pokémon Alpha Sapphire games. Reward items obtained during the Special Demo Version adventure can also be brought into the full game.
How to get a code
We will be giving away 250 download codes every hour, on the hour, between 10am and 9pm for the next 10 days - that's a total of 30,000 download codes available for our UK readers.
All you need to do is register your email address below and we will randomly select 250 lucky readers every hour; your registration will enter you in every draw. If you are selected you will be notified via email or you can simply check the status of your ballot by re-entering your email address at any time.
Rules: You must be in the UK and enter a valid email address to ensure correct entry to the ballot, you must only register one email address; don't worry, you'll be included in each ballot until you receive one or all codes are gone. If we detect unusual duplicate entries we reserve the right to remove them from the ballots. We ask that you simply consider other gamers and play fair. You may enter your email address again to check the status of your registration.
---
We would like to thank Nintendo UK for supplying the codes and hope everyone enjoys this very special demo version of Pokémon Omega Ruby & Alpha Sapphire.
Good luck!