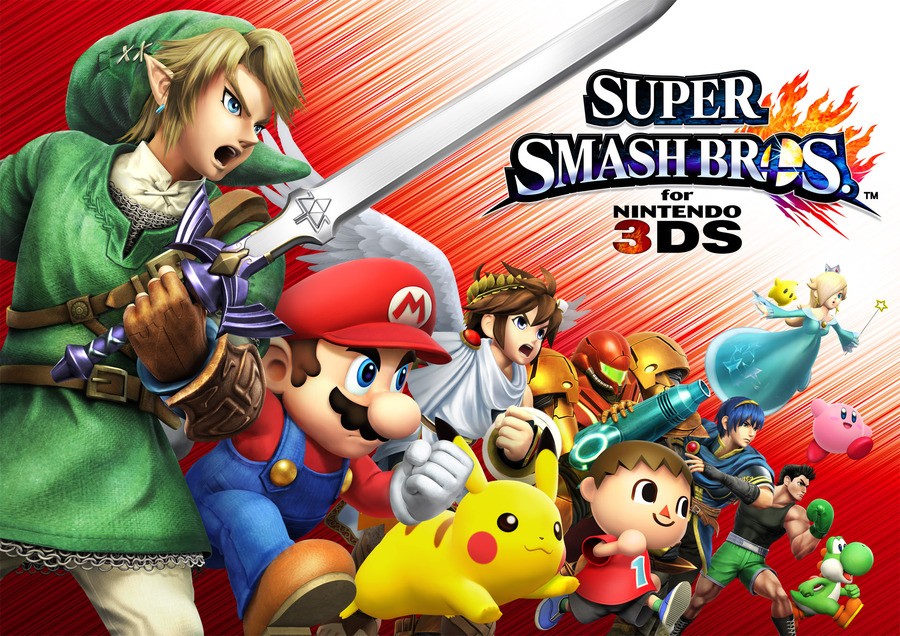 It may be less than a month to go until Super Smash Bros. for Nintendo 3DS is finally released in North America and Europe, but that doesn't change the fact that the wait over the next few weeks is going to be unbearable for its most ardent fans. The game — which at the time of writing has already been officially released in Japan — has already been dissected by Japan-based players and revealed to the world thanks to the wonders of the internet, which only contributes to the incredible hype surrounding the handheld release. Unfortunately, simply knowing what the game will contain isn't enough for most of us — we want to play it now!
Despite this, finding out more about it at least goes some way to temporarily satiating our appetites. Therefore, it's just as well that we were recently invited along to Nintendo UK's offices for a lengthy hands-on session with a preview build of the game, in which we were able to experience many of the game's single- and multiplayer features.
Of course, with such an opportunity comes the unenviable task of having to write up our experiences with the game; it's worth noting that Super Smash Bros. for Nintendo 3DS may come on a small cartridge, but it's absolutely bursting at the seams when it comes to game modes, playable characters, stages, items and other features. We've done our best to provide as comprehensive an overview as possible to give you a good idea of what to expect from the game. While we'd love to go into intricate detail around every single aspect, we'd be here until way past the game's release if we did; besides, we imagine you'll want to find most of this out for yourself when the game does finally land on 3rd October.
You may recall that we previously had the opportunity to preview the game at Nintendo's Post-E3 event back in July, in which we noted just how taken aback we were with the game's silky smooth, 60-frame-per-second presentation. A couple of months later — and after finally having the chance to really put the game through its paces — we're still thoroughly impressed with just how well Super Smash Bros. for 3DS runs. Rarely is there any noticeable slowdown; in fact, only when the screen is covered with Assist Trophy and Pokéball shenanigans do you see a slight — yet understandable — dip. Otherwise, the only time you're going to see this game slow to a crawl is when you use the slow motion-inducing Timer item.
But it's not just that Super Smash Bros. for 3DS runs well, but rather it also manages to look pretty fantastic at the same time. Character models sport an impressive amount of detail and are fluidly animated; Sakurai-san and his team haven't skimped on the detail when it comes to everything else, either. Stages authentically portray a number of iconic and newer Nintendo environments, superbly capturing the look and feel of the respective game universes.
This particular build of the game contained a number of stages — far too many for us to list and detail within the limited confines of this article — but there are many highlights to look forward to: the Reset Bomb Forest, which is based on Kid Icarus: Uprising, starts with all fighters battling it out on top of a derelict fortress, while a huge land-based battle takes place in the distance. While it may not be directly related to the gameplay, it adds a healthy dose of grandeur to the action. In considerable contrast to this, the Tomodachi Life stage perfectly captures the relaxed feel of the original title. The stage sees players battling across an apartment complex populated by numerous Miis — some of which may be sourced from your system's Mii Maker application — giving it a nice personal touch. Keep your eyes peeled out over the coming weeks for our in-depth look at the stages found in this particular version.
A concern we previously highlighted was that it felt difficult to keep up with the action on the relatively small screen size afforded by all 3DS models. As this is a later build of the game, it's possible that the zoom of the camera and the clarity of the visuals have been improved, as from the moment we started playing it just seemed right; it may also simply be down to the fact that our first time with the game was in a crowded, noisy and busy event, as opposed to Nintendo's comparatively serene preview room. Either way, Super Smash Bros. for Nintendo 3DS is certainly playable on all 3DS/2DS iterations.
It's important to note though that we were only able to test the game this time around using a 3DS XL; if you struggle to pick out detail at times on the standard model, then now — or perhaps when next month's limited edition Super Smash Bros. for 3DS system arrives — may be the time to consider an upgrade. The customisable option to add a thin or thick outline to your character helps to distinguish them from the background, yet to what extent it's actually useful when you're zipping around the screen in a four-player free-for-all is debatable.
Once again, we were able to dive into Super Smash Bros. for 3DS's local multiplayer mode and see just how well the portable version delivers what is essentially the series' raison d'être. Setting up a match between systems is straightforward, and once the action is underway there is absolutely nothing to worry about in terms of connectivity or lag. Of course, how well this extends to the online modes is yet to be seen. Stages are chosen using a voting system, and eager players are given the opportunity to warm up against the trusty, if unfortunate, sandbag item while they wait for opponents to choose their settings.
We also sampled a range of previously unavailable modes, including a good chunk of what will feature in the final game's single-player offering. Classic Mode — an arcade-style single-player mode that has appeared in each instalment of the series to date — offers more of the same, albeit with some minor twists. No doubt inspired by Sakurai-san's earlier 3DS title, Kid Icarus: Uprising, an intensity meter feature enables you to similarly gamble your success at a difficulty level of your choice and potentially win more coins, which can then be used to help unlock additional features.
As showcased in one of the daily screenshots earlier this week, another new feature which also adds an element of chance to the mix is the random reward system. Before each stage begins, a roller spins which can land on numerous reward types. These include character customisation upgrades, trophies and gold. It's far from a ground-breaking experience, but it nevertheless does add something new which makes it much more worthwhile to work your way through this mode multiple times.
In addition to this, you are now able to choose from multiple routes throughout your Classic Mode journey, essentially enabling you to decide what challenges you'll face (to a some degree); the routes are only defined by a logo, and even then this doesn't guarantee what type of encounter will occur (nor prevent a surprise opponent from turning up). Veterans of the series will know what to expect by now, and the final battle ends in true traditional form with the Master and/or Crazy Hand serving as the final hurdle. They both have a few new tricks with which to throw you off-guard, which is a welcome change, but otherwise they can't help but feel a tad familiar.
All-Star Mode also returns, although this time the theme behind it is slightly different. You still have to work your way through every single character in the game, but this time it's set up as a history lesson in that you face opponents in the chronological order of their first video game appearance. While we imagine a good chunk of the game's audience will be already be au fait with Nintendo's release history, it nevertheless adds a fun and interesting side element for all. Moreover, it shows that the company and its close partners have, in fact, continued to create new characters and IPs on a regular basis to this day, despite a vocal minority seemingly always saying otherwise.
Accompanying the main single-player modes is the Stadium, which features returning side-games Multi-Man Smash and Home Run Contest, as well as a new addition called Target Blast. The latter has already been described as something akin to the gameplay style of Angry Birds, which is true to some degree. Players must — perhaps unwisely — beat up a bomb and send it flying into a bunch of floating targets. It doesn't require quite the same level of finesse as Angry Birds does, though you do need to factor in how much damage you deliver (to determine how far it flies) and how you send the bomb off on its trajectory. It's another self-contained experience in its own right, and while it won't take up all of your time, it's a nice distraction to enjoy in between the game's main offerings.
StreetPass functionality was also revealed to us during our hands-on time, and takes on a slightly different structure than you may have expected. It's essentially a battle mode in which you move a circular character token around a flat plain from a top-down perspective, using said token to knock other tokens (which you acquire through StreetPass) off the plain — the concept is somewhat similar to that of those BeyBlade spinning top toys. The presentation in this mode is incredibly simple, although the gameplay side of things echoes that of the main game modes. For example, you can battle multiple tokens at the same time, charge up the power of your attacks and — true to the series' age-old formula — you have to knock other tokens out of the playing field. Succeeding in this mode results in rewards — it seems you can't do anything in the game without earning something — which always helps. It's also not too time-consuming; had StreetPass incorporated the standard gameplay format, it likely would have become too laborious to bother with after a while.
The build of the game we got to play included every unique character that has been officially announced to date (we realise that Alph of Pikmin 3 fame has since joined the party, and live streams of the Japanese version have revealed certain secret characters). Much like with the stages, this is something which is hard to discuss in considerable detail when there is so much else to talk about; our playthrough only amounted to a few hours, and we feel that we really need a lot more time with the game before we can comment on the overall balance of the roster — we'll be sure to cover this when it comes to our review.
What we can say now, though, is that the roster is without doubt the most varied and interesting to date. Yes, there may be a plethora of returning characters who remain largely unchanged, but the new additions bring a lot to the table. For example, Rosalina & Luma provide an interesting two-character mechanic; the former can use her starry companion as a projectile, yet Luma can also be controlled by the player to dish out attacks separately. Palutena lives up to her role as a goddess in that she can dish out a whole host of powerful attacks — her forward and downward smashes see her using heavenly angel wings to batter opponents, while her Final Smash attack — a black hole combined with a powerful laser — could certainly be classified as godlike.
Nevertheless, it pales in comparison to PAC-MAN's pièce de résistance, whose transformation into his original arcade form essentially re-establishes his long-lost dominance as the King of gaming. It's an ability that quite possibly borders on broken, due to the fact that it's quite difficult to dodge and very powerful. Little Mac possesses the ability to really send opponents flying without the need to crack open a Smash Ball. True to the franchise from which he originates, the pumped-up boxer comes with a chargeable meter; fill it up and insta-KOs suddenly become a reality. In addition to this, he's just very good fun to use — fast, extraordinarily powerful, yet balanced by the fact that his muscles make him jump and fall like a lead balloon. If you're keen to learn more about the newcomers in both Super Smash Bros. for 3DS and Super Smash Bros. for Wii U, then be sure to check out our recent feature.
Another way in which this upcoming instalment improves upon Super Smash Bros. Brawl is that it offers numerous character customisation options. In the first instance, you are able to play around with the movesets of the main line-up, as well as alter their attributes (such as speed, attack power and defence) using customisation rewards you earn as you play the game. This isn't simply a case of buffing characters as you go; upgrading one attribute will have a negative effect on another, meaning you must take the type of character you're using into account. There's room for up to three upgrades, and there's definitely an art to choosing the best combination.
This customisation also extends to the Mii characters you can create, yet you're also able to alter superficial elements such as outfits and headgear. There are various moves available for the Mii Brawler, Mii Swordfighter and Mii Gunner, some of which are clearly inspired by existing Nintendo characters; if you've ever wanted to see your Mii pull off a sword spin as per the legendary green-garbed hero, then you'll be pleased to hear that the moment has finally arrived.
If the considerable length of this article wasn't evidence enough, it's clear that Super Smash Bros. for 3DS features an astonishing amount of content. This game refines, rather than innovates, when it comes to the core gameplay offering, to the point where it may feel a bit familiar for veterans of the series. As we've stated before, however, this is a series that doesn't require reinvention; the fact that it offers so many new gameplay features, characters, stages and so on — while retaining a high-quality look and feel — is what could make this one of the best Super Smash Bros. games yet. While we look forward to spending a lot more time with the full game, we can confidently say that this is definitely a 3DS title that should be on your radar this Holiday season.