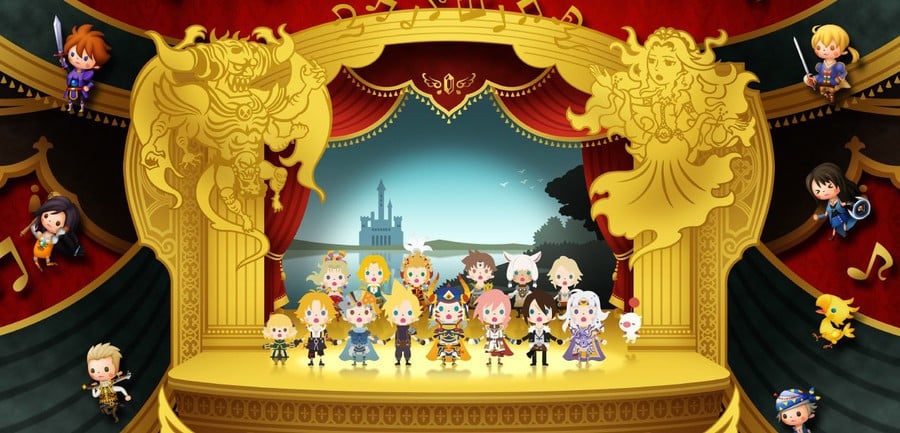 It's time once again for the Nintendo Download Update, North American gamers, and this week brings a variety of treats to the Wii U and 3DS. Let's get to it!
Missed the Nintendo Download Update for Europe earlier in the week? No problem, all of the details are right here.
---
Wii U eShop
Arrow Time U (XenoHorizon, $1.99) - Arrow Time U has you take control of none other than a neon blue arrow. With limited time, health, and special powers, it's your job to point your arrow in the right direction… and take it there as well! Your unique movement mechanisms and abilities to slow down time and move through any object will certainly help, but you'll need both quick thinking and quick reactions to overcome all the obstacles and foes in your way in this top-down 2D game. Watch out for our upcoming review.
SPIKEY WALLS (RCMADIAX, $0.99) - This long awaited Flappy Bird clone finally hits the Wii U. In this title, you must avoid hitting the "spikey" walls by tapping the A button on the Wii U GamePad to earn a high score. We'll be posting our review on RCMADIAX's latest game very soon.
Wii U eShop Virtual Console
Wild Guns (Natsume, $7.99) – Blast your way through villainous outlaws, diabolical robots and towering, screen-filling bosses either by yourself or with a friend at your side in the Super NES classic, Wild Guns. You'll need a sharp eye and quick-on-the-draw reflexes, but fortunately, you've got plenty of moves to help you survive the hail of bullets heading your way. You can dive-roll, jump, double jump, rope enemies with a lasso and clear the screen with explosive special attacks. Blast apart just about everything in the environment to find guns, bombs and other hidden power-ups. It's up to you to bring justice back to town – or whatever's left of it when the smoke clears. We reviewed Wild Guns back in 2010 when it hit the Wii VC, but we'll take a fresh look at this gunslinger again for you because we're nice like that.
3DS Retail
Theatrhythm Final Fantasy: Curtain Call (Square Enix) — A definitive expansion on the original release from 2012, this title takes the library of songs to over 200 but, most importantly, shakes up the modes for a fresh take on the rhythm music mechanics. Quests add some grandeur to the occasion while VS mode throws in some variations and even worldwide online play; we gave this a glowing recommendation in our Theatrhythm Final Fantasy: Curtain Call review.
Cooking Mama 5: Bon Appétit (Majesco Entertainment) – Conquer the kitchen as you bake, batter and roll 60 of Mama's favorite oven-fresh meals and tasty treats. She also needs your help with 30 fun new activities like feeding kittens and running the burger shop. Our resident chef, Morgan Sleeper is busy baking in his virtual kitchen as we speak to bring our review to you.
FIFA 15 (Electronic Arts) - The press blurb says this legacy edition delivers unmatched authenticity that reflects the current football season with updated kits and rosters and over 30 officially licensed leagues, 50 real-world tournaments, 500 authentic clubs and 12,500 players but no updates to gameplay or game modes.
3DS Demo
Super Smash Bros. for Nintendo 3DS (Nintendo) – Free Demo – Finally all 3DS owners can download a free demo for the upcoming all-star fighting game starting at 9 a.m. PT on Sept. 19 without the need for a special code! This demo includes five playable characters (Mario, Link, Pikachu, Villager and Mega Man), one stage (Battlefield) and the ability to compete in local multiplayer matches with fellow 3DS owners who have downloaded the demo to their systems.
3DS eShop
Horse Vet 3D (TREVA Entertainment, $19.99) - Our pals at TREVA are back with another animal sim! Experience the daily life of a veterinarian – specialized in horses. You examine the horses to determine the nature of diseases or injuries. Drive to emergencies and treat them inpatient afterwards until they are healthy again. We'll put on our latex gloves and investigate this one for you soon.
Secret Empires of the Ancient World (Selectsoft, $4.99) - Search for secrets among the ruins of great ancient civilizations! Can you uncover all the items before time runs out? Explore Mexico, Peru, Central America and the US Southwest as you seek and find hidden objects in ancient Aztec, Maya, Inca and Anasazi cities! Delve into detailed and evocative scenes filled with over 1000 carefully placed items, plus enjoy a challenging sliding tile puzzle for each location. As you unlock each new scene, you'll be drawn deeper into the hidden object hunt. Are you ready to discover these ancient empires? Our hard-working reviews team sure do love their hidden object puzzlers, so stay tuned for our review!
3DS eShop Virtual Console
Legend of the River King 2 (Natsume, $4.99) – An angel appears to you and your brother, asking you to track down the River King and the Sea King, the biggest fish in the world. But before you're ready to begin the search for the elusive water beasts, you'll need to score smaller fry to feed yourselves and save up to purchase better tackle and rods. With all manner of angling to enjoy, from freshwater fly-fishing to deep-sea trolling to collecting a variety of insects and plant life, you'll have hours of fun in this role-playing adventure. Watch our for our upcoming review.
Coming soon
Hyrule Warriors – Sept. 26 (Wii U retail)
Mario Golf: Advance Tour – Sept. 25 (Virtual Console on Wii U)
Castlevania: Dracula X – Oct. 2 (Virtual Console on Wii U)
eShop Sales
A new batch of deals has been added to the Super Smashing Sale! Save up to 39 percent on select games starring fighters from the upcoming Super Smash Bros. for Nintendo 3DS game. This week includes veteran fighters Pikachu, Samus and more. Check out the deals for yourself at http://www.nintendo.com/eshop/offers.
Moon Chronicles and Mutant Mudds from Renegade Kid are on sale until 8:59 a.m. PT on Oct. 2 in the eShop on 3DS.
Shin Megami Tensei IV, Conception II: Children of the Seven Stars and more ATLUS games will be on sale at 9 a.m. PT on Sept. 22 through 8:59 a.m. PT on Sept. 29 in the eShop on 3DS.
Strike Force Foxx, Coaster Creator 3D and many other fun Big John Games are on sale in the eShop on 3DS for up to 50 percent off. This offer is valid until 8:49 a.m. PT on Oct. 2.
Classic Games Overload: Card & Puzzle Edition is 50 percent off (reduced from $29.99 to $14.99) until 8:59 a.m. PT on Oct. 6 in the eShop on 3DS.
---
Lots of options in North America this week. Let us know what you plan to download in the poll and comments below.
What will you be downloading first this week? (357 votes)
Arrow Time U (Wii U eShop)

0%

SPIKEY WALLS (Wii U eShop)

3

%
Wild Guns (Wii U Virtual Console / SNES)

7

%
Theatrhythm Final Fantasy: Curtain Call (3DS retail)

7

%
Cooking Mama 5: Bon Appétit (3DS retail)

1

%
FIFA 15 (3DS retail)

1

%
Super Smash Bros. for Nintendo 3DS - Free demo

43

%
Horse Vet 3D (3DS eShop)

0%

Secret Empires of the Ancient World (3DS eShop)

0%

Legend of the River King 2 (3DS Virtual Console / GBC)

4

%
One of the many games on sale this week

11

%
Meh, there's nothing I want to buy this week. I don't even want the free Smash demo!

23

%
Please login to vote in this poll.