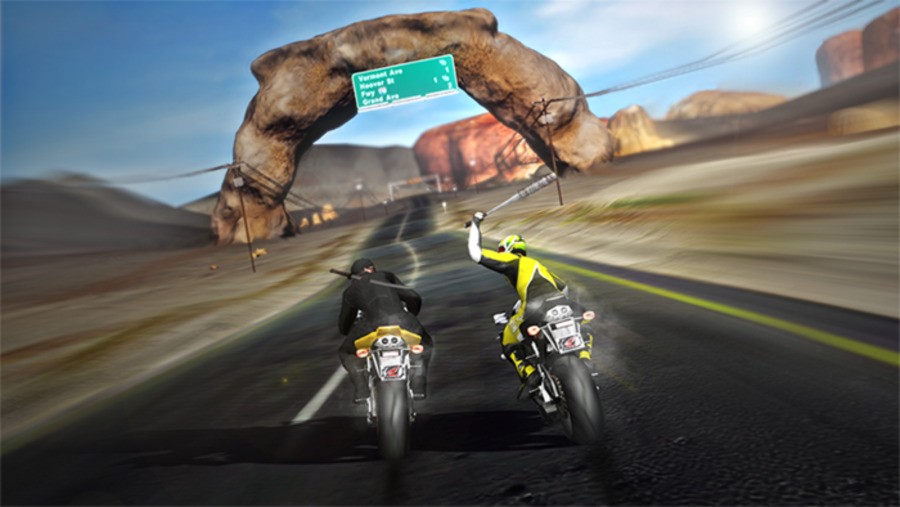 After earning plenty of interest in its successful crowdfunding campaign, Road Redemption has had a relatively turbulent development period. Some early videos were criticised due to a focus on gun weapons, which were then seemingly dropped, while its general physics have also come under fire. The concept — heavily inspired by Road Rash — has, nevertheless, kept optimists on board.
Some gamers are now getting their hands on the game courtesy of an alpha build on PC. While only including variations on a couple of tracks and some quickfire challenges, it means we can get a better look at progress so far. Some aspects of the physics and environments are still rough, with dodgy animation and off-road features that have clearly not been mapped properly. There's also still a sense that it's a lot looser and less visceral than the classic Road Rash games that inspired this project.
All of that said, there's certainly some charm and fun in the build, with crazy challenges that involve cars falling from the sky, or humorous ragdoll physics when thrown off the bike. Quite whether it's in the "bad but still fun" category is up to individual interpretation.
Still, if this is on your radar ahead of an eventual Wii U eShop release we recommend checking out the Eurogamer footage below, in which the site's Ian Higton puts the alpha through its paces. Let us know what you think.
[source eurogamer.net]