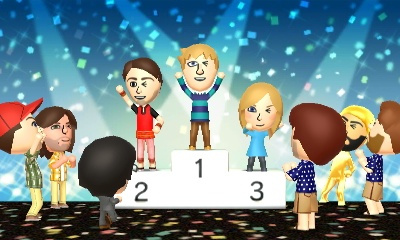 While gameplay comparisons between Tomodachi Life and Animal Crossing: New Leaf were often made and always a bit wrong, similarities could certainly be identified in their target audience and potential success. As a humorous, rather quirky Mii life-sim, Nintendo no-doubt hopes that it'll be an evergreen release on 3DS, quietly accumulating sales towards impressive overall sales.
After a modest launch week in the UK, the title certainly seems to be gaining momentum and giving itself a strong chance of long-term success. For the third week in a row the 3DS game maintained sales momentum and, as a result, moved up the UK charts as other releases drop away. With sales only 5% down on the previous week — which is pretty reasonable after a month on the market — Tomodachi Life has climbed into the all format top 10, in ninth place; the story's even better in the single format chart, where it's moved up one position into fifth place.
Mario Kart 8, meanwhile, continues to perform reasonably well; it's fallen down to 16th in the all format charts, but is still up in sixth place in the single format results.
For old-time's sake, too, Animal Crossing: New Leaf has crept into the top 40 once again, securing 36th in the all format results and 40th in the single format results; that's an impressive late return for a game over a year old.
It'll be interesting to see whether Tomodachi Life and Mario Kart 8 can keep mixing it at the top end of the UK charts throughout summer and beyond. We should also have NPD results soon, which will show us how they've performed in the US during June.
[source chart-track.co.uk]