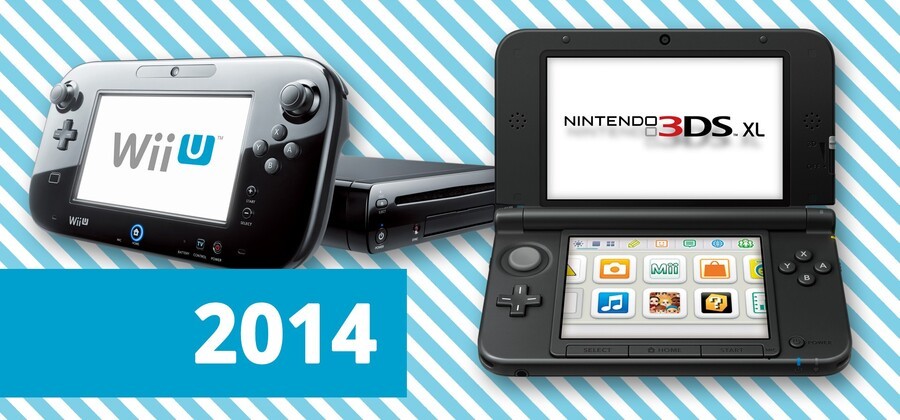 We're rapidly approaching the second half of 2014, and before this year's E3 shenanigans Nintendo system owners would have been forgiven for some nerves about the volume of games on the way this year. The show did reveal a host of release dates and new titles, however, though keeping track of those coming in the near future and others actually pegged for 2015 is a challenge.
That's what this guide is for, we've picked out the biggest retail games on the way this year in one handy list, covering both Wii U and 3DS; it includes what we consider to be the stronger titles on the way to suit a variety of audiences. It's not a bad list, as it transpires, even if the Summer months are as quiet as usual; first-party big-hitters lead the way, though we've picked key third-party games for all tastes, too.
Let's get to it.
---
Wii U
Is this a 'major' release? Yes and no. We suspect devoted Wii U gamers will be in the latter camp, as they'll either not be overly fussed or have already picked up the download versions, yet this could catch the eye of those that fell in love with the Wii original. It's not like we're bursting at the seems with big retail games in the summer, in any case...
Tecmo Koei's crazy Dynasty Warriors / Zelda mashup is coming to the West a little sooner than we would have predicted before E3, bringing with it button mashing / enemy hacking action. This game does look like pure fan-service, with recognisable arenas and playable characters such as Impa and Zelda; who can say no to that?
First given a shock reveal way back in Fall 2012, this one is now almost ready to deliver its combo-button-mashing madness to Wii U. PlatinumGames is introducing some new ideas into this sequel, including some rad-looking mech armour and touch screen controls, while those that buy this will also receive an upgraded version of the original Bayonetta, which also has GamePad controls and some Nintendo-themed extras.
Due during the peak Holiday shopping season, this will have some amiibo toy support. This takes the puzzle level concept from Super Mario 3D World and goes much further with more detailed stages and various uses of the GamePad. Certainly one to watch, and we enjoyed the experience in our first impressions.
Confirmed for this year, this is the full retail package that was partially shown off in the inexpensive Wii U eShop download, Art Academy: SketchPad. It'll feature detailed lessons, once again, intuitive Miiverse sharing and 360-degree panoramic landscapes in the Free Paint mode, all using the GamePad touch screen.
This driving-sim from Slightly Mad Studios has been developed closely with its community, and could be seriously enticing for fans of the genre. Wii U support survived despite the Xbox 360 and PS3 being axed in favour of their successors, so here's hoping that this will live up to the hype.
This new release and range of toys will bring the Marvel Universe (and others) into Disney's series, as the company will aim to continue the success of the franchise début in 2013. Nintendo will hope that Wii U can be a major platform in its likely success.
Dancing may not be everyone's favourite gaming activity, but sales numbers make clear that for many this franchise is an annual must-have. The Wii version has traditionally been the best-selling version of this title, but Ubisoft is skipping Nintendo's last-gen system in favour of Wii U — alongside Sony and Microsoft platforms. Both companies will hope that the newer system will pick up the reins from its predecessor as it failed to do last year.
We've included this one as it's a thing that still exists, has been 'confirmed' for Fall and was even included as a pre-E3 trailer on Nintendo's official YouTube channel. It's sold well on every other platform since its late May release which will further dent any chance it has on Wii U, but there are still gamers waiting for the Nintendo system's version.
---
Wii U and 3DS
The first dual release in the history of the franchise, with the début portable entry arriving first on 3rd October in North America and Europe. Nintendo has reiterated a Holiday arrival for the Wii U title, and considering the fact a range of amiibo toys will be released with the game we reckon that window is as rock-solid as it's going to get. The hype for these games is now very real.
These are two separate projects, Rise of Lyric on Wii U and Shattered Crystal on 3DS, developed by Big Red Button and Sanzaru Games, respectively. These games are the final entries in a three-game Sonic deal between Sega and Nintendo, and will tie-in to a TV show and range of toys, with each entry promising entirely different gameplay experiences. The Wii U entry is an action adventure with local co-op, while the 3DS title is a more standard 2D Sonic platformer.
The LEGO series keeps on building, and with this title's predecessors firmly in the category of stronger releases in the franchise, there's much hope for this new entry. It looks rather wacky as it heads into outer space, while the 3DS entry will be a spin-off with its own approach and storyline, as was the case with LEGO Marvel, for example.
The latest entry in the hugely popular Activision franchise is coming to Wii U, Wii and 3DS in various forms, with the HD system likely to offer the most substantial experience. The gimmick this time is that you 'trap' villains and can then recruit them for your cause.
---
3DS
An announcement earlier this year of these remakes caused a great deal of excitement, with details since of Mega Evolutions, a three dimensional overworld and 3D battles all shown. This will be a major driver for 3DS sales in the Holiday season.
A continuation of the popular art series, this includes plenty of lessons and improved sharing options through Miiverse, while naturally being perfectly catered to Pokémon fans — we were fans in our Pokémon Art Academy review.
Already available in Europe, this stylish crossover blends the puzzle-solving storytelling of Level-5's franchises with the court room scenes of Capcom's equivalent. Full of charm and strong writing while providing a solid adventure, we gave this a recommendation in our Professor Layton vs. Phoenix Wright: Ace Attorney review.
This is an expanded and improved version of the excellent 3DS title Theatrhythm: Final Fantasy, which will make it the must-own version for those yet to dive in and still tempting to those that already have done so. Rhythm-game fans shouldn't miss this one.
The first Persona title to appear on Nintendo hardware, this will blend the series' RPG elements with aspects of Etrian Odyssey for what's promised to be a unique experience; NISA will publish it in Europe this year, too.
An all new entry in the popular franchise, this is a fully three-dimensional RPG in which you do a spot of farming, fishing and more while also trying to return the full four seasons to the world; it's not confirmed for Europe at the time of writing.
Released by Atlus as a retail game in North America, the company is breaking its own convention in bringing this one to Europe itself, albeit as a download-only title. It's a lengthy, exciting RPG that we loved in our Shin Megami Tensei IV review, so will likely be on plenty of European wishlists when it arrives.
This is a part-sim part-RPG from Level-5 that caught the eye when revealed by Level-5 in 2012. It's finally making its way to the West, with the prospect of serving up a lengthy campaign in addition to online play.
This is a peculiar tale, as this is a localisation of Harvest Moon: Connect to a New Land courtesy of XSEED Games, and different from The Lost Valley as listed above; this is a more traditional entry in the franchise, with the new name adopted due to licensing issues. It is a Harvest Moon title, however, and could be a nice stocking filler; it's not confirmed for Europe at the time of writing.
---
So there you have it, quite a few enticing retail games on the way to Wii U and 3DS in 2014. Let us know which you're most excited about in the comments below.