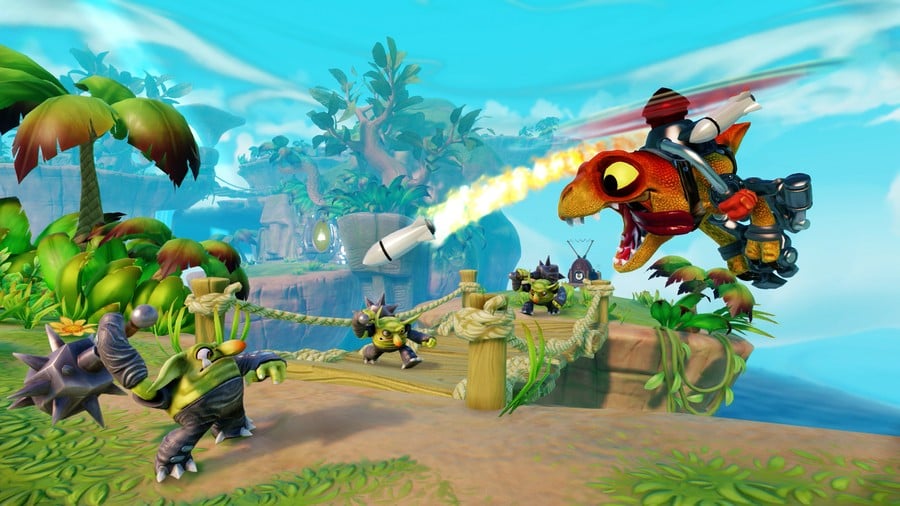 Skylanders has had a strong relationship with Nintendo platforms from the word go. In many ways its success was in part from capitalising from the high Wii install base in its target demographic. With both Giants and Swap Force selling well on Wii, Wii U and 3DS, all eyes were on Activision for the game's next iteration.
Amongst all the hoopla and hijinks of the New York announcement for Skylanders Trap Team, it was good to see Nintendo still getting some care and attention from Activision. The new game will not only support Xbox One/360, PlayStation 3/4 but also the Wii, Wii U and 3DS.
More than that though, Toys for Bob themselves are looking after the Wii game — something quite unexpected as Beenox handled Swap Force on Wii last year. While there may still need to be compromises with the Wii iteration of Trap Team having it covered in house must surely help.
Jeff Poffenbarger, Executive Producer for Skylanders Trap Team underlined his enthusiasm for the original Wii. "Actually, we're doing the Wii version," he told us at the New York event. "I believe it's still a very viable platform and is very important for us. We're just showing it on the PS4 because it looks good on a big screen. On all the platforms the quality of experience is about the same. A PS4 or Xbox One is going to run a little bit faster than the Wii but we want the experience to be the same across all platforms."
Beyond news of supported platforms details on Trap Team came thick and fast. The game will again follow Kaos in his quest to rule over Skylands. This time he has discovered the location of the legendary Cloudcracker Prison — a fortress built entirely out of the magical substance Traptanium and home to Skylands' most nefarious baddies.
As is described in the press release, "in an attempt to build his own army of foes, Kaos blows up the prison, releasing the most wanted villains and blasting shards of Traptanium to Earth in the form of Traps." This is where the player comes in, and titular novelty of the new game. Portal Masters are tasked with recapturing all of the escaped villains using powerful Traptanium Traps and defeat Kaos before it's too late.
Skylanders Trap Team comes with a new portal (yes, another one) that lets you "trap" villains and then play as them in the game in the battle for good. When the translucent Trap token is placed directly into the Traptanium Portal, enemies are magically transported into them.
The new portal has a ring of "magical energy" and a built-in speaker so that players hear the unique voices of the villains as they travel from the game into the real world Trap, and vice versa. The Trap lights up in sync with the villain speaking, adding even more magic to the experience.
Once trapped, you can then use the villains in the game as a playable character. This offers the new choice of switching between a Skylander hero and a villain at any time. A kind of "tag team" experience — Skylanders Double Dash, anyone?
Each Trap is associated with an Element, and can only capture villains who match. Defeat a water villain and you need a water Trap in Portal to capture them. The starter pack comes with a Water and Life Trap, but additional Traps need to be collected and offer another line of Skylanders at retail.
As we are now used to, Trap Team also offers a new band of Skylanders. Firstly there are the Trap Masters that are armed with oversized crystal weapons as well as new Core Skylanders and reposed fan favourites. A total of 50 new figures will complete the Trap Team, although there's currently no word on any illuminated "Light Core" Skylanders.
Gameplay itself is more familiar and still only two player. There's no mention of online, but it shouldn't be ruled out just yet. Happily all the existing Skylanders — all 175 of them — are supported in the new game.
Behind all this though is another story about how Nintendo fans have taken Skylanders to heart. As much as the new novelty and ingenuity we saw at the launch event it was this continued support for the full range of Nintendo platforms that most impressed us — particularly when other titles (the Lego games for instance) are moving on from the Wii.
With the Wii version getting Toys for Bob's full attention it could be the last great game for Nintendo's popular console; it seems unlikely that Disney Infinity will offer the same love to the aging system. It's also good to see the Wii U development being grouped with the PlayStation 4 and Xbox One.
Are you looking forward to the next Skylanders outing, and will you be getting it on Wii, Wii U or 3DS? Share your thoughts by posting a comment below.