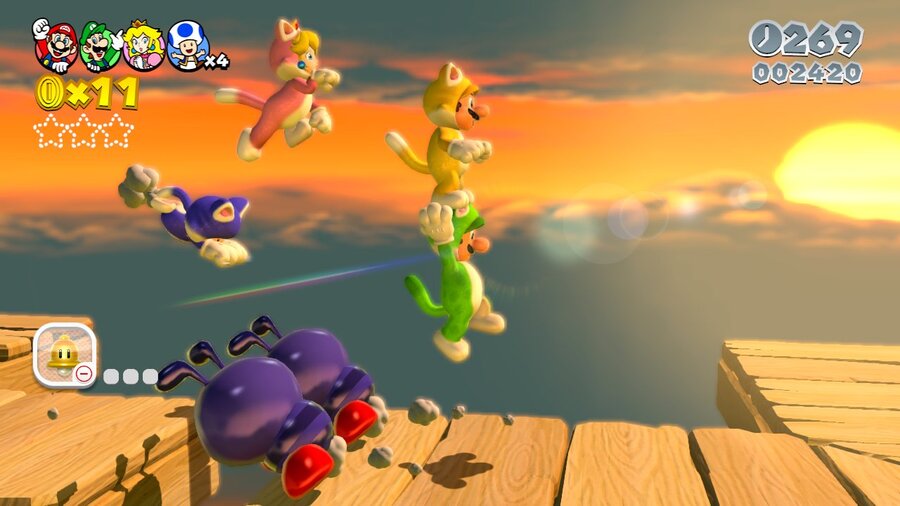 Super Mario 3D World is shaping up as a title of significant potential, and certainly far more than a quick and easy HD upgrade on 3DS title Super Mario 3D Land. It may share branding and some common items with the portable title, but is also unique in its own ways and, unlike that 3DS release and many — not all — of the 3D-based Mario titles in the past, is making a big play of local multiplayer; importantly it's a mode where everyone engages fully, so there's no player relegated to simplistic pointer or touch screen-based assist duties.
With plenty of footage and previews doing the rounds, the thoroughly reasonable question is being asked why this title won't include online multiplayer options; that would have been ideal for those that wanted to play with friends or family that they can't visit at the drop of a hat. Shigeru Miyamoto was asked just that by Kotaku at a video round table interview with multiple outlets, and explained the thinking behind the absence of online play in the new Mario title and recent release Pikmin 3.
While online play is certainly technically possible for us, it simply wasn't the focus for us this time around. What we really wanted to do was to create something that people could experience fully while playing comfortably with others who were nearby them, and this is something we decided would be best for Pikmin and the best case for Mario here as well.

Now that is to say the answer to this question might change in ten years time, if there's a future game where for example we don't think it's important to be able to see the face of the person you're playing with, then we might be able to focus more on some online function there. But for right now our focus is really on a comfortable play experience with people in the same room.
We've heard this from Miyamoto-san and others at Nintendo many times, with the company often focusing on local multiplayer. Are you happy with this stance, or do you think optional online multiplayer should be included more often in the company's games? Let us know your thoughts in the comments below.
[source kotaku.com]