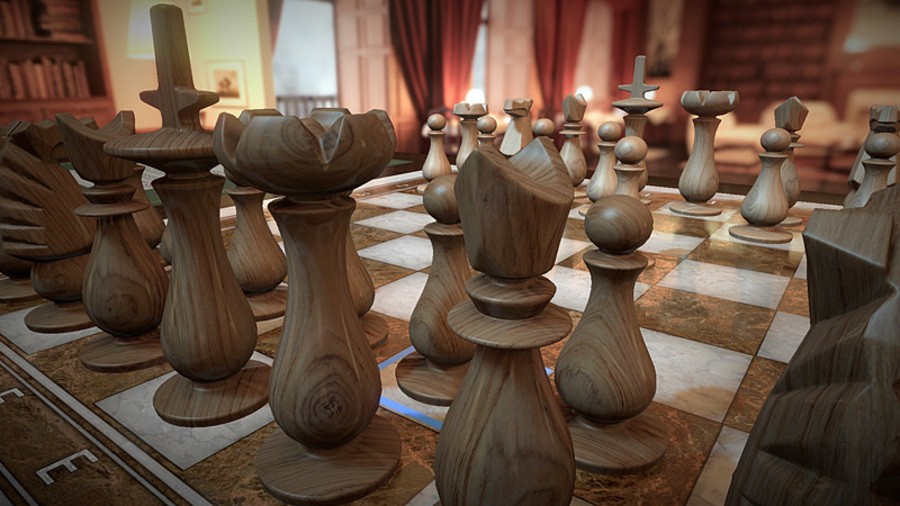 While the 3DS eShop is maturing into a platform with a healthy variety of experiences, and the Wii U eShop promises to do so, one obvious gap is in delivering a virtual edition of one of the grandest old games / sports in existence. Chess may have appeared as a minigame option in a mediocre 3DS game or two, but as a game with significant complexity and tactical challenge it hasn't been treated particularly well. UK company Ripstone seeks to fill that gap, bringing Pure Chess to both the Wii U and the 3DS, and it looks set to be an application that attempts to blend the best of single player and multiplayer in one package.
Already released on multiple platforms before, the temptation for some may be to question whether they need a priced chess download, when there are so many free options online. That's a perspective that's perhaps on the minds of the development team, as this title immediately goes out of its way to deliver a premium audio-visual experience. We've been previewing the Wii U version of this title, and naturally the 3DS entry will have limitations in what it can deliver, but what should be common across both are efforts to provide levels of presentation that won't be found elsewhere.
For one thing, and vitally important in a slow, turn-based game, there's a pleasing soundtrack to accommodate various easy-listening tastes. Licensed tracks include genres such as Classical and Smooth Jazz, and you have the choice of random playlists or specifying certain types; there are plenty of recognisable, high quality tracks to enjoy. Next up, and a source of pride for Ripstone, are the visuals themselves. During a match the TV displays a beautifully rendered chess board and surrounding setting — which can be chosen by the player — with a slowly rotating camera. It's reminiscent of a graphical concept video, in a sense, and does look beautiful on Wii U, with the moves also shown in real time for any interested observers.
We'd suggest the soothing music is the important quality here, however, as you ultimately play much of the game on the GamePad screen. In this preview build we found that the TV view was fixed in its attractive cinematic perspective, but wasn't actually that helpful for playing; the developer has opted to make use of the GamePad to incorporate the best of both worlds. On the smaller screen you can choose between a few fixed camera angles of the top-down or isometric variety, and it's here that you play.
In that respect this is a nice blend of the title's origins on tablet devices and PS3, though we found that moving pieces with the analogue stick and buttons was easier than the touch screen, as it felt more precise and reliable — the touch screen was occasionally fiddly and unresponsive. The flipside is that, as the player, our eyes were rather glued to the GamePad, and we felt little need to shift our eyes up to the TV; perhaps the final build will have an option to move a smaller top-down view onto the TV to look at while enjoying the impressive visuals, as otherwise they serve as a little-seen background.
Ultimately, it's easy to play, however, and from what we've seen there's plenty of promising content to cater to those that want to learn chess, improve their abilities or even just show off to the world. The big attraction to this title will likely be the cross platform multiplayer that should allow Wii U and 3DS players to take on each other as well as those playing on tablets and smartphones. It seems like there'll be plenty of flexibility and solidity to this setup, allowing asynchronous play that will, hopefully, feel nice and quick if your opponent is online at the same time — otherwise you can play it out one move at a time, as if by mail.
Our build was strictly offline, however, and there is content beyond online competition that could, potentially, occupy a lot of time. There are tutorial and move-set challenges that teach you a range of skills, progressing from the basic moves of each piece right through to specific openings and attacks. In addition there are a variety of checkmate challenges, where you have limited moves to finish a match — these serve as chess puzzles, of course, but could suck up a lot of time.
Beyond learning how to play and testing skills against challenges, there are multiple local play options. Local multiplayer is naturally possible, for those that want to play in the same room but can't be bothered setting up a real board, while there are a number of CPU play opportunities. Play Local mode is the area of choice for quick, easily customised matches. There's scope to save up to six games in progress, while settings for a match include 10 difficulty settings, options to set timers that are incremental or move driven, and also decisions on whether to allow players wriggle room to undo moves. Add to that the wide choice of boards, and jumping in and playing can be as quick or well thought-out as you please.
This title also offers tournaments against CPU opponents, broken up into Beginners, Challengers and Masters difficulties; you battle through multiple rounds and boost your ranking.
Your game ranking is influenced by online and offline matches, and mimics the real-life chess ranking points system that serious players will know. Rankings will be particularly important in online matchmaking, ensuring that players of a relatively level field can easily get a contest underway.
Overall, Pure Chess is looking like a promising title, and can certainly fill a void on both the Wii U and 3DS. The offline components are nicely thought out and we enjoyed exploring them, but it's in the promise of quick and effective online cross-platform matches that this truly captures attention. From what we've seen it could be an ideal chess game for beginners or experienced players, and is certainly worth watching.
If you want to know more check out our interview with Ripstone.