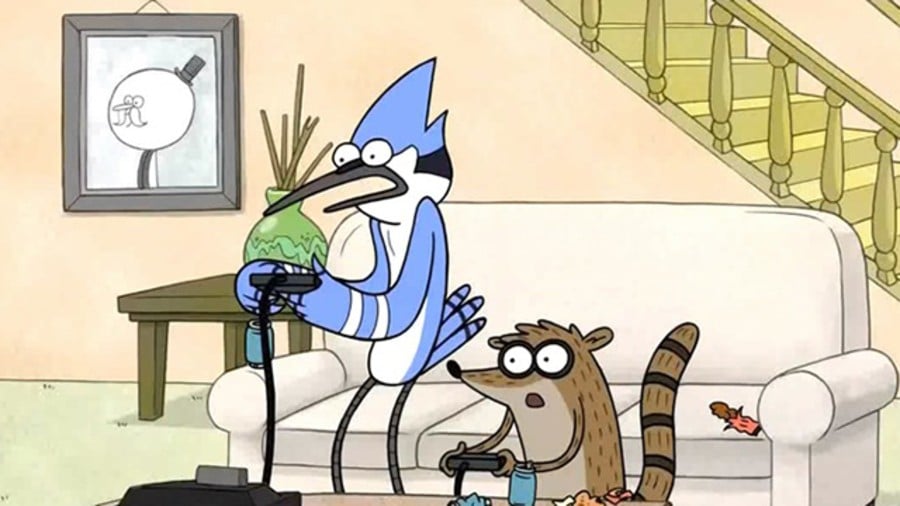 D3Publisher was at this year's New York Comic-Con to demo its latest titles, and while Adventure Time: Explore the Dungeon Because I DON'T KNOW! attracted more attention, its other Cartoon Network game, Regular Show: Mordecai and Rigby in 8-Bit Land seemed to have its own little following. Whereas Pendleton Ward's Adventure Time recalls our whimsical, childish fantasies, JG Quintel's Regular Show reminds us of the times in our lives when we grow up and worry that we'll be stuck in a young-adult rut forever. Developed by Wayforward Technologies (which also develops the Adventure Time games), Regular Show: Mordecai and Rigby in 8-Bit Land drops players in one of the show's signature wacky predicaments and uses some interesting gameplay mechanics to channel the series' spirit. We were able to try a small portion of the upcoming title, and walked away feeling optimistic about the direction it appears to be going in.
Mordecai and Rigby in 8-Bit Land follows the titular heroes as they boot up a mysterious old video game system and are suddenly transported into a retro-inspired video game world. 8-Bit Land isn't quite 8-bit, which is fine; the art style is clean, simple and slightly off-kilter, recalling the show's surreal atmosphere. Players will switch between Mordecai and Rigby throughout the side-scrolling levels. Mordecai, who is taller, can jump higher, whereas Rigby can get into small areas that his bird best friend can't access. There are several power-ups to collect, like Rigby's mullet, which gives the player special powers such as shooting; there is also money strewn about the levels, as well as hidden items that will unlock special bonus content.
Where Mordecai and Rigby in 8-Bit Land truly shines, though, is in levels that change up the gameplay. One world will have Mordecai transforming into a small spaceship, turning the platformer into a side-scrolling shooter, while another will require Rigby to crawl on the level itself, creating a Smash TV-style top-down brawler. D3Publisher has said that the game's final world will combine the two special play styles and require the player to be resourceful and figure out the best way to complete each level.
Show creator JG Quintel has written the wacky scenario for the game, so the offbeat humour can be found in the pixelated game world. Our time with Regular Show: Mordecai and Rigby in 8-Bit Land was very brief, but after encountering familiar characters like the Destroyer of Worlds, we're excited to see more.