Not so long ago we provided you with a rather attractive wallpaper for The Wonderful 101, which was downloaded over 1000 times. As so many of you clearly like having a high-res and snazzy wallpaper of an awesome game, it makes sense to do the same for Pokémon X and Pokémon Y.
The two releases have been a critical and commercial smash so far, and they haven't even been around for a full week at the time of writing. In our own Pokémon X & Y review we stated that the games are "sure to steal the hearts of Pokémon fans new and old alike", awarding 9/10 in the process.
Of course with two releases there's competition between the versions, and it seems to be fierce. In our recent poll X and Y are practically in a dead heat, with some of you lucky enough to own both copies.
In any case, you have your choice to make again below, unless you take a step on the wild side and download X & Y. Enjoy!
Pokémon X (3DS)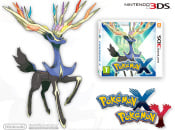 Widescreen

Laptop

Desktop
6,322 downloads
[source nintendolife.com]