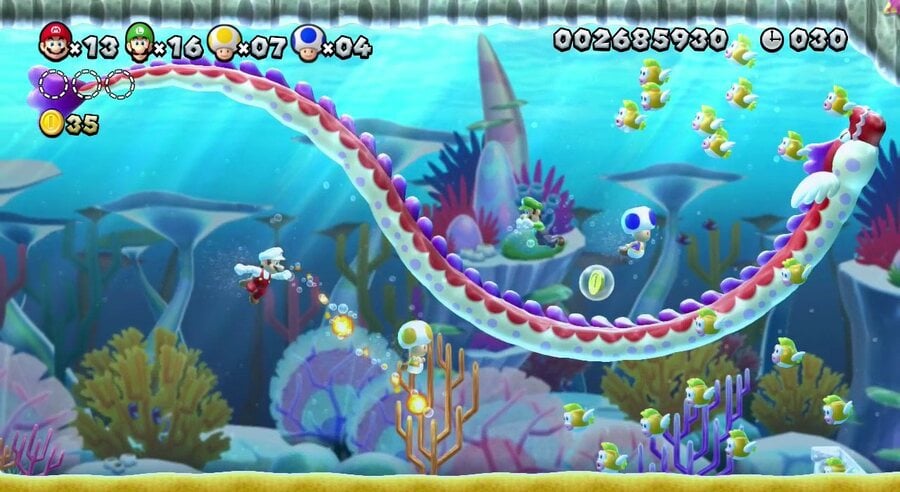 While the updates to the browser-based Miiverse attracted the most attention yesterday, it seems that an additional message was posted in Japan to confirm a planned update for New Super Mario Bros. U, which will arrive shortly before or on the same day as the arrival of the downloadable version of New Super Luigi U.
The update will include two features. The first will allow you to buy the New Super Luigi U DLC from within the Mario title's software, without the infrastructure forcing you to the eShop — a notable improvement over the purchasing model in other games to date. In addition, the update will add controller support for the Wii U Pro Controller, the absence of which was slightly baffling in the first place; this should be helpful for those that want some multiplayer fun but don't have a lot of Wii Remotes sitting around.
With New Super Luigi U arriving in North America and Europe, in its downloadable form, on 20th June, it won't be long before this update and a whole lot of new platforming goodness arrives; those waiting for the boxed version of Luigi's adventure will need to wait longer, as it hits Europe on 26th July and North America on 25th August. The DLC version is also confirmed to be $10 less than its physical retail equivalent, at $19.99, in the U.S.
Are you planning to pick up the DLC version of New Super Luigi U using your copy of the Mario title, and will you make use of the Wii U Pro Controller support? Let us know in the comments below.
[source neogaf.com, via twitter.com]