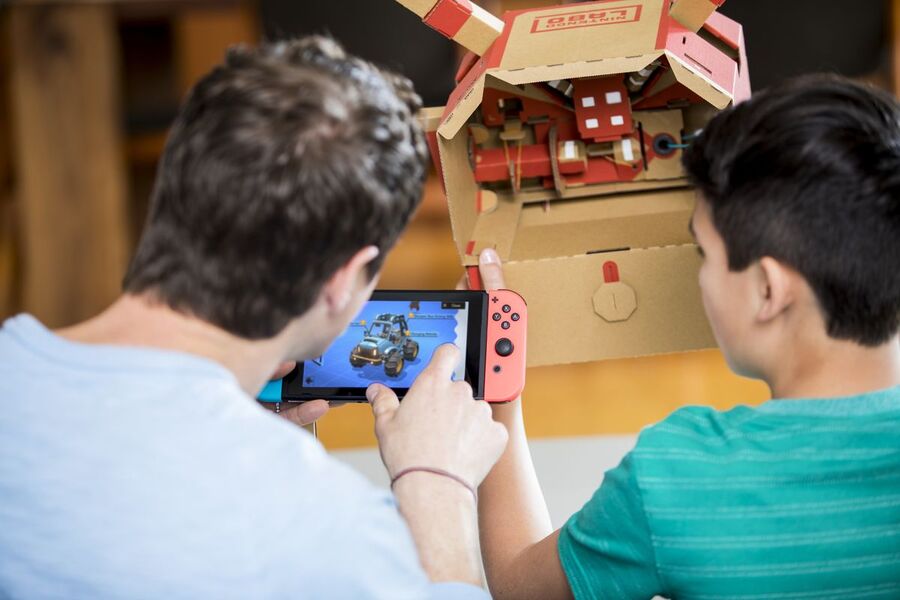 Wow, the year is passing by quickly and the Nintendo Switch library seems to get better with each passing month. August saw the release of the rather lovely Monster Hunter Generations Ultimate and many other delights on the Nintendo Switch.
So, what's on the horizon for Nintendo Switch fans, then? We've compiled a list of all the good stuff coming out at retail in September and October, so feast your eyes and prepare your wallets.
This brand-new Nintendo Labo kit contains materials to build a variety of customisable cardboard creations including a Car, a Submarine, a Plane, a Pedal, two Keys and more. Insert one of the assembled Keys into any of the vehicles to enjoy a variety of fun games and activities. Changing between vehicles while adventuring is easy – just remove the key from one and slot it into another to transform from an airplane pilot to a submarine captain. You may or may not be the target audience for Nintendo Labo, and it's fine if you're not. But for those who enjoyed Toy-Con Kit 01 and 02, this looks like another fun cardboard adventure.
Nintendo Switch Game Starter Packs - 28th Sept
Did you miss out on this fantastic trio of Nintendo Switch games the first time around? If you are yet to pick up the excellent Super Mario Odyssey, The Legend of Zelda: Breath of the Wild or Splatoon 2 — there has never been a better time. Starting from 28th September you'll get a handy guide thrown into the bargain.
We know our North American chums will probably roll their eyes at this soccer-ball game, but the rest of the world will surely be excited about this right? EA sports FIFA 19 aims to deliver a champion-caliber experience on and off the pitch. Fans of the beautiful game won't want to miss this one!
Dragon Ball FighterZ will enable fans of all skill levels to truly feel like their favourite Dragon Ball character. Featuring 3 vs. 3 battle mechanics, both new and seasoned players alike are sure to experience the epic scope of Dragon Ball as they build their team and take them into battle. In order to build the strongest team possible, players will need to train and master more than one fighter and style. Only then will their skills be strong enough to take down the competition. Will you be picking this bad boy up in September?
The Blue Bomber returns! The newest entry in this iconic series blends classic, challenging 2D platforming action with a fresh new visual style. The new double Gear system boosts Mega Man's speed and power for a new twist to the satisfying gameplay the series is known for. Long-await sequel evil genius Dr. Wily is back to his mischievous ways and invest in an ambitious idea from his time at robot university. Is the release date of the 11th a happy coincidence do you think?
In Starlink: Battle for Atlas, you're part of a group of heroic interstellar pilots, dedicated to free the Atlas star system from Grax and the Forgotten Legion, an evil robot force. Star Fox joins the Nintendo Switch version of this game with a lovely Fox McCloud pilot, Arwing ship, and an exclusive mission!
More Awesome Nintendo Switch Games
Aside from the highlighted games above, there are lots more Switch retail games which might take your fancy in September and beyond.
Nintendo Switch Online Membership - September
Starting on at some point during September, if you join the paid Nintendo Switch Online membership service, you'll have access to a range of different benefits – like online gaming, and an evolving library of classic Nintendo titles. Amazon currently lists the start date for the online membership as being 30th September, but we'll have to see how this unfolds.
Awesome Accessories For Your Switch
We saw a whole slew of interesting accessories released for the Switch in the past few months, but more are on the way. Here are some tantalising accessories coming up in September and beyond which we found for your consideration.
So that's it for September and October - did we miss anything? Let us know with a comment and also tell us if you've pre-ordered any of these goodies!