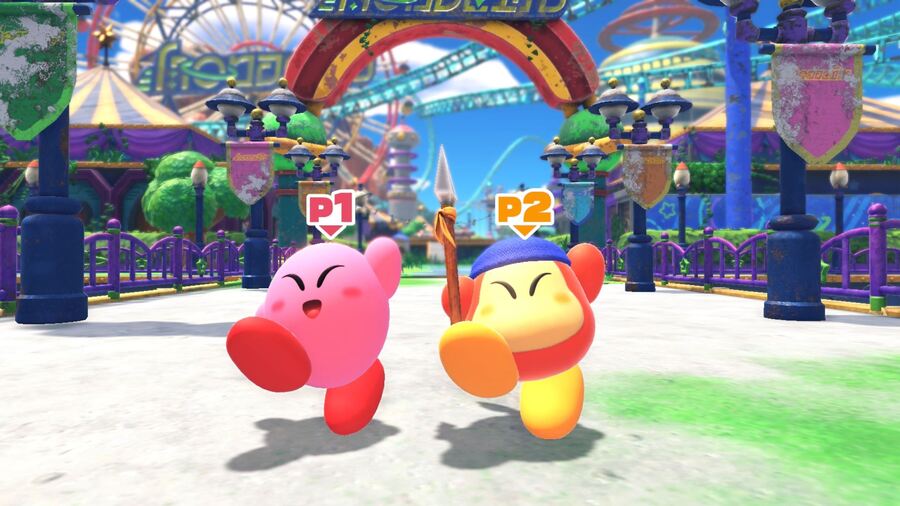 When does Kirby and the Forgotten Land come out? What time does it unlock? And how can you get the game early? We can give you the answer to all these questions and maybe even a couple more.
Kirby and the Forgotten Land can be pre-ordered on the Switch eShop ahead of its release tomorrow, and will likely unlock for pre-load prior to release. Here's when the game unlocks, based on the country of the eShop in which you bought it:
Kirby and the Forgotten Land Release Date
We're basing these exact release times on previous first-party eShop releases, so they may vary, but this is our best educated guess:
North America

East Coast US: Friday 25th March 2022, 0:01am, ET
West Coast US: Thursday 24th March 2022, 9:00pm, PT

Europe

UK: Friday 25th March 2022, 0:01am GMT
Rest of Europe: Friday 25th March 2022, 0:01am CEST
How To Get Kirby and the Forgotten Land Early
You may have noticed that the times above miss out a large part of the world — namely, Australia, New Zealand, and East Asia. Those regions sometimes get access to the game even earlier, but because the timing varies so much, we're unable to say for sure. It's only a matter of hours, but that might feel like an eternity if you're jonesing to get stuck into the Forgotten Land, and it's entirely possible to get the jump on your friends.
If you set up an Australian account on your Switch you might be able to download Kirby and the Forgotten Land early. You can still play the game using your regular Switch user account, but the game will be tied to the account which is region-set to Australia — so make sure you use an email account you have access to!
You'll need to pay for it in Aussie currency, too, but don't worry about setting up an overseas credit card — just grab yourself some Australian eShop credit.
Note. If in the future you buy and transfer your data to a new Nintendo Switch, you'll have to redownload the game from the Australian eShop using the Australian Nintendo Account you set up. It'll still be accessible, no problem, but it's something to keep in mind — you're able to download the game from any old region's eShop, only the one where you made the initial purchase.
Pre-Order Kirby and the Forgotten Land
Finally, you can check out our page with the best Kirby and the Forgotten Land pre-order deals. Alternatively, we've got a smaller selection for you to peruse below:
---
Are you ready to go full Mouthful Mode on Kirby and the Forgotten Land? Yes, us too...