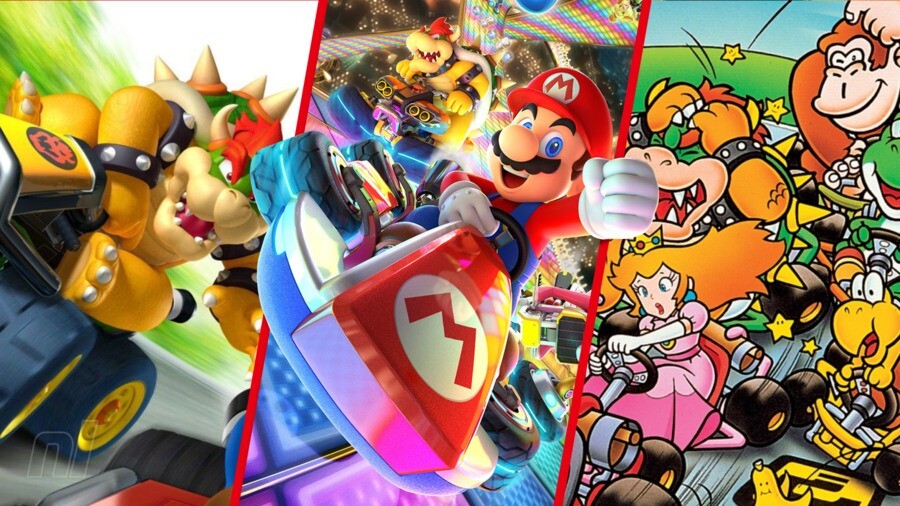 Back when Nintendo announced the very first Mario Kart game in the early '90s, there were some in the industry who proclaimed it as a sign that the veteran firm had finally lost its marbles. Sure, Mario had appeared in other games, but his forte was 2D platformers – he had no place on the racing track, and Super Mario Kart was initially viewed as a questionable attempt to shoe-horn the famous mascot into a genre where he simply didn't belong. As you might expect, when these same nay-sayers actually got to play it, and they changed their tune.
Since then, Mario Kart has become one of Nintendo's most successful properties and has sold in excess of 100 million copies worldwide across all titles. But, you may well ask, which one is best? That's not an easy question to answer in a series which has only seen eight console entries (nine if you include Mario Kart 8 Deluxe), but all of those instalments are solid gold classics (before you ask, no we've not included the arcade entries, because we like being stubborn traditionalists at Nintendo Life). We have added the mixed reality racer Mario Kart Live: Home Circuit and the mobile-only Mario Kart Tour, though. We quite like the latter, but no prizes for guessing where it finishes up. The rest were incredibly tough to place, though!
Still, we like a challenge, so here goes. Please don't hurl any rotten fruit until the end.
---
So there you have it; the running order of the Mario Kart series. If you think we've got it all wrong and Mario Kart 64 should be at the top, make sure you race to the comments section to jolly well tell us.