There's little doubt that when Nintendo announced Kirby and the Forgotten Land last year, the reveal trailer caught the eye and imagination. It needed to, as well, with the franchise very much in danger of becoming overly predictable and safe. There had been some experimentation in recent-ish times, such as Kirby and the Rainbow Curse on Wii U, but across 3DS and Switch in particular we'd been fed a hearty diet of charming and relatively easy 2D platformers. Lovely games, for sure (Planet Robobot was a particular highlight), but after a slightly uninspired effort with Kirby Star Allies it was time for a change.
To give HAL Laboratories and Nintendo credit, they can't be accused of playing it safe with Kirby and the Forgotten Land, certainly not based on what we've seen so far. Launching on Switch at the end of March, Kirby is finally going back into a 3D world, and the setting and gameplay have created a real buzz online, well beyond anything related to a Kirby game for quite some time. For one thing, hat-tips are due for the visuals, which appear to be making the best of the Switch hardware with some gorgeous art design.
The release date is rather close, too, adding to the sense that Nintendo has — through planning and no doubt readjusted schedules on games that couldn't hit 2021 — set itself up for an excellent start to the year. Its 25th March release brings it onto our systems just a few weeks after Triangle Strategy, and of course at the end of this month we have Pokémon Legends: Arceus on the way.
Kirby and the Forgotten Land looks to be capable of going toe-to-toe with those other big releases, at the very least, and the latest trailer (at the top of this page) gives us more of a sense of its structure. It brings to mind Super Mario 3D World, perhaps, as we see distinct worlds and stage select areas, with each level being a decent-sized space to explore and clear. We're getting Odyssey and even Bowser's Fury vibes from the visuals and world design.
In addition, there'll be Waddle Dee Town as a hub, which will grow as you progress through stages; this will seemingly be the home of minigames and that standard Kirby cute charm. Nintendo's own description emphasizes these features.
In this sweeping adventure, you'll make use of a range of Kirby's abilities to combat foes and navigate vibrant 3D environments. Progress through a world in which nature and a past civilization have fused in a series of areas packed with platforming challenges. When you set out to free the Waddle Dees being held captive at the goal point at the end of each stage, you'll want to explore every nook and cranny to rescue as many Waddle Dees along the way, too!
The Beast Pack will put up a challenge, so along with Kirby's iconic copy abilities there are new additions to Kirby's repertoire – the Drill and Ranger copy abilities! Submerge into the ground with the Drill copy ability and attack enemies from below with a massive blow. Your foes will soon be seeing stars when Kirby unleashes the Ranger copy ability, which also lets you set your sights on a faraway enemy.
Kirby and the Forgotten Land also introduces Waddle Dee Town, which will be the central hub of your adventure. The town will develop more and more based on the number of Waddle Dees you rescue as you progress. You will notice different shops opening and be able to enjoy some of the townsfolk's favorite games. Kirby can even help out in the Waddle Dee Café. You'll need to quickly prepare customers' orders to keep them satisfied and aim for a high score. You'll also encounter Wise Waddle Dee in Waddle Dee Town, who will pass along helpful hints. By connecting to the internet, you can learn details based on global player data, such as the total number of Waddle Dees rescued around the world and the current most popular copy ability.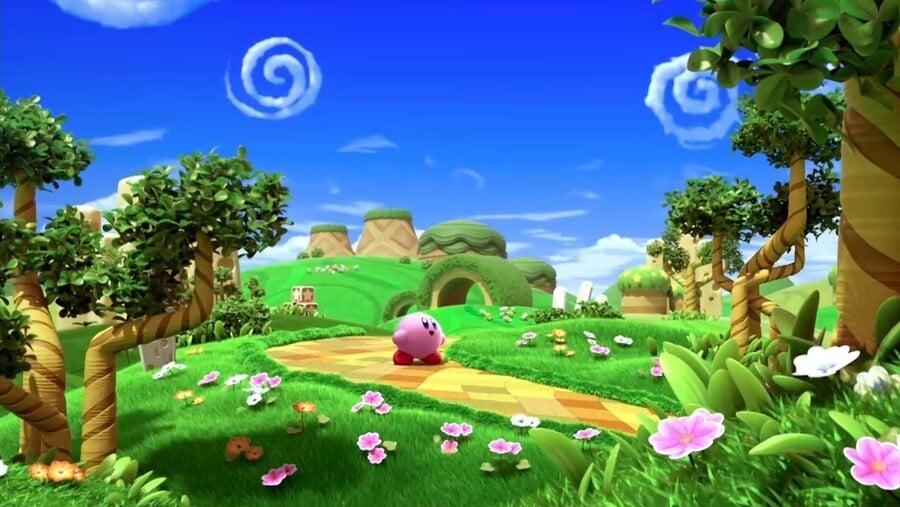 It seems to us that, based on footage and details so far, this looks all set to retain key Kirby features while also offering something more imaginative and grand than recent entries. It perhaps reflects a bit of patience shown, too, with HAL Laboratories bringing this to the Switch a little over four years after Kirby Star Allies; it seems like time well spent.
We want to know whether you share our optimism and excitement for Kirby and the Forgotten Land — share your thoughts in the polls and comments below!