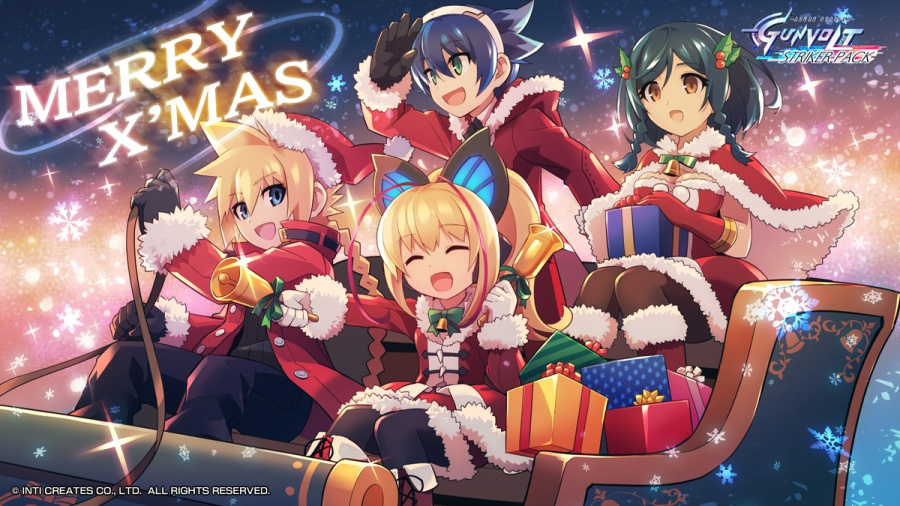 Inti Creates has been quite good at supporting all its games on the Switch, adding in new content updates and tweaks post-launch that do a decent job of adding value to the games while also reinvigorating interest in them. Azure Striker Gunvolt: Striker Pack is their latest release, bundling the two Azure Striker Gunvolt games in 60 FPS and with a variety of other tweaks and improvements. The game stands well enough on its own, but Inti Creates has just announced an upcoming addition that should infuse it with a good bit of Christmas cheer.
Christmas Mode will show up in Azure Striker Gunvolt: Striker Pack on 24th and 25th December, adding in a fun extra distraction to the main game. Presents and snow rain from the sky and the ground is slick with ice, with the goal being to collect as many presents as possible. And for those of you looking to open this Christmas present early, the official website says the mode won't appear if your Switch's date is set incorrectly, so no loopholes there.
What do you think? Will you give this mode a shot? How have you been liking Azure Striker Gunvolt: Striker Pack? Share your thoughts in the comments below.
[via gunvolt.com]