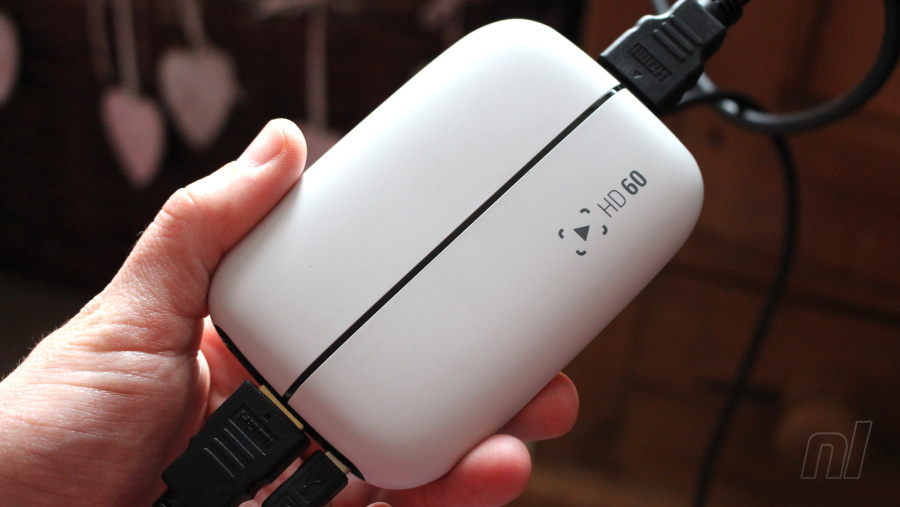 When we first started taking video capture seriously here at Nintendo Life during the Wii U era the hardware required cost wasn't astronomically steep, but it certainly high enough to give the average gamer pause for thought. However, as time as gone on we've seen the barrier to entry drop dramatically, and the units used to record footage have become ever smaller.
With the introduction of the Switch you could argue that a new era of video capture is upon us; while Nintendo has already introduced a screenshot button it hasn't yet enabled video recording, so if you're keen on preserving your best moments for posterity or fancy yourself as a budding YouTube star then you might want to consider Elgato's Game Capture HD60 - it's an excellent place to start, as it offers impressive features in a small form factor at a great price.
The Game Capture HD60 isn't a new product by any means; it's actually been out for a while and Elgato has since released the HD60S, a slightly improved model. However, the features mentioned above have kept it at the forefront of the video capture revolution and Elgato has been working tirelessly to improve its software to make recording footage as painless as possible. It's also worth noting that the HD60 has a chip that takes care of the video processing and compression "on the fly", which means it can use an older USB 2.0 connection standard, increasing comparability with a wider range of PCs, even quite old ones. By the time the video from the device hits the computer, it's already been compressed. 
This is where the older HD60 ironically has an advantage over the newer HD60S; with the newer model, the video processing is done by the computer which means the minimum specs are higher and it also requires USB 3.0 to transfer al that unprocessed video. The HD60S is better suited for streaming, while the HD60 is ideal for recording, editing and uploading at a later date.
We tested out the unit using a Mac and were initially concerned that our choice of computer might result in some unwanted niggles with Elgato's device, but thankfully such fears were unfounded. The unit doesn't come with an installation CD (and our laptop doesn't have a CD-ROM drive so it would have been useless anyway), so instead you are directed to Elgato's website to download the required Game Capture HD program. In short, getting everything set up was a breeze.
While everything is sold as "plug and play" these days it's still rare to find a piece of hardware of this type which "just works" - however, we're pleased to report that the Game Capture HD60 does just that. After attaching the bundled HDMI cable to our Switch (and running the Switch's HDMI cable through the TV) and linking the Game Capture HD60 to our MacBook Air, we were happily recording 60fps, 1080p footage within seconds. The preview shown on the laptop is naturally delayed so you need to keep your eyes on the television, but we found little to grumble about when it came to the core functionality of the Game Capture HD program.
Here are some examples of footage we captured using the device:
The ability to upload directly to YouTube is useful but most video creators will want to edit the recorded files as well - Game Capture HD does offer this functionality but it's very basic so you'll want to use a separate application to stitch your clips together, make edits and so on. But what's really great about the HD60 is just how portable it is; it's small enough to fit in your pocket and we've found that taking it off-site for capture purposes - such as press events and studio visits - isn't an issue at all. It's powered via the connection to your laptop's USB, which means you don't need to cart around a power supply, either.
While the HD60 isn't a newcomer in the arena of game capture, its relatively low cost, refreshing ease of use and highly portable nature make it throughly recommended. You can pick one up from Amazon US and Amazon UK for (at the time of writing) around $150 / £150.
Thanks to Elgato for supplying the unit used in this review.