Description will appear here shortly...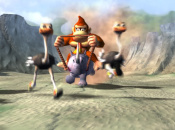 Former Rare man Lee Musgrave talks about a lost GameCube smash hit
E3 2001 was a joyous occasion for Nintendo fans. The GameCube was nearing its release in Japan and North America and Nintendo had a lot to say and show about it. Super Smash Bros. Melee, Star Wars Rogue Squadron II: Rogue Leader and Luigi's Mansion were just some of the games...
Hold on there, you need to login to post a comment...