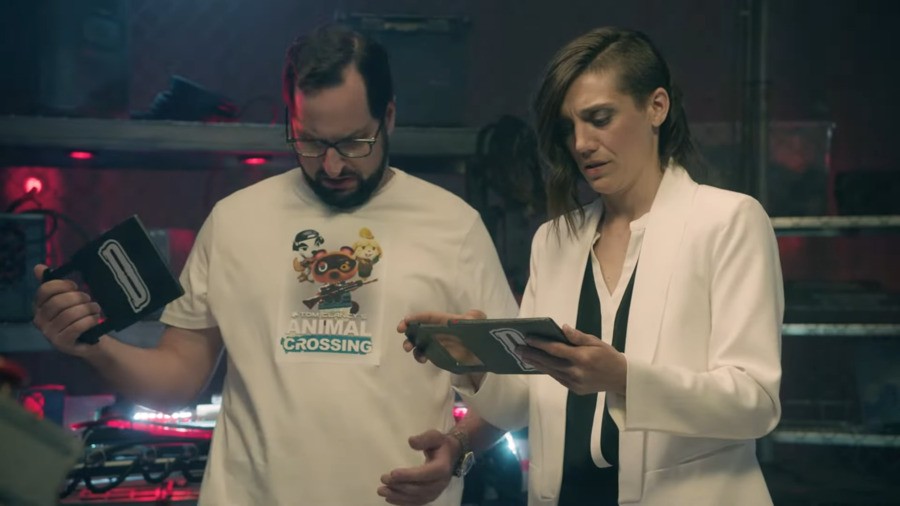 Trust Devolver Digital to give us a very unique showcase. The publisher hosted its annual Digital Showcase yesterday, which gave us a few fun announcements — including James Turner's adorable-looking new game.
But what people remember from Devolver Digital is its ridiculous tongue-in-cheek presentations which do everything from having a jab at the games industry to creating amusing anecdotes. This year's presentation was called 'Devolver Digital Marketing Countdown to Marketing' and was hosted by mecha Suda51 (of No More Heroes fame). And yeah, it's not the real one. At least, that's what Devolver said!
The whole showcase was very meta, with a storyline that followed some hapless Devolver Digital executives as they try to put together a presentation, but instead, they unintentionally kick off an event that threatens the entirety of video game time and space. And there were some video game trailers along the way, of course.
A few hours before the event, Devolver dropped a tweet which gave viewers a hint as to what bizarre events they could expect, with one 'exec' wearing a particularly interesting shirt featuring a certain tanuki...
The cheeky mention of "no survival horror space games" is bound to get a laugh after yesterday's Summer Game Fest opening show, but we Nintendo fans cannot keep our eyes off of the shirt featuring Tom Nook, Isabelle, and K.K. Slider from Animal Crossing.
Then, when it came to the showcase itself later in the day, we finally got a proper look at the glorious t-shirt, which invents a weird crossover we never knew we needed — Tom Clancy's Animal Crossing.
"What's going on? Is this a singularity?" The man says as he looks down at the design on the shirt. The person next to him looks at him and replies "I just got sent a review copy of Metal Gear Cooking Mama Mobile. I don't even know what that means — do you even know what that means? The industry's folding in on itself."
Okay, we want Metal Gear Cooking Mama too — how many snake dishes can we make? — but sneaking around as Tom Nook, stealing bells from clients, sniping unsuspecting villagers with slingshots? Would it be like Splinter Cell or closer to Rainbow Six? Devolver, you've given us ideas here, and we're not sure what to do with them.
It seems like the internet is also a pretty big fan of this crossover too, and we can't blame people!
Well, we never know what to expect from Devolver Digital, but an Animal Crossing joke was certainly not on whatever dream list we could even fathom out of thin air.
The whole showcase is full of amusing gags and some fun game reveals — but only a couple for Switch. Still, if you like silly humour, memes, and crossover jokes, you should definitely give it a watch below. Be warned, as the presentation is full of adult humour and strong language.
Would you like to see Tom Clancy's Animal Crossing become a thing? Did you enjoy Devolver Digital's Showcase? Let us know!
[source youtube.com]