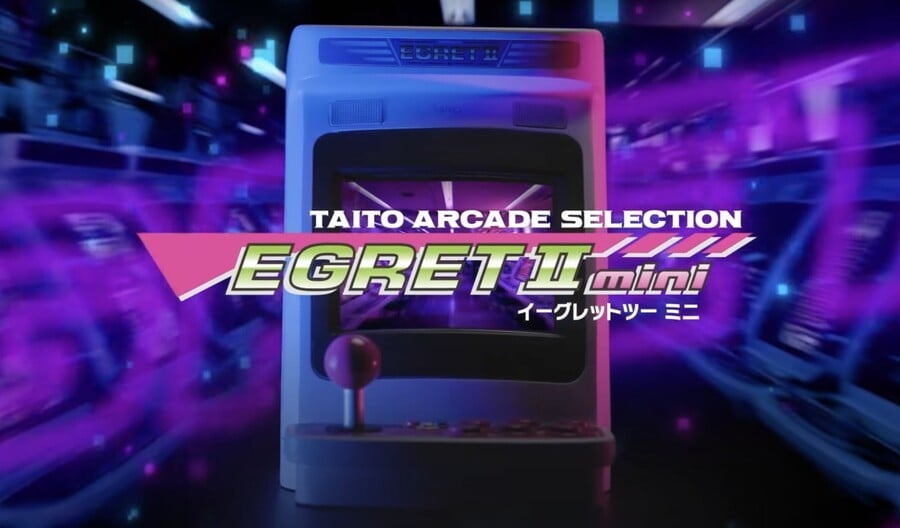 United Games Entertainment, the umbrella company for Strictly Limited Games/ININ Games, has revealed that it will be distributing the Taito Egret II Mini in the West.
This arcade-focused micro system features a rotating 5-inch screen and is set for release in the New Year. Its Japanese release is scheduled for 2nd March 2022, and you can find out where to pre-order that version here.
The games included are:
Adventure Canoe (1982)
Bubble Bobble (1986)
Bubble Memories (1995)
Bubble Symphony (1994)
Cadash (1989)
Chack'n Pop (1983)
Dan-Ku-Ga (unreleased update to Kaiser Knuckle, 1995)
Darius Gaiden (1994)
Don Doko Don (1989)
Elevator Action (1983)
Elevator Action Returns (1994)
Fairyland Story (1985)
Growl (1990)
Gun Frontier (1990)
Halley's Comet (1986)
Hat Trick Hero (1990)
Kaiser Knuckle (1994)
Kiki KaiKai (1986)
The Legend of Kage (1985)
Liquid Kids Adventure (1990)
Lunar Rescue (1979)
Lupin III (1980)
Metal Black (1991)
New Zealand Story (1988)
The Ninja Kids (1990)
Outer Zone (1984)
Pirate Pete (1982)
Puzzle Bobble 2X (1995)
Qix (1981)
Raimais (1988)
Rainbow Islands EXTRA (1988)
Rastan Saga (1987)
RayForce (1993)
Scramble Formation (1986)
Space Invaders (1978)
Steel Worker (1980)
Tatsujin (1988)
Twin Cobra (1987)
Violence Fight (1989)
Volfied (1989)
Arkanoid (1986) - with the trackpad add-on
Arkanoid Returns (1997) - with the trackpad add-on
Arkanoid: Revenge of DOH (1987) - with the trackpad add-on
Birdie King (1982) - with the trackpad add-on
Cameltry (1989) - with the trackpad add-on
Marine Date (1981) - with the trackpad add-on
Plump Pop (1987) - with the trackpad add-on
Puchi Carat (1997) - with the trackpad add-on
Strike Bowling (1982) - with the trackpad add-on
Syvalion (1988) - with the trackpad add-on
Here's some PR:
Ever expanding German media publishing house United Games Entertainment, with its two game publishing labels, ININ Games and Strictly Limited Games, is moving into 2022 with an exciting announcement. They have secured the exclusive rights for the distribution of TAITO's EGRET II mini in North America and Europe! The home version of the famous arcade cabinet will be available in different exclusive editions for the Western territories starting in 2022.

Great news for all fans who have been eagerly trying to order this yet to be released console, directly from Japan. With this exciting announcement United Games Entertainment, who exclusively distribute and sell TAITO's titles in the West, both in digital and physical form, continues its growing relationship with one of Japan's most iconic video games companies, well-known for legendary games such as Space Invaders, Bubble Bobble and many others.

The EGRET II mini is a faithful miniaturized version of the original, successful arcade cabinet TAITO EGRET II, coming with special content and features that make it a 'must have' for gamers:
- A total of 40 pre-installed games, including classics such as Space Invaders, Lunar Rescue, Bubble Bobble, Darius Gaiden and many more
- 5-inch 4:3 rotating screen (1024x768 resolution) for horizontal and vertical alignment and an optimal adaptation to the selected game
- Joystick individually adjustable for each game - easily switch from 8 directions to 4 directions
- HDMI output to play the games also on TV
- Two USB Type-A controller ports for the different EGRET II mini controllers (that are sold separately)
- Power inlet via USB Type-C port
- SD card slot to add even more games
- Own integrated sound through stereo speakers
- Instruction panel for exchangeable instruction cards
- Special ingame features like: Save states, adjustable lives and rapid fire

In addition to the 40 pre-installed games on the console, 10 additional games can be added through an SD card that's included in the EGRET II mini Paddle and Trackball Game Expansion Set, coming with Strike Bowling, Arkanoid, Plump Pop and seven other TAITO classics.
This adds up to an incredible total of 50 games of various genres, from 1978 to 1997 that will be available with the launch of the EGRET II mini!