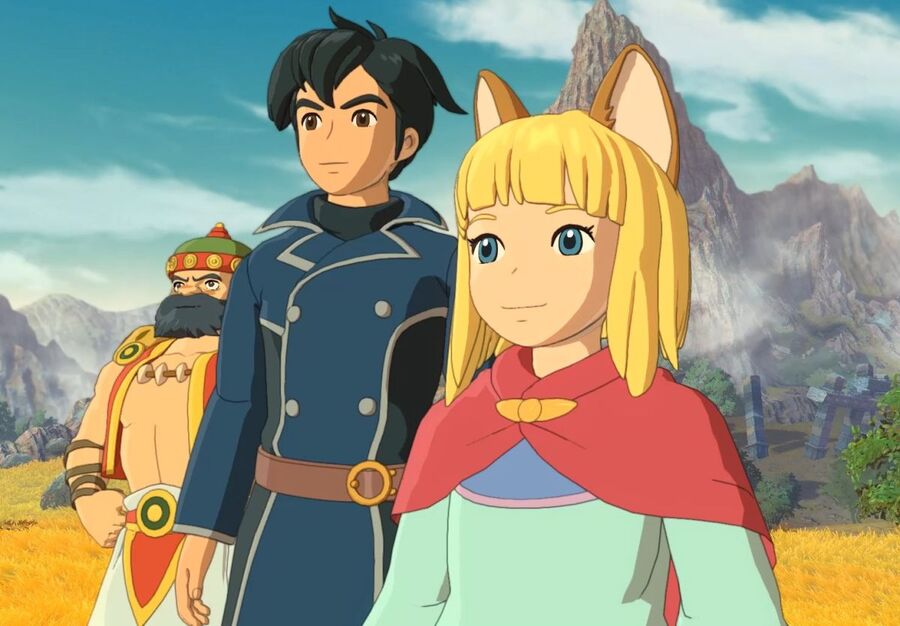 The latest Nintendo Download update for North America has arrived, and it's bringing new games galore to the eShop in your region. As always, be sure to drop a vote in our poll and comment down below with your potential picks for the week. Enjoy!
Switch eShop - Highlights
Eastward (Chucklefish, 16th Sep, $24.99) - Next stop ... Eastward! Escape the tyrannical clutches of a subterranean society and join Eastward's unlikely duo on an exciting adventure to the land above. Discover beautiful yet bizarre settlements and make new friends as you travel across the world by rail. Combine John and Sam's skills to solve dungeon puzzles, take down unusual enemies and survive the deadly miasma. Can you uncover the truth behind Sam's mystic powers and bring back harmony to Eastward's ravaged lands?
SkateBIRD (Glass Bottom Games, 16th Sep, $19.99) - Grind on bendy straws, kick-flip over staplers and carve killer lines through cardboard and sticky tape parks in SkateBIRD! You're a lonely lil' bird, and your Big Friend has hung up their board for good. Their job sucks, and lately, they're barely ever home to play with you. You're gonna fix all that with the power of being a chill little skateboarding bird. You may be tiny, but the more you skate, the more of a following you get, and the more the world of bird skating will open up. Birds will come check out your park, help you find more parks and together you'll (somehow) fix Big Friend's life! Above all else, skate birds try their best! - Read our SkateBIRD review
Ni no Kuni II: Revenant Kingdom PRINCE'S EDITION (17th Sep, $59.99) - Developed by LEVEL-5, Ni no Kuni II: Revenant Kingdom features enchanting character design from the legendary artist Yoshiyuki Momose and a stirring soundtrack composed by the world-famous Joe Hisaishi. Embark on this unforgettable adventure which blurs the line between animated feature film and video game. Join the young king Evan as he sets out on an epic quest to found a new kingdom and save his world. The PRINCE'S EDITION includes the full game and all DLC. Ni no Kuni II: Revenant Kingdom PRINCE'S EDITION will be available on Sept. 17.
TOEM (17th Sep, $19.99) - Set off on a delightful expedition and use your photographic eye to uncover the mysteries of the magical TOEM in this hand-drawn adventure game. Chat with quirky characters, solve their problems by snapping neat photos and make your way through a relaxing landscape! TOEM will be available on Sept. 17.
Switch eShop - New Releases
Arcade Archives POP FLAMER (HAMSTER, 9th Sep, $7.99) - "POP FLAMER" is an action game released by JALECO in 1982. Players control the POP FLAMER to defeat monsters as they pop all the balloons in each stage. You'll need to refuel your flamethrower by popping balloons, since the flames get weaker each time you use it. The "Arcade Archives" series has faithfully reproduced many classic Arcade masterpieces. Players can change various game settings such as game difficulty, and also reproduce the atmosphere of arcade display settings at that time. Players can also compete against each other from all over the world with their high scores. Please enjoy the masterpiece that built a generation for video games. The options menu and manual are available in Japanese, English, French, German, Italian, and Spanish.
Beyond Enemy Lines – Remastered Edition (16th Sep, $19.99) - The world is near of nuclear apocalypse, a soviet seperatist group captured the control chip of a military satelite. It is your job to recover the chip! Equipped with state of the art weapons and equipment, you operate in absolute secrecy as a lone wolf far beyond enemy lines. Think your way in, observe your enemies, sneak into their base and complete your objective. You have total freedom to choose your path - guns blazing or silent assassin - it's your choice! Beyond Enemy Lines is an unforgiving, intense experience where skill and tactical decisions matter! Beyond Enemy Lines: Remastered Edition contains a variety of remastered content.
Bubble Shooter FX (16th Sep, $3.99) - Bubble Shooter FX is a classic bubble shoot game. This addictive classic bubble blast match-three game comes with clean and modern graphics, hundreds of great challenging levels and some nice special items for better game experience in harder levels. Clean and simple 3D graphics with nice light effects gives the game a special touch.
Classical Logical Bundle (4in1) (16th Sep, $9.99) - Do you ever long for the olden days? Those lazy, rainy afternoons when you could just relax on your couch with a cup of tea and play games with your remote on one of those game channels. Or perhaps those slow days at the office where you knew there's nothing to do, so you just loaded up The Mines and zoned out for an hour. Wasn't life much simpler back then? Well if you're looking for that touch of nostalgia, you can't miss this bundle. Featuring Beat the Four, The Mines, Reversi Rulez and Tic'o'Toe , Classic Logical Bundle is sure to bring you back to the yesteryear of gaming. So put your feet up and get ready to experience the classics of gaming, alone or with a friend!
Crisis Wing (22nd Sep, $7.99) - Push your shoot'em up skills to the limit in nostalgic pixel art style as you launch into Crisis Wing, lovingly crafted to recall the frantic action of arcade classics! Featuring 7 vertical scrolling stages, upgradeable weapons and cooperative multiplayer, Crisis Wing combines modern gameplay advancements with nostalgic presentation, enriched by a ricking FM soundtrack and CRT filters for a genuine old-school vibe. From enemy swarms to screen-filling boss battles, Crisis Wing offers a daunting challenge while remaining accessible to newcomers. Practice mode lets you replay stages with infinite lives. Score Attack and Boss Rush bonus games further extend the experience with unique levels and bosses. Are you ready for takeoff?
Dojoran (17th Sep, $4.99) - Life is not as easy and simple as it seemed in your childhood. To survive in a world full of dangers, you must go through the difficult ninja training of frogs using secret techniques created by your ancestors. To accomplish this, you'll need to use apples to perform a double jump in different ways than usual. Each death is an apprenticeship to improve reflexes and control the character.
Elva the Eco Dragon (16th Sep, $12.99) - The world is facing an environmental disaster. But not all is lost. The young, and not so young, are about to receive help from a powerful being from another galaxy: Elva. Elva is a small dragon with immense powers, who has arrived on Earth to teach us how to take care of the planet. Starting with the most basic tasks, such as cleaning the garbage, and taking it to be recycled, or sending it to a ship or plane to be processed, to planting trees, regenerating fields and forests, cleaning the sea, freeing marine animals, or saving injured animals. We also defend forests and homes from fire with the power of water. Elva is an educational game, which wants to teach the values of caring for our planet. It is a game, but with a message: we can take care and save the Earth. With the help of Elva, and with a little effort from everyone.
Endless Puzzle Fun Collection (16th Sep, $14.99) - Candy 2048 Challenge Test your intelligence in the iconic 2048 game for intense fun! Play in 1-vs-1 multiplayer to really see who is the best! Features: • World famous 2048 game • Split-screen multiplayer mode for a 1-vs-1 challenge • Fun and addictive music • Local leaderboard Yum Yum Line Match 5 tiles of the same color, clear lines and make sure you don't get stuck! Fantastic fun for all ages. Challenge a friend and play on the same screen in the local battle mode.
Galactic Invasion (17th Sep, $3.99) - Aliens are invading the Galaxy. Your job, if you accept it, Major, is to stop them. Galactic Invasion will make you enjoy gameplay of old school shoot'em up with today's device capabilities. Fire!
Instant Sports Paradise (Plug In Digital, 1st Sep, $34.99) - Summer is here! With family and friends, INSTANT SPORTS Paradise takes you overseas, under the sun of a paradise island. Share a multitude of sporty and fun experiences without leaving your home. • Explore an oasis full of history and mysteries. Blue lagoon, palm trees and hot sand… There are plenty of secrets to discover between two workouts.
Lost in Random (Electronic Arts, 10th Sep, $29.99) - Play the odds in Lost in Random™, a gothic fairytale-inspired action adventure where every citizen's fate is determined by the roll of a dice. Ruled by a wicked Queen, the kingdom of Random is divided into six shadowy realms where life is dictated by a cursed black dice. In this story, from the award-winning Swedish game studio Zoink and penned by Eisner Award-winning Adventure Time and Marvel Comics The Unbeatable Squirrel Girl author Ryan North, you'll join Even, a penniless girl who's down on her luck, in a dark quest to save her beloved sister. With her companion Dicey, a small and strange living dice, Even must learn to embrace the chaos of Random, uncovering an age-old tale with a modern message.
Love Colors (17th Sep, $3.99) - Pixel color by numbers is easy! The game can be played by adults and enjoyed as a painting training for kids. Want more? Connect your Nintendo Switch™ console to the large screen, invite up to 3 friends and enjoy cooperative fun together! What do you find in the game? - 150+ pictures to color in 10 theme chapters - Various themes from friendly animals and cute creatures, through sweet cakes and fruits, to mythical creatures, dragons and yummy food. - 200 - 3500+ pixels to color in a single image (even more complex images available in the Love Colors - Pixel Adventure DLC). - Relaxing solo play - A hint of competition in multiplayer, with up to 4-players mode. Check out Love Colors DLCs to widen the game experience!
Lovekami -Healing Harem- (9th Sep, $14.99) - The more things seem the same, the more they're actually different... These are some strange little stories about goddesses in love. They happened in a time when gods and people lived in close proximity, six years after the gods descended to Earth.
Marble Parkour (17th Sep, $4.99) - In this Marble Parkour game, you need to finish different levels and reach the end of each level. Also, levels contain the best time system, meaning you can establish new records! The Player needs to avoid different traps like exploding mines, bumpers, tornados, and moving platforms which could send the player out of track. Then the player will be respawned at the checkpoint. Every level includes a couple of them.
Match 3 Adventure Collection (16th Sep, $14.99) - Match Three: Pirates! Heir to Davy Jones Davy Jones created a world where no-one gets old and unsuspecting people are tricked into entering Davy Jones' Locker. Journey through the different stages of this match 3 adventure, and lift the curse of Davy Jones! Features: • Beat all 100 challenging levels • Customize your own ship • Get an advantage with a variety of boosters Gems of Magic: Lost Family Discover this mystical enchanted forest in a calm and relaxing world of spirits and magic. But a dark cloud is forming over the forest and Hurricane has kidnapped the Fuzzy family. It's now time to help the magic creatures to save the Fuzzy family and restore the enchanted forest!
METALLIC CHILD (16th Sep, $29.99) - A large-scale rebellion erupts within the spacecraft "Life Stream."
With the help of you, Rona, an android known as "Metallic Child," stands up against a fleet of massive robots to stop the plot devised by her own creator, Doctor Irene. METALLIC CHILD is a rogue-lite core-action game, featuring Rona, an android known as "Metallic Child," taking place in a space laboratory in the not-to-distant future.
Murder Diaries (16th Sep, $9.99) - In this game you abstractly follow the narration of a young man through his life and his thoughts. This leads you straight into a murder mystery unlike you have ever seen before. Figure out what happened, explore fascinating landscapes and abstract environments and enjoy the thrilling storytelling. Collect pieces of the story while freely floating through related environments and immerse yourself into an intriguing story filled with blood and murder. A must have for any true fan of thrillers and anyone how enjoys a murder mystery that goes beyond the normal story telling.
Nexomon (17th Sep, $9.99) - Experience the original Nexomon story for the first time on console! Get ready to explore a world where you can catch, evolve and collect over 300 unique Nexomon! Embark on an epic journey and build your ultimate team to take on powerful tamers and their fearsome Nexomon.
Poker Pretty Girls Battle: Texas Hold'em (16th Sep, $5.99) - Try your hand at some hot rounds of poker against more than a dozen female opponents! Classic Texas Hold'em gets a naughty twist at the Pretty Girls casino, where you're invited to play at tables against 16 lovely challengers, all dolled up in cute summer outfits! Each female opponent has her own look and unique style of play, along with Japanese voiceovers to let you feel their excitement in the intense poker battles. Start out against 4 of these gorgeous players and unlock more as you prove your skills worthy of new challengers.
Project Winter (16th Sep, $19.99) - Betray your friends in this 8 person multiplayer focused on social deception and survival. Communication and teamwork is essential to the survivors' ultimate goal of escape. Gather resources, repair structures, and brave the wilderness together. Just beware that there are traitors within the group who will be steadily gaining strength as the match progresses. Traitors only goal is to stop the survivors by any means necessary.
Push-Ups Workout (16th Sep, $4.99) - Are you ready for the 200 Push-Ups Challenge? Body shaping is always good for our body. These workouts are perfect for men and women, beginners and professionals. Do you want to gain muscles, lose weight, increase strength and stamina? Effective workout plans created by professional fitness coaches will help you to see the results after 1 week! Set a goal for what you want to reach. Don't give up, just follow the training plan. Just simply follow and perform the instructed number of reps, and after 10 weeks, you will be able to do 200 push-ups straight!
Puzzle Car (QUByte Interactive, 9th Sep, $3.99) - A minimalist and relaxing experience. Challenge yourself to move pieces to assemble a safe path for your car and collect all the items on the way, while listening to a relaxing soundtrack in a totally minimalist environment. In this game, create a safe path using curves, intersections, tunnels and collect all the items on the way, always respecting crosswalks. Have fun!
Razion EX (16th Sep, $19.95) - RAZION EX is a 16 bit CGI style horizontal shooting game originally made for arcades, ported and upgraded to Nintendo Switch™. The score system is based on growing gold cubes and using the beam to freeze the cubes. It has 3 game modes (NOVICE/NORMAL/MANIAC).
Squabble (18th Sep, $14.99) - Choose your favourite sibling character and own others in-game. Attack your opponents or play defensively, use the environment to your advantage. Trap your opponents or just get rid of them in the old-fashioned way. Be mindful of your surrounding as the world around you changes and reveals its not-so-friendly face. You can play in a party of 4 players in the local multiplayer and fight for the ultimate victory. Game characters are children siblings fighting each other as they always do using any means necessary - exploding pillows, water guns, by unleashing monsters and also with the worst thing ever - their homework. The desire to win is great, following squabble is even greater. Let's dive into atmosphere of pixel art couch playstyle. With your skill growing there comes even bigger passion for win. Explore vivid rooms, extremely dangerous and be ready to squabble!
Street Outlaws 2: Winner Takes All (21st Sep, $49.99) - The stakes have just been raised! In this high-octane sequel, you have to prove your mettle in some of the roughest and most unforgiving drag and street races across the United States. Your success depends on how you perform, your strategy on modding your car, and how much reputation you ultimately earn along the way. The Unreal Engine brings Street Outlaws to a whole new level of visual fidelity with improved lighting, textures, and everything else! You can customize your car, but you can also customize your team garage to truly make it your own. Along with the street racing seen on TV, you will also be able to participate in unique races and stunts all while interacting with your favorite cast members from the show! Do you have what it takes to be crowned the Winner Takes All National Champion?
Tails Of Iron (17th Sep, $24.99) - Set in a grim land plagued by war, Tails of Iron is a hand-drawn RPG Adventure with punishingly brutal combat. As Redgi, heir to the Rat Throne, you must restore your broken Kingdom by banishing the merciless Frog Clan and their ferocious leader, Greenwart. As you explore the deceivingly charming world, you'll encounter a cast of unique companions, ready to aid you in your adventure. And you'll need all the help you can get, whether that's new meal recipes, blueprints to forge deadly weapons and armour, or even a land-chugging, armour-plated mole mobile! Overcome your fears. Rescue your brothers. Restore Your Kingdom.
The Amazing American Circus (16th Sep, $19.99) - Build your deck, amaze your audience and build a circus empire! Your worst fear is the audience's indifference. Your best weapon is a dazzling amusement. Your artists are your army. Behold, the circus came to town! In The Amazing American Circus, you'll build a circus empire from scratch. Flesh and blood opponents, as well as characters known from the American folklore, will stand in your way to success. As a novice owner of a small and run-down circus, you'll have to face giants of this industry, like Ringling Bros. and P.T. Barnum. Can you defeat them?
So that's your lot for this week's North American Nintendo Download. Go on, be a sport and drop a vote in the poll above, and comment below with your hot picks!