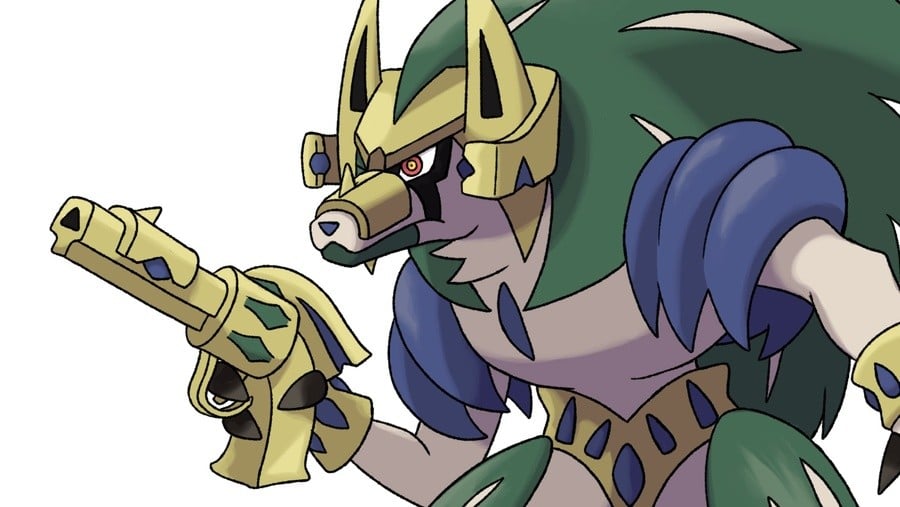 In the past, Game Freak would typically release two mainline Pokémon games and one other entry featuring additional content. Fans saw this happen countless times over the years with titles such as Pokémon Yellow, Crystal, Emerald and Platinum.
For the latest entries on the Nintendo Switch, the developer decided to release expansion content instead via DLC - essentially ruling out the chances of a standalone third game, alongside Pokémon Sword and Shield. That hasn't stopped fans from coming up with their own ideas for a third entry and one that caught on was the meme Pokémon Gun. It only makes sense alongside sword and shield, right?
Comic artist and Pokémon fan Abel Hagen from Wooden Plank Studios has now taken this joke a step further. After a fan on Patreon requested they come up with a legendary design for the fake 'Gun' entry, they created the following concept (and even box art including a logo) of this fake pocket monster, which is known as 'Zagurinu':
@WoodenPlank It started as a joke but I got really into it so I made some fake box art too. #pokemonswordshield #pokemon #fakemon #fakemonday
Although Pokémon Gun started out as nothing more than a meme, things got a little too serious in 2019 when a Mexican news outlet posted a picture of a fan-made Pokémon Gun logo - mistaking it as one of the new entries at the time. While Pokémon wielding revolvers are unlikely to find their way into the video game series any time soon, one upcoming creature collecting game called Palworld actually includes gun combat.
What do you think of the fake Pokémon Gun legendary? On a more serious note, would you have been up for a third entry following on from Sword and Shield, or were the expansions more than enough? Share your own thoughts down below.
[source twitter.com]